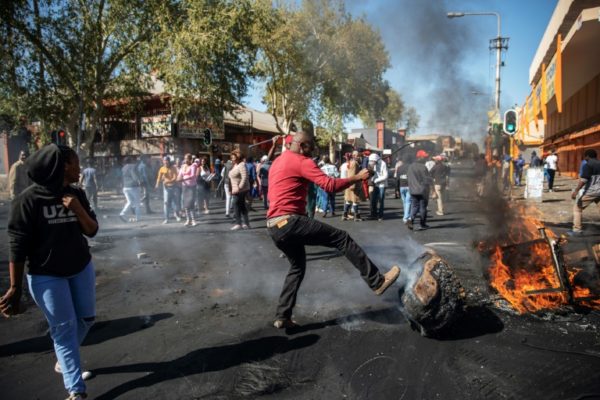 South Africa is losing her mind and status in the world as a responsible
African nation. Therefore it is incumbent on conscientious members of the
global community to bring this guttural nation to her senses. The killings
of foreigners in South Africa are getting off hands. These killings and
xenophobic attacks cannot be tolerated any longer. The lives of African
immigrants and visitors residing and visiting South Africa are now in
peril. For some time, since the end of Apartheid government in South
Africa, it seems that the country have lost her mind and have now taken
her anger on foreigners in the country especially their African brothers
and sisters.  They are attacking and killing Nigerians, Zimbabweans,
Ghanaians, Mozambique and other Africans in their country.
Yes, "Enough is Enough." It is beyond the pale and things are no longer at
tease.
How can South Africans be this ungrateful and callous?  During the hefty
weight of Apartheid government in South Africa that rested on the backs of
Black majority, African nations especially Nigeria offered an unbending
hands to lift up the heavy load of the racist minority White government.
Nigeria utilized her status as a frontline state to wage a moral war
against the evil apartheid government. Nigeria single handedly
hard-pressed South Africa as a pariah state on the global stage. Nigeria
spent billions of hard currency dollars to liberate South Africa and to
convince the rest of the world to defeat the racism and calamity of the
apartheid government. Nigeria at one point boycotted Olympic Games for the
sake of liberating South Africa. Nigeria government offered homes and
residences to many Black South Africans in Nigeria.  She even offered
scholarship to Black South African students to Nigerian universities even
at the expense of their own people.
At one point in time the famous and fatherly Nelson Mandela was residing
in Enugu at the invitation of Nnamdi Azikiwe and Michael Okpara. Mandela
temporarily escaped the evil system and   sought refuge and helping hand
from Nigerian government.  Nigeria never shifted her focus on South Africa
until the end of the evil minority government. How is South Africa
repaying Nigeria? By burning down businesses of Nigerians and killing the
citizens of Nigeria and Africa living in their country. Those people they
are killing and destroying their businesses are poor masses seeking solace
and live hood from the country.
Nigeria, Africa and world will not close their eyes and fold their hands
while xenophobic attacks are raging her ugly heads. It is the time to help
the lazy government of South Africa to do her job of keeping and
maintaining peace and tranquility in her space of control. Maybe South
Africa needs sanctions against her so she will do the right thing.
Emeka  Chiakwelu, Principal Policy Strategist at AFRIPOL. His works have
appeared in Wall Street Journal, Huffington Post, Forbes and many other
important journals around the world. His writings have also been cited in
many economic books, publications and many institutions of higher learning
including Harvard Education and Oxford University. Africa Political &
Economic Strategic Center (AFRIPOL) is foremost a public policy center
whose fundamental objective is to broaden the parameters of public policy
debates in Africa. To advocate, promote and encourage free enterprise,
democracy, sustainable green environment, human rights, conflict
resolutions, transparency and probity in Africa. info@afripol.org