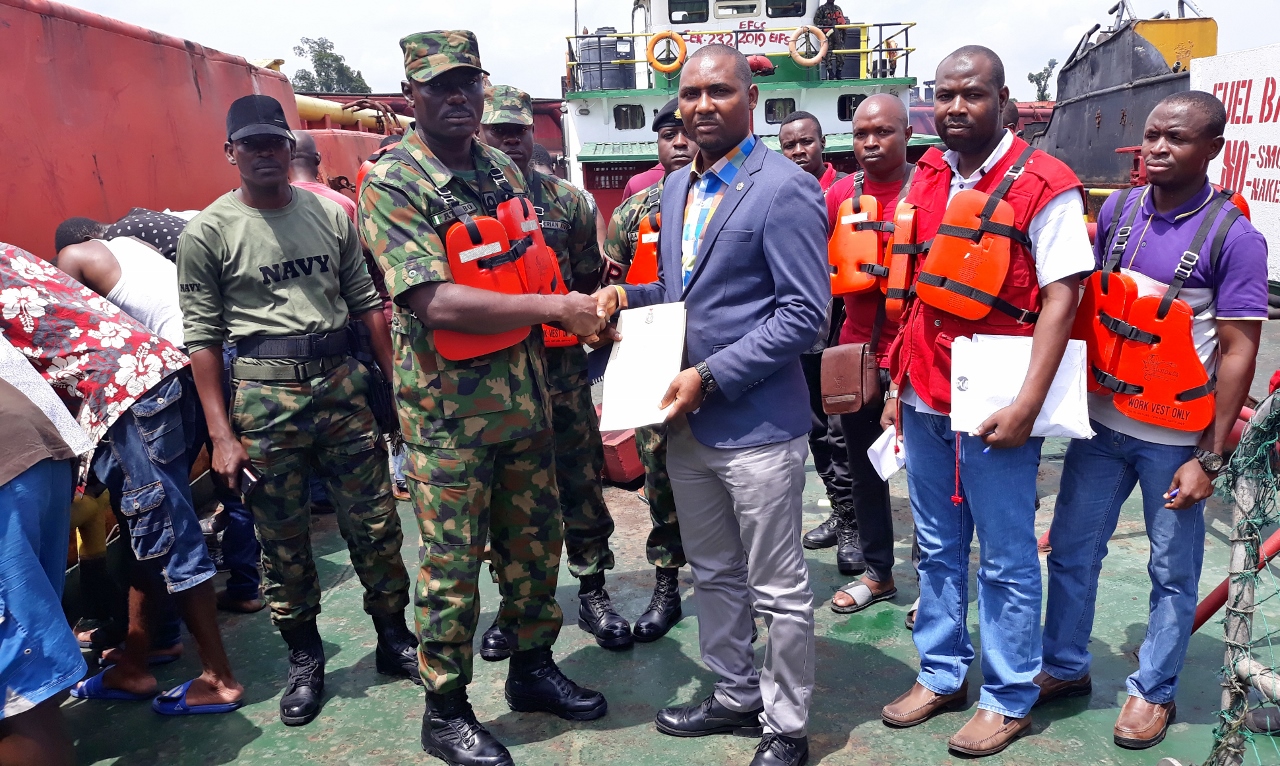 Advertisement
The Navy formation in Port Harcourt, on Tuesday said it had apprehended 16 persons in connection with theft of oil and other maritime offences.
Executive Officer of Nigerian Navy Ship (NNS) Pathfinder, Executive Officer of Nigerian Navy Ship (NNS) Pathfinder, Captain Adegoke Ebo, made this known while handing over the suspects to Economic and Financial Crimes Commission (EFCC) in Onne.
He said that the suspects were caught stealing 224,000 litres of diesel and extorting money from unsuspecting members of the public for enlistment into "Merchant Navy''.
Ebo said that troops on routine patrol of creeks and waterways in Rivers, caught 14 men on board three vessels while they were trans-shipping petroleum products without permit.
"NNS Pathfinder gunboats on patrol apprehended the three vessels, MV FB Pere Ipamo, MV Multi and MV Loving Kindness on May 6, 2019 at Onne Anchorage (waterways) in Rivers.
"MV FB Pere Ipamo was caught in the act, transferring 224 metric tonnes (224,000 litres) of suspected illegally refined diesel into two other vessels.
"No fewer than 14 crew members on board the vessels were subsequently arrested to aid our investigation," he said.
The naval boss said that after the seizure and arrest, the vessels and suspects were taken to naval holding bay in Onne.
He also said that two other suspects were arrested for presenting themselves as operatives of proscribed merchant navy and attempting to swindle residents of the state.
"The two self-acclaimed suspects, Capt. Eke and Capt. Felix were arrested by our troops on May 27, 2019 for conducting illegal Coast Guard recruitment.
"The suspects instructed their applicants to pay the sum of N100, 000 into a bank account for the so-called recruitment.
"They took the action without any form of documentation and authorisation from the Federal Government," he said.
An official of EFCC, Mr Macaulay Olayinka, who received the suspects, vessels and the petroleum product, commended the navy for its synergy with the commission.
Olayinka, a Senior Detective Superintendent, said that the anti-graft agency would conduct speedy investigation into the matter.
He said that EFCC had secured many convictions in court with most of them serving different jail terms in prisons across the country.
The News Agency of Nigeria (NAN) recalls that the Nigerian Maritime Security Agency and the Nigerian Merchant Navy Petroleum Security and Safety Corps were banned by the Federal Government in 2013.