From Msughshima Andrew, Makurdi
In its continuous efforts to ensure peaceful coexistence between farmers and herders in Benue state, an NGO, Search for Common Ground (Search) has implemented a three day training on Conflict Transformation, Human Right and Dialogue with over 80 participants in attendance.
The training which held in Otukpo and Guma LGA of the state, was to build and strengthen capacity of stakeholders in both communities to be able to mediate and maintain peace at all times.
The training which was facilitated by Search Senior Training Coordinator, Mrs Emmanuella Rita Atsen, brought together a diverse range of stakeholders; traditional, religious and community leaders, women and youth leaders, local government officials and members of the Community Security Architecture Dialogue (CSAD) forum formed by Search across the two LGAs.
The Benue State Project Coordinator, Mr Chorbe Joshua Gonlur said the objective of the training is to increase collaboration between farmer and herder communities to develop joint, effective, sustainable local mechanisms for early warning response, dispute management, and violence prevention and mitigation at the community levels.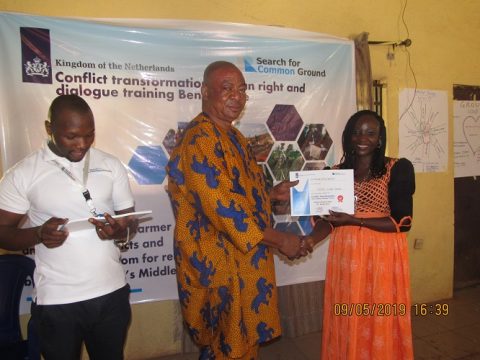 He explained that CSAD is a forum with targeted stakeholders including law enforcement agencies, government, civil society actors, traditional and religious leaders and community members of both farmers and herders.
Chorbe stated that the training will equip them with the necessary information to prevent violence and address the causes, drivers and consequences of farmer-herder conflicts in their respective communities.
He advised the trainees to step down the training to a larger number of members of their communities and share lessons learnt from the three day training.
"Conflict is normal but how a person manage it is the major concern. They now understand the difference between adversarial and non-adversarial confrontation and I believed they will put the none adversarial confrontation into effective use to prevent and mitigate conflict the might lead to violence in their communities," Chorbe said.
Some of the participants who spoke to our correspondent commended Search for their peace efforts. "I now understand that conflict provides opportunity for dialogue and transformation. In deed, learning is a life time thing."
"If I knew all that this training has given me before now, I could have been a good mediator. In the recent past, I may be tempted to judge and blame the conflict parties but I have learnt how to be a good mediator".
"Before now, we, (farmers and herdsmen), see ourselves as societal threat to one another, but this meeting has changed that idea, we can actually coexist, if we understand each other," said a participant who pleaded to remain anonymous.
Our correspondent reports that the training is part of the 24 months project, tittle "Transforming the Farmer-Herder Conflicts and Promoting Freedom of Religions and Belief in Nigeria's Middle Belt" implemented in three states of Benue, Nasarawa and Plateau by the organization.
The overall project goal is to contribute to preventing violence and destruction of lives and properties resulting from protracted violent conflicts between farmers and herders while combating impunity and promoting the freedom of religions and belief in the Middle Belt region of Nigeria.
Climax of the event was the presentation of certificate of attendance to all the participants at the end of the training.