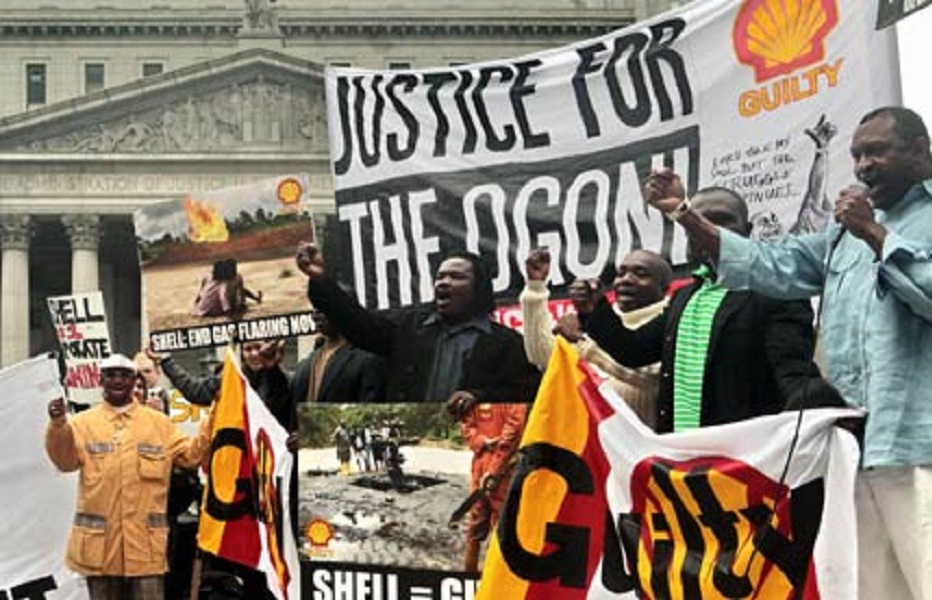 The President of the Movement for the Survival of the Ogoni People
(MOSOP), Bari-ara Kpalap has concerned in strong terms, the army
invasion of K-Dere Community in Gokana Local Government Area
(Ogoniland) and killing of people on the orders of Shell that brought
the army to the area.
In condemning the acts, the President noted that there was no incident
or crisis in K-Dere community to warrant the invasion, shooting and
killings by the Nigerian Army personnels who were providing security
for Shell's staff in nearby community.
The MOSOP President, Bari-ara Kpalap who himself is from K-Dere
community narrated how the Army personnels who were hired by Shell to
provide security for their staff working on a ruptured part of the
trans-Niger Delta pipeline after an explosion and fire outbreak
allegedly caused by acts of sabotage abandoned their duty posts and
surprisingly went into K-Dere community, barricaded the roads, started
harassing people, shooting sporadically, sacked the market and
molested elderly women and other members of the community without any
provocation. The MOSOP leader lamented how the Army shot and killed
36years old Mr. Nen-elkpege Lezor Legbara with other members of the
community sustaining different degrees of injuries from bullet wounds
during the army invasion on April 19.
Mr. Kpalap said the "corporational soldiers" acted on the instructions
of Shell to cause this new havoc in the Ogoni community and call on
both Shell and the Nigerian army to stop further killings of Ogoni
people as Ogoni is not at war with anybody. The MOSOP President
further call on the authorities to investigate the army invasion of
K-Dere and other Ogoni communities including Yeghe that was recently
invaded and bring the soldiers that perpetrated this violence and
killings to book.