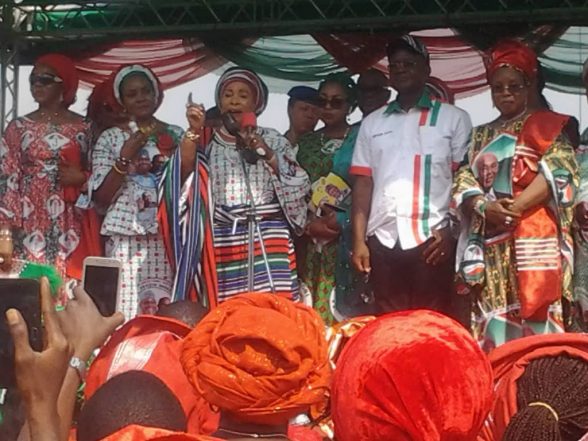 From Msughshima Andrew, Makurdi

Wife of former Vice President and People's Democratic Part's, PDP, presidential candidate, Mrs Titi Atiku Abubakar has canvassed the support of Benue women to enable her husband, Alhaji Atiku Abubakar and all other PDP candidates emerge winners at the general elections.

Mrs Titi Abubakar who criticized the ruling All Progressive Congress, APC, for being deceitful and insensitive to the plight of Nigerians called on Benue women to team up with many other Nigerians to put an end to their deceit.

According to her, a vote for the PDP in the forthcoming general elections is simply a vote for good and developmental governance.
Mrs Titi Abubakar gave this charged today, while addressing Benue women at the IBB square, during the PDP Women Presidential Campaign Rally, in Makurdi.

Mrs Abubakar who lamented the level of insecurity, hunger and employment in the country urged Nigerians to vote wisely the elections and choose a better candidate, Atiku Abubakar to turn the fortunes of the country.

"I am so Atikulated and Ortomatically Obidient. I bring you message of hope that Nigeria will get working again when you vote in Atiku Abubakar. The present government is very deceitful. All they have is failed promises.
"Recently, most of our people have become refugees and widows in our land following high level of insecurity. What manner of fight against corruption when you send soldiers out without training and without arms", she queried.
She called on all to vote Atiku for president saying "people who feast on Nigeria's resources know that restructuring is good but they dont want it to take place because they are benefitting from it.
She said there is too much power and resources concentrated at the apex government and that is why development is not reaching down to the masses.
Accoding to her, if voted on the 16th of March 2019, Atiku would restructure the country, provide employment, end hunger and improve standard of education in the country
Mrs Atiku who said her husband is committed to women development, also pledged that Atiku would give 40 percent of his appointment to women.
She alleged that the APC wants to rig election but noted that no matter how they perfect the rigging, God would rig them out. "Nigerians want a free and fair election and they want to be allowed to choose who they want" she added.
Benue state Governor Samuel Ortom thanked Mrs Atiku and the entire Benue women for their support for the PDP insisting that the APC government has failed hence the need to replace them.
He said the only challenge facing Benue is that of insecurity and expressed the belief that if Atiku is elected, he would solve the problems.
He said the APC is biased in it's fight against Corruption. According to him, "Akpabio was in PDP and was being investigated by the EFCC over a N100 billion fraud but immediately he defected to the APC, the case has died down.
The former SGF, Babachir Lawal was involved in grass cutting fraud amounting to over N200 million, but because he is a member of the APC, nothing has been done about it", Ortom added and called on all Benue people to support the PDP for effecting and inclusive governance.
Also speaking, the wife of the Benue state Governor, Mrs Eunice Ortom and wife of the immediate past Governor, Arch. Yemisi Suswam assured Mrs Titi Abubakar of the support of the Benue women.
Mrs Ortom told Mrs Atiku that the Benue women will queue behind her husband and all PDP candidates to ensure they emerge winners at the general elections.
Mrs Yemisi Suswan further urged INEC to conduct credible, free and fair election by ensuring that Benue votes count.