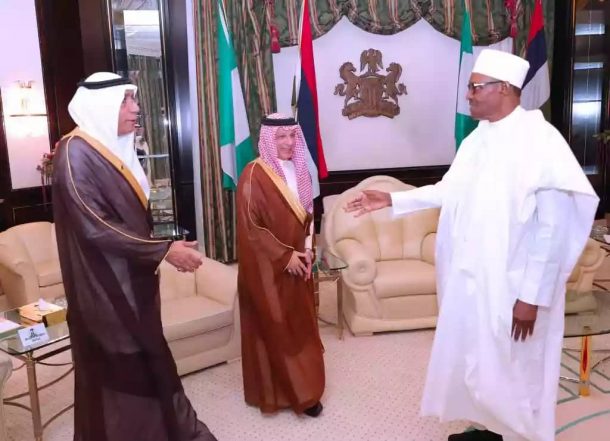 A group, the Mandate Protection Vanguard (MPV), has alleged that the delegation of Saudi Arabia that met with President Muhammadu Buhari on Thursday in Abuja was a decoy by the oil rich country to bring in last minute cash to fund Buhari's reelection.
 A delegation from the Saudi King and led by Ahmad Qattan, Minister of state for African Affairs, met with President Buhari, who is also the APC presidential candidate on Saturday's election ostensibly to discuss about oil quota.
But MPV in a statement signed by Hon. Celestine Eromonsele said that information available from credible security sources at Aso Rock Villa, indicates that the Saudi envoy brought in some last minute cash with them to help fund President Buhari's reelection.
He said the grand plan is to Islamise Nigeria.
Eromonsele revealed in a statement on Friday in Abuja that the visit was suspicious coming at the eve of the presidential election where the incumbent is a candidate.
The group said that Saudi Arabia brought the money for massive vote-buying in favour of the ruling APC and its presidential candidate, adding that "Saudi Arabia is working with elements in the country to have a foothold in Nigeria."
He said if Buhari is not planning to Islamise Nigeria, why is this the first time Saudi Arabia is bringing money to support a presidential candidate in Nigeria's election.
According to him: "We saw the Saudis came calling yesterday. The official line is that the Saudi delegation, which came from the King (therefore the Crown Prince) and was led by Ahmad Qattan, Minister of State for African Affairs, came to discuss OPEC quotas compliance. That was a decoy to bring in last minute cash to fund Buhari's reelection."
The group also observed that "It's a bit of an incongruous tale. First, the discussion over oil quota would not be the brief of "African Affairs" in Saudi Arabia. Second, a junior minister of an inconspicuous ministry (not Saudi Oil Minister) doesn't usually have expedited access to the President unless there is something very serious from higher up. Third, Buhari didn't have any briefing on the issue from what we understand and merely promised to ask questions of Ibe Kachikwu. That suggests that this rendezvous did not take long to arrange.
"We don't know why this feels like significant "foreign intervention" at this time, he queried.
"We have learnt from credible security sources they may have brought some last minute cash with them to fund Buhari's campaign," he alleged.
He, however called on the international community and Nigerians to take note of the development and the desperation of Buhari to involve a foreign country in an election in which he (Buhari) had frowned at involvement of outsiders.
It was for this reason, Eromonsele  said that Governor Nasir el Rufai, in a well scripted plot of the APC government threatened foreign observers they will be returned to their countries in body bags. A threat which the Federal Government doubled down on.