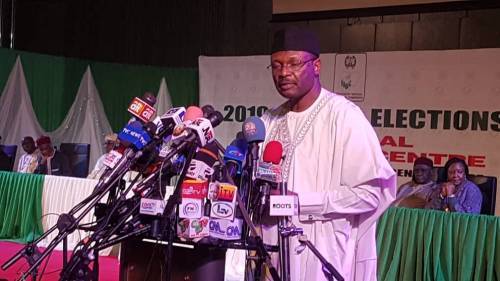 Loading ...
From Msughshima Andrew, Makurdi
The Independent National Electoral Commission, INEC has announce results from two local governments; Tarka and Ado in the presidential election in Benue state.
The results indicate that while President Muhammadu Buhari won in Tarka Local Government Area with 12,197 votes, Alhaji Atiku Abubakar won in Ado with 8,614 votes.
Announcing the results at INEC headquarters in Makurdi, the state presiding officer for Tarka, Simon Ejembi said Buhari, who is the candidate of the All Progressives Congress, APC, polled 12,197 votes to beat the Peoples Democratic Party, Atiku who polled 4,875 votes.
According to him, the total vote cast was 18,513, 17,424 was valid while a total number of 1089 votes were rejected.
Also nnouncing the results from Ado, the state presiding officer for Ado, Mr Idugba Echi said Atiku of the PDP polled 8,614 votes to defeat the APD, Buhari who polled 5,373 votes.
He said the total vote cast was 16,413, while 15,320 votes was valid, 1093 votes were rejected.
As at the time of filing this report, only two local governments were ready with their results.