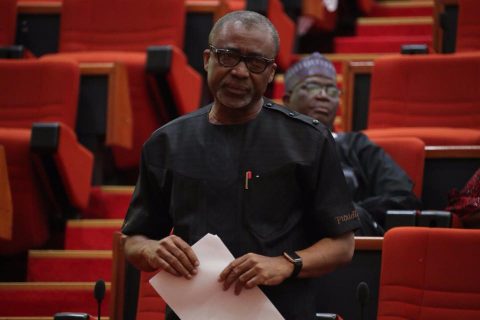 Senator Abaribe's Only Achievement Is Standing Surety For Nnamdi Kanu – Nkwonta
A senatorial aspirant on the platform of the All Progressive Grand Alliance, (APGA) in Abia South zone, Chief Chris Nkwonta, has said that the senator representing the zone, Senator Enyinnaya Abaribe, has made no impact on the people in his 11 years at the National Assembly except standing surety for the leader of the Indigenous People of Biafra, Nnamdi Kanu.
Nkwonta who was the APGA senatorial candidate in 2015, urged the people vote out the PDP in 2019 , stressing that the party has failed the zone within the period it has been in power.
Declaring his intention for the Abia South senatorial position at his country home, Akwete, in Ukwa East council area of Abia state, the APGA chieftain who said Abaribe has been campaigning for fourth tenure at the Senate on the strength of standing surety for the IPOB leader, insisted that nothing has changed in the zone since Abaribe emerged senator in 2007.
Nkwonta urged the people of Abia South zone to demand for governance from their representatives and reject those who had been in office with attracting dividends of democracy to their constituents.
"The only achievement Senator Enyinnaya Abaribe can boast of since he became senator is standing surety for Nnamdi Kanu. This is not an achievement. Move around the six local government areas of Abia South, nothing has changed. Since 2007, what has changed since Abaribe emerged senator? Things are getting worse by the day. Salaries and pensions are not being paid. Workers are dying of hunger. Nothing will change even if you give him 20 years at the senate.
"Senator Abaribe is calling on the people of Abia South to return him to the senate because he stood surety for Nnamdi Kanu. How does this translate to the wellbing of the people? He claims to be speaking for Ndigbo, but many eminent Igbo leaders are also speaking for the Igbo without being in the Senate. One does not need to be in the Senate before speaking for Ndigbo. There is nothing on ground to show for the long period he has been in the Senate."
He described the situation where the state governorship and Abia senatorial positions are occupied by Obingwa council area against Ukwa East and Ukwa West council areas, as unjust and would be reversed in 2019.
"The governor and the senator are from Obingwa local government .It is unfair for a brother to seize what belongs to two brothers. Ukwa people should stand up to demand for their right. It is no longer a party affair. Ukwa people are npt slaves in Abia South. We will correct such imbalance in 2019. "