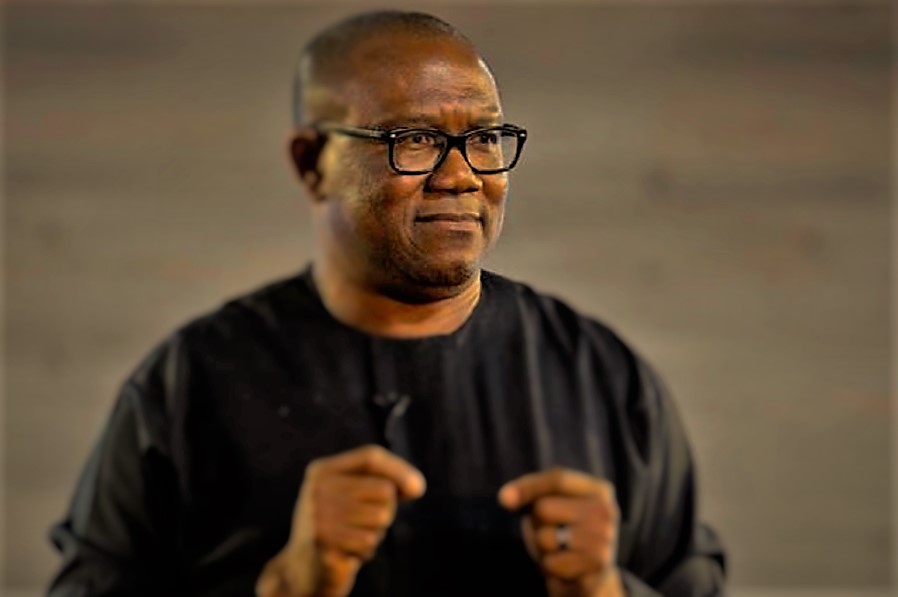 Peter Obi's Vice Presidential Ambitions – By Martin Ugochukwu
Nigeria's most ubiquitous politician right now is Peter Obi, the immediate Anambra State governor. He craves media attention like no other person. If he is invited to a kids party, he will be before even the parents of the babies. Obi has been on a whistle-stop campaign to become the vice presidential candidate to any person the Peoples Democratic Party (PDP) may nominate as its presidential flag bearer in the 2019 general elections. The PDP will nominate a northern Muslim. Mr Obi has a tough time explaining to Nigerians how he wishes to serve as running mate to a Muslim and northerner when he spent eight years in office as governor demonizing Muslims, northerners and Yoruba people.
The ways of very ambitious Nigerian politicians are, indeed, inscrutable. They never learn from history. We thought that after Anambra voters told Mr Obi in no equivocal terms that using dangerous propaganda and fatuous claims to realize his ambition is dead on arrival he would pause and think, examine himself and take a second look at his strategy. We were mistaken. Mr Obi and his party were resoundingly defeated by Governor Willie Obiano and the All Progressives Grand Alliance (APGA) in the November 17 gubernatorial election. Obi and his Man Friday, Oseloka Obaze, were defeated in not only Anaocha Local Government Area but also Obi's hometown of Agulu. In fact, Obiano beat him in his ward. The former governor managed to win his polling both by a few votes in an election widely regarded as the most peaceful and transparent in Nigeria's history.
As already stated, Mr Obi's greatest sin again the Anambra people is his proclivity towards terrible claims. (I am trying hard to avoid saying that my former governor lies). In one of his ceaseless appearances in May, 2017, at public functions in Lagos, he claimed that he had been wearing only one wristwatch for 13 years. He wanted the audience to consider him very frugal. But the media quickly showed several pictures of his public appearance in recent months with different watches.
As he was leaving office a little four years ago, Obi announced that he was leaving behind N75billion naira cash, adding that all contractors had been fully paid. When confronted with charges that the N75bn he claimed was a phantom amount, he went into all kinds of somersault. It will never cease to beat our imagination how any government official can announce full payment for jobs not yet completed. Ironically, Mr Obi did state at different times that several projects were at different levels of completion. In other words, he wanted Nigerians to believe that he had paid 100% for projects which were only 5% completed. Still, he wants Nigerians to regard him as a prudent manager of resources.
Obi has begun another round of facile propaganda. He is claiming that the new brewery in Ogun State which was opened on Tuesday, August 28, 2018, is a major economic loss to Anambra State. He claims it was not located in Anambra due to the poor investment policy of the current administration.  Interestingly, the Obiano administration has attracted over $4bn worth of investments, mostly in agriculture, over the past four years. This shows why most Anambra people take Obi's claim with a pinch of salt. He makes no such fat claims in Anambra where the people know the facts very well.
Let us face facts: the former governor must be an extremely audacious person. He talks about brewery business without any sense of embarrassment whereas brewery business could have landed him in an awful place. While serving as our governor, he brought SABMiller, the South African multinational, to Onitsha. The SABMiller subsidiary in Onitsha is his personal business which every Anambra person seems to believe was established with the huge security funds he was collecting. The use of security funds other than for the purpose for which they were appropriated in the first instance resulted in the collapse of security in the state. As traditional rulers and other prominent people were being kidnapped for ransom with reckless abandon under his watch, Anambra began to look like a failed state.
On Sunday, June 1, 2009 , the police in Lagos under the command of Marvel Akpoyibo, who was to retire as Deputy Inspector General of Police, arrested an SUV belonging to the Anambra State government for ferrying N350m raw cash from Government House, Awka, to 7 Aerodrome Road, Apapa, Obi's private business office. Within a few hours, Obi arrived on the scene, aborting his trip to Abuja. He paid journalists and editors heavily at Planet One Hotel, near Shonibare Estate in Maryland, to kill the story.
Today, the same person is wearing the toga of a saint, so that he could become a vice presidential candidate. He wants to realize his ambition even if it means running down his own state and doing gyration for a state like Ogun. Perhaps, he is taking a pound of flesh on the people of Anambra State for rejecting him and his new party completely in the last gubernatorial election. On his watch, the PDP moved from being the number one position party in Anambra State to number two.
Someone needs to tell Peter Obi that there are more enlightened ways to achieve vice presidential nomination ambitions than to tell fatuous lies against a person's state and his people. Political ambitions should not make some otherwise reasonable people behave like jesters.
–
Ugochukwu, a retired educationist, wrote from Umunze, Orumba South Local Government Area of Anambra State.