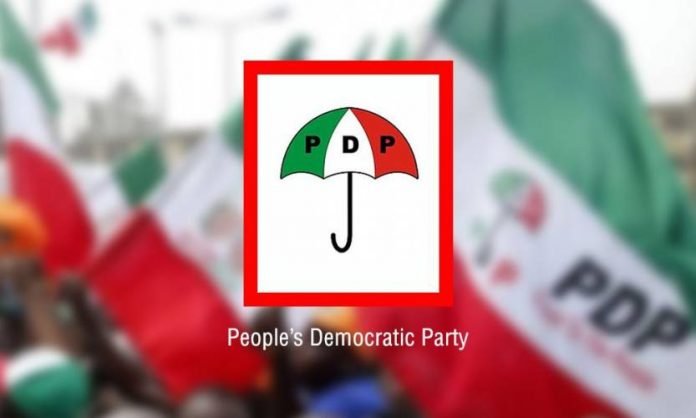 PDP NWC Condemns Buhari For Gale Of Political Intimidation
Loading ...
Communique Issued At The End Of The Emergency Meeting Of The NWC Held On Monday 30th July, 2018
NWC considered unfolding developments and issues happening in Benue State, particularly as they concern the State House of Assembly and the stability of elected Government.
The NWC condemns in its entirely the purported sitting of eight APC members including the impeached and suspended Speaker; (in a 30 member House) wherein they illegally claimed to have served an impeachment notice on the Governor of Benue State, Dr. Samuel Ortom. PDP also condemns the use of the EFCC and DSS to harass and intimidate officials of the Benue State Government.
We note the roles played by the factional Chairman of the APC, Adams Oshiomhole, President Muhammadu Buhari-led Federal Government and Sen. George Akume in encouraging lawless acts and anarchy in Benue State.
Party States that the actions and opinions expressed by Oshiomole on the decamping of Governor Ortom to the PDP as well as the deployment of Policemen by the Buhari led Federal Government to force the purported issuance of illegal impeachment notice on the Governor are acts intended to precipitate crisis for declaration of state of emergency in Benue.
It is on record that the erstwhile Speaker had been impeached, suspended and restrained by a court of competent jurisdiction from parading himself as Speaker.
In spite of this, it is shocking that no fewer than 300 Policemen were alleged to have escorted the impeached Speaker to the State House of Assembly to initiate a disgraceful and manifestly illegal process.
Our Party warns against deliberate acts which were maliciously designed to truncate democracy by employing underhand tactics to achieve what is inconceivable in a democracy.
The Party calls on the Nigerian Public, the civil society organizations and International Community to note the series of plots and deliberate attempts by the Buhari led APC Federal Government to cause mayhem in a State that is struggling to recover from a spate of killings and bloodletting.
We are aware that these plots were designed to scare away Nigerians, Including State Governors and Legislators, who are desirous of rallying with the PDP to rescue our nation from the misgovemance of the Buhari regime.
However, Party urges members to remain steadfast as no amount of intimidation, harassment and assault on processes would suppress the freedom of choice eminently guaranteed by the 1999 Constitution (as amended). This misadventure is dead on arrival and again demonstrates the desperation of this failed APC Federal Government.
PDP therefore urges its members, particularly in Benue State, to rise in defense of their rights and our hard earned democracy.