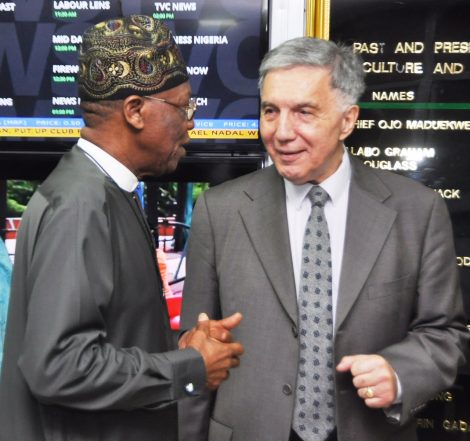 Minister Seeks MDAs' Cooperation For Tourism Development

Loading ...
The Minister of Information and Culture, Alhaji Lai Mohammed, has called for cooperation among the various Ministries, Departments and Agencies (MDAs) in the generation of relevant data that will assist in making policies and planning decisions for the development of tourism in Nigeria.
The Minister made in call in Abuja on Monday when he received the Technical Consultant of the United Nations World Tourism Organisation (UNWTO) on Tourism Statistics, Mr. David McEwen, on a courtesy visit to his office.
Mr. McEwen is in Nigeria to meet with the various MDAs of government with a view to developing a framework for the generation of data in the nation's tourism industry.
"Tourism, as an industry, and the other sectors are interdependent, so it's not by coincidence today that while Mr. McEwen is here, he is going to interact with at least ten other parastatals or departments and ministries, including the National Bureau of Statistics; the Nigerian Tourism Development Corporation; the Nigeria Police Force; the Central Bank of Nigeria; the Nigerian Immigration Service; the National Park Service; the Federal Airport Authority of Nigeria; the Federation of Tourism Associations of Nigeria and the National Population Commission and other bodies," Alhaji Mohammed said.
He said the Federal Ministry of Information and Culture, which develops policies for the tourism industry, does not generate the data required for policy formation and planning for the industry, hence the need for cooperation and coordination of the relevant MDAs.
"The coordinating role of the ministry is of great importance and is for us to ensure that we persuade and get the cooperation of all the other different actors in the industry for us to be able to plan and develop," the Minister said.
According to him, most of the agencies that generate the data are not under the purview of his ministry, but their input remains paramount in order to develop tourism in Nigeria.
In his remarks, The Technical Consultant on Tourism Statistics of the UNWTO, Mr. McEwen, said tourism is one sector that depends largely on other sectors to succeed.
"I don't think there is any industry that needs coordination and cooperation like tourism. It's one part of it that the airlines can't do without accommodation and the accommodation can't do without the airlines," he said.
The UNWTO Consultant said from the experience he gathered from other countries, statistics generated by other agencies and organs play a vital role in attaining the objective of tourism development, hence the need for the government to play a vital role in the development of synergy for tourism to thrive in Nigeria.
Mr. McEwen said there will be a Technical Workshop on Tourism Statistics for stakeholders on the way forward, during the UNWTO/CAF Meeting to be hosted by Nigeria in Abuja in June.