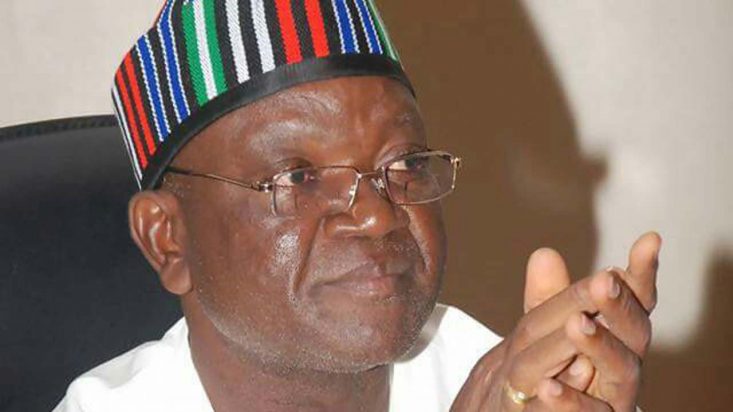 [Interview] I'm Seeking Justice For My People – Ortom
Loading ...
From Msughshima Andrew, Makurdi
Benue State Governor, Samuel Ortom, on return from leave interacted with the media community in the state. He spoke on various issues including the institution of criminal proceedings against the leadership of Miyetti Allah Kautal Hore who he said are sponsors of the ongoing killings in the state pledging that he was determined to get justice for the Benue people.
Excerpts.
While you were away, some of your security aides were transferred and prior to this, you alleged that there were threats to your life. Some have linked this action to a plot to eliminate you, what's your take on this? 
Let me appreciate all of you for the support and for standing with me and my government in this trying period. Words are not enough to express my inestimable appreciation to all of you for your advice, your constructive criticisms and support that you've given to us especially the siege that Benue State is fighting today. Thank you for the support that you gave to my deputy in my absence and for the achievements that we've recorded. I always say that right from 13ost of January, 2018, you've not left us. You've stood with us, you've stood with the people and this, to a large extent, has cushioned the pains that this government and the people of Benue State are going through. It is appreciated that you've through your pen, made it possible for the outside world to appreciate what we're going through in opium State. We've gotten tremendous support for our IDPs and this is also attributed to you for making people understand, telling the people the pains that the people of Benue State are going through even beyond the shores of this country. People have tried to reach out to us and it's based on the information that you've been giving out. So you're deeply appreciated and I pray that God will continue to keep us and will continue to help us. Like I always say, the Bible says whatever you do, do it as unto God and when you do that, it is God that rewards, not really minding what you get today, but the outcome of what it will be tomorrow. Above all, we're talking about our own state, we're talking about building a state that posterity will ever remember that we went through the leadership; we're talking about building a state where there'll be justice, equity and fairness for all; we're talking about building a state that will stand on a very sound footing so that the pains we're going through today as a people, our children will leverage on whatever foundation we've built and then effect better development more than the way we're witnessing today. So it's collective, it's about all of us working together to achieve it and I remain committed and open to all forms of ideas that can add value to the development of our State. So, while I welcome you, I also thank God for meeting all of you safe despite all the challenges that we're passing through. I believe that what has a beginning must also have an end so I believe that very soon, we'll have cause to smile because the Federal Government too is deeply concerned about what's happening and the steps it has taken in the last few days will definitely bring an end to this siege that we are in.
Now, to the question about the transfer of the immediate security personnel attached to me by the Police. Of course, I was on vacation and I also heard and saw it, but I did complain through the Commissioner of Police here in Makurdi that this was not right. In the whole country, you have the right, as Governor, to select your immediate security personnel that work with you, and I think the attention of the authority of the Nigerian Police was drawn to this and it was corrected the following day. So to me, whether it was made in error or by mischief or whatever means, the important thing is that it was corrected and today, all my aides are with me because I also saw the letter that was written that cases of transfer of Police officers, as far as Benue State was concerned, should be suspended indefinitely and I have all my aides. So I don't want to read meanings into that for now. As you're aware, I had to come back and I resumed today, so if there are any other things, I'll still let you know but for now, an error was done which I drew the attention of the management of the Nigerian Police and it has been corrected. So that is where we are.
We want to know the steps the State Government is taking to prevent further attacks on Benue communities by the invaders.
Since the invasion from January, we've not rested. As Governor, my deputy and members of the executive council and of course, as members of the security council in Benue State, we've been working very hard; we've been very proactive because we have agents in the 276 council wards, in the 23 local governments and we've been meeting very frequently to assess and analyse the situation with security agencies in the state. And to complement the security agencies, we've also empowered the Vigilante Groups and Livestock Guards to complement what they do. And we've identified all those flash points that these invaders come and attack our people and we've adequately made presentations to the Federal Government and as I speak to you, there's already a reinforcement going on by all security agencies to ensure that we're able to surmount this challenge especially of attacking our people because Mr President, in my last discussion with him, was deeply concerned about the humanitarian crisis that we're facing today in Benue State. A committee was set up to assess the damage and to see how these IDPs can be rehabilitated to go back to their various communities. But one thing that was identified was that areas that were attacked were not yet safe and while the committee was going round, despite the fact that they had adequate security personnel with them, they were also attacked in several places and thank God, the security personnel were able to repel all the attacks that came upon them and no one was hurt till they finished their assignment and went back. So Mr President had indicated that he wants a rehabilitation of these homes because even when they go back, how are they going to stay in these places? So we raised the issue of security in these areas and he did assure us and that I've seen the sign. As at today, some of the personnel, the top senior people are already in the state and by tomorrow, the Chief of Army Staff himself has visited just to try to also address this matter. All the security apparatus are augmenting their personnel to help curtail these attacks and I believe that within the shortest possible time, it'll be done. Of course, you know that though I am "Chief Security Officer," of the state I don't have the authority backing me to order the police or soldiers, that is why we will continue to ask for state police to ensure they are adequately trained and equipped to have the capacity to take care of the security of the state. But for now, it is the responsibility of the federal government. They too, they have their deficiencies in terms of capacity, numbers, equipment, funding and this is why I'ill continue to call on my people to continue to support them because the insurgency that  is going on, as at today, out of the 23 local governments, you hardly count five local governments that are not under siege. So you can see the enormous challenge. So there are several ways that individuals, groups, communities can come in to support. We have the Vigilante Group, we have Livestock Guards but these are not armed people so it becomes very difficult and when it comes to funding, you discover that the security personnel in the state are grossly underfunded and ill equipped. We need to support them. Where individuals or groups or corporate organisations have that kind of support, you can pass through government, you can pass through anybody or to them directly by way of mobility, funding or whatever that can be available to support the security agents to work. On our part, we're working very hard and that is why I had to reschedule my trip to come back earlier than I had planned because of the continued attacks. So I'm here putting heads with the Deputy Governor and other members of council and security agencies and I believe that this will definitely have an end. The efforts of the security agencies looking beyond the issue of grazing is also a welcome development. I think by the grace of God, we'll soon surmount this challenge.
What's your reaction to the military invasion and massive destruction in Naka, vis-à-vis the failure of the military to react in the same manner when Fulani militia killed their men like it happened in Yogbo years back and Tyulen recently. Will Benue seek redress?
I condemn the invasion in its totality, this is unwarranted. I must also condemn the killing of the army personnel in Naka and that was why my Deputy who was then the acting governor, swiftly took action by directing the chairman of the local government and the traditional rulers of the Gwer West Local Government to ensure that the perpetrators were arrested and brought to justice. And this was done. Even while I was away, I was keenly following up until these suspects were handed over to the Commanding Officer of 72 battalion; and so the action of government was very clear. Five people were arrested and brought, it was not the military that arrested them or police. The chairman of the Local Government and the traditional council came together and arrested these people and handed them over. And so there was no basis whatsoever for an invasion. We've reported this to the Chief of Army Staff and he has already directed an inquiry to be made and they assured me that anyone found wanting will be dealt with according to the laws and so I'm waiting for the outcome. I don't want to preempt what will be but this is not right and I'll continue to tell our people that criminality in all its forms is not allowed. Reprisal or revenge of any type will not be accepted by this government. We are a government that believes in the fear of God and God respects human sanctity and it is important that whatever happens, blood should not be shed even when you are attacked, reprisal is not the solution, it's not the answer. The answer is the rule of law. That is the only thing that can guarantee safety for all. When you allow lawlessness to prevail you are calling for anarchy; and when there is anarchy no one will ever be safe. And you don't know the extent that will take us to. So at all times we must be law abiding. The security agencies are there, don't think that they are slow. Justice may not be gotten that same day but if you follow due process, justice will definitely be gotten. And so until we have the report of the Chief of Army Staff then we'll know exactly what other steps we're going to take.
The National Economic Council, NEC, prohibited open grazing and it was done in just few states including Benue. Don't you think the Benue Anti-open grazing law should be adopted and enforced nationwide? 
You know that Nigeria is a federation comprising of 36 states and Abuja. And of course, the 36 states are federating units and these units are independent of each other. The constitution of the Federal Republic of Nigeria mandates each federating unit to make laws for good governance of their citizens. This is what we did as far as this law is concerned. You're aware that this challenge between herdsmen and farmers in Benue State and other parts of the country preceded the current administration whether at the federal level or Benue State. The steps we took were to forestall crisis finally for farmers and herdsmen and we remain committed to this in Benue State. We cannot talk about any other state. But I must congratulate the Benue people, I must congratulate all of you – the media for standing with us in defence of this law. You appreciate the fact that since May 22, 2017 when we signed the bill into law, it became so contentious. There were several schools of thought and several agitations from several quarters. So for the National Economic Council, NEC, coming to adopt that truly, ranching is the right way to go, for us in Benue State, it is congratulations to all of us and we appreciate God. And for other states adopting this, it is left for them to decide. There are various Houses of Assembly, there are various governors and the processes of making laws for their good governance. Mind you, out of the 36 states, we have our peculiarities. What is peculiar to me here may be different from my colleague here in Nasarawa, Ebonyi and other states. So it is now left for them to decide if they so wish. We've always said that the prohibition of open grazing in Benue State is a product of the people themselves. You were all here and you saw that in the process of making this law, the people were in a hurry to the extent that Benue State House of Assembly was occupied more than three times. And you had people coming, old women, young and so on coming in to protest and ensure that this law was enacted. So the Assembly was not spared. Several times, the people came and occupied the Assembly. So even as I speak to you today, before I went on vacation, I had cause to tour the IDP camps. I visited the eight of them and in spite of the hardship and the pains that the IDPs were going through, in each of the camps, I did pose a question "do we find a way of repealing this law?" and unanimously they said no, they believe that this is the way to go. From the old women, the old men, the young men and girls and even children. They were all unanimous, so for me, it is a plus to us for NEC to have taken that decision. I commend the wisdom of the Vice President by setting up that committee that went out to assess the situation and the entire members of National Economic Council (NEC) coming to adopt this. Like the northern Governors, some weeks ago met in Kaduna and adopted that ranching remains the only option to stop the challenge of herdsmen, farmers crisis. Like they did say, by 2050, the total population of Nigeria by projection would be 415 million and if we have approximately, 200 million and we are having this challenge, by the time we double that population, where are we going to be? Where would you have the land for open grazing? So I commend NEC for taking this bold decision. Individual states are at liberty to decide what is good for them. I'm aware that sometime ago, my colleague in Kano State called on all herdsmen to go to Kano that they have enough land for them to do open grazing. That is the kind of thing that I'm talking about. For us here, it is impossible because we don't have the land; our land is for crop production, which is the main occupation of our people. Even within our population here, that land is not enough for farming. So I appreciate God that ranching remains the best global practice It's what is obtainable in India and other parts of Asia, in Europe and in America. In fact, it may interest you to know that the total herd of cattle we have in Nigeria is estimated to be less than 20 million. But you have over 200 million in India; you have over 250 million in Brazil; you have over 300 million in America and they all ranch and you don't hear about farmers, herdsmen clashing at any time. So, ranching is the right way to go. I commend NEC and I believe that with this position of NEC we will finally have peace. Those insurgents that are still going about killing our people are not out for cattle business or cattle rearing. They are out for a different agenda and we are not going to allow that agenda manifest in Benue State.
While you were away, the coordinator of the Livestock Guards was arrested by security agents and it was well celebrated. His arrest was said to be on suspicion of his links with the Boko Haram insurgent group and killings in Benue State. Meanwhile there had been repeated calls for the arrest of the leadership of Miyetti Allah Kautal Hore for making threats to attack the state and carrying out same, what's your take on this?
Let me say that as a law abiding Governor and someone who believes in the rule of law, I'll always support due process. Security agencies are at liberty to arrest, detain and investigate anyone, who they may suspect to be involved in security breach or perpetuating insecurity. The arrest of Tershaku is one of such and as for me as I always do, and you are witnesses to the fact that when it comes to issues of security and prosecution, I don't interfere. I've made a statement through my assistant after his arrest that due process should be followed; he should not be victimized but security men should be fair to him. He should be investigated and if at the end he is found culpable, he should be prosecuted. When my adviser was suspected of murder and a commissioner was also a suspect in a murder case I asked them to resign. Although they were not convicted, I said for the purpose of credibility of this government they needed to give way and they gave way. They had to resign. You are also aware that even when one of my appointees was convicted, I asked him to resign. Later though, he appealed the decision of the lower court and was exonerated and is now a free man. If I have another opportunity I'm going to appoint him again. So I don't want to talk about the arrest other than to say let the needful be done; let there be no victimization. If at the end an investigation is carried out and he is culpable, let that be. On Miyetti Allah, I'm also dumbfounded. I've said it repeatedly; I've written and will continue to write and continue to raise alarm that the leadership of Miyetti Allah Kautal Hore are responsible for the killings; for the mercenary work that is going on in Benue State. I still want to repeat that they are responsible. There are evidences; they are on tape, they have done press conferences and none of them have come out to refute what was credited to them in the media. They've said it is about Jihad; it's not about grazing. They said it is about occupation; about taking over the land. They've said it and the evidence is there. I've presented this to security agencies and I want to believe that it is a whole process; they're still working on it and at the appropriate time, these people will be apprehended because they cannot go free. After killing my people, they'll not be allowed to go free. I'll continue to say it that these people must be arrested because they're responsible for killings in the state. The evidences are there; very clear for everyone who wants to see to see. Beside that what we've decided to do as a government since there is no response yet is to initiate criminal proceedings against the leadership of Miyetti Allah Kautal Hore in court. I have been briefed that the case is coming up on Thursday at a High Court in Makurdi. We're beginning with the 73 victims of the New Year day attacks and several others will follow. I believe that the court will definitely give us justice. These people are not going to be allowed to go free; justice must be served to us. Those people who think that Ortom is making too much noise should please help me so that justice will be given to me and my people. That is all that I seek and nothing more than that. By the time you do that I'll keep quiet, I'll not say anything again.
What decisions did your party, the All Progressives Congress, APC, reach at caucus meeting yesterday? How are you responding to the alleged moves by some people to lock you and your supporters out of the party by not allowing you to influence the party structure in the forthcoming congresses?
The decision at the caucus meeting was very simple because the National Executive Committee of the party has made things easier for all members of APC in Benue State. There is the guide that was given by the NEC of the party that congresses should be conducted which are elective from ward to local government and then state. Early June, we will be conducting the national convention where we will elect new set of party officers to man the party from the ward to the national level. So there is no cause for alarm. The caucus of yesterday was briefed on this development and the change in date. Instead of the earlier 2nd May of starting the congresses, it will start on the 5th at the ward to be followed on the 12th  with local government and state on the 19th. Then it will be followed by the convention in early June. So the guidelines are very clear. It is an elective Congress that will be conducted but the current officers were given waiver by NEC to be allowed instead of resigning 30 days to the day of those Congresses if they wished to recontest, they are free to remain in such offices until Congresses are done. And through consensus, we can arrive at these officers but where a consensus can not be reached, there's going to be an election which will usher in new set of leaders. But where we have challenges, we'll revert to the original arrangement of the extension of such offices for members of the executive within that ward, local government, state or at the national level until further notice and so this was what was resolved. The second question as to my people being shut out of participating in the Congresses. It's just an insinuation, it has no basis, we're working together as a party. APC is one party in Benue State. We have no factions. We discuss as a family and we've resolved all issues that emanated as a result of some agitations from some members which is normal. Politics is about interest, so when you are two, you may have diverse interests so when you are more than two, when you have over four million people putting their heads together, there will always be differences but we can always find a way of resolving it. Where we can not, the constitution of the party is there and it will strictly be followed. One thing that we also resolved was that we will allow the constitution of the party to prevail on our activities. So there's no cause for alarm. I came into this party without structures and today I see no reason why I should be afraid after serving as Governor for three years under this platform and every other person that has interest, if you follow due process, you will get there and of course you are aware that the electoral law has been reviewed in such a manner that except the constitution of the party is followed otherwise you are at risk. So there's no cause for alarm whatsoever, we're working together and the caucus yesterday came out very well. We're going to discuss at various levels to ensure that either we retain the current leadership or we make some adjustments where necessary to strengthen the party and ensure that we are stronger as we march towards 2019.
There were rumours that the state government intends to sell some of the state industries to fund your reelection campaign, how true is it? And why want to sell moribund industries at this time?
The first question is how many moribund industries did I sell before becoming Governor? I did not sell any industry but I became Governor and so of course you know that there's a privatization law in place which mandates the government to look at these issues whether leasing or privatizing or outright sale. This is a matter of the law. I didn't initiate that law. It's a law that has been in place. What government is trying to do is to follow due process and follow the law. That is what we did and we decided that for a government that is transparent, there was need to allow the general public to know what we are doing that was why we went ahead and did that advertisement. This has been going on, it was done before. You know that Plastic Industry was concessioned to Oracle Business Ltd in 2013. Taraku Mills was concessioned to Growrich Nigeria Ltd and the other ones nobody came. Wannune Tomato factory, Benco Roof Tiles, Otukpo Burnt Bricks, and of course Teragro Company was also leased to Transcorp. These were things that were done without even advertising them. So what is wrong in we advertising it for people to know and also to participate? Today as an industrialist I can tell you that technology has fast overgrown what you have in Taraku Mills. There are smaller automated industries that can produce the same quantity of what the present Taraku Mills can produce and you spend less in terms of cost of production than what you have. Technology of the seventies, now we are in 2018. There's no way you can compare the technology of 1970 to that of 2018 and since we came here, we've brought in about eight different companies both within the country and outside the country that indicated interest that they wanted to take over Taraku Mills but after due diligence, it is either they do not come back or indicated to us that it will be a waste of their resources to put into Taraku Mills. Tomato factory, we had even concluded the arrangement and given it out. We know that the worth of the Tomato factory in Wannune is over N3 bilkion but because it was being wasted we decided to give it to an investor who came from the original manufacturer of the industry equipment in the sum of N600 million. Unfortunately, after one year the man did not show up again and so for us our intention is to ensure that we have functional industries not just keeping industries that are not adding value but rather are draining on the purse of government. We made it public for any person, whether you are an indigene, you can bid for it and we're going to give that at a concessionary rate so that our target is to ensure that we have people working in those factories. If you go the Plastic industry today, because it was concessioned you have more than 400 people working in that place. You have taken 400 people off the streets. If you get Taraku Mills working, I believe that you will have more than 1000 people working in that place and you will be taking them off the streets of Benue State. If you have the Tomato factory working you will be taking over 100 people off the street. When Teragro was working though they've shut down for now, they are no longer producing, they will take away more than 100 people off the streets of this state. The same thing with the other ones. Talk about Cassava Flour Mills, that one too is not working and so on. So the whole idea is to get investors who can inject new blood and resources inside these to generate jobs, to create opportunities and wealth for our people so that we can process our primary products. All these industries are meant to generate their raw materials from local sources and of course I didn't mention the yam plant in Katsina-Ala. So these are the issues. It has every good intention and of course this government has no room for diverting government funds and so it can never be done. This is a privatization council that is manned by very reputable Nigerians and we are ready to account for anything when it comes. But you see, in Benue State whatever you do politics comes in and so I'm going to invite stakeholders to come and discuss the issue since it has generated a lot of issues out of nothing. But the truth is that the law on privatization was not initiated or enacted by me. I inherited it and we thought it is a good thing to allow these companies work, we'll be better for it. So that is where we are, there is no point of diverting money, I don't need fraudulent money to try to win election. I did not use such money to win in 2015. I'll use the same strategy of trusting in God. I've always said that it's God that crowns, John 3:27 says a man can receive nothing if it is not given to him from above. I came here with no money but I got the victory and I believe that the second term will not be an exception. We'll continue to work hard and we'll let the people know the facts as they are. Issues of salaries, I believe that a lot of things are hidden. By the time the people of Benue State know the truth, they will appreciate better. Let me use this opportunity, and you can find out from your colleagues in other states, even the issue of salaries we have done our best. We know we're challenged but like I did promise since January, 2018 we've been able to pay salaries, February, March, even this April we'll do everything under the sun to pay. The arrears at the state level of seven months, we'll definitely pay and at the Local Government of 10 months we are also sourcing funds to pay. But it is also important to appreciate the fact that Benue State is paying the third highest salary in Nigeria. Me and you will agree that this is not sustainable for a state that depends on the civil service, for a state that the IGR is still low. How can, for God's sake, Lagos that its budget is over a trillion naira, a director is receiving N320,000. And Rivers, their budget is in billions more than triple what we get in Benue state, a director is receiving N285,000 and then how can Benue State be paying N280,000 to a director when in Kaduna, in Kano, in other states that are more viable than Benue State are receiving around N150,000 or less, when Borno a director is receiving N75,000. Then Benue State is paying a director N280,00 and its goes down the line to the deputy director, assistant director to the least staff. So this is the challenge we have. It is not that we have diverted any money and so on. It's a challenge, we're aware of it but we'll continue to explain to the people and I believe that by the time they know the truth they'll appreciate our position but we'll do everything, whatever that has accumulated it's our desire that we make sure we pay so that no one will feel short changed. That is where we are. So there is no diversion of money anywhere. Whether we sell the industries or not it doesn't matter, we will go ahead to prosecute our election. Because of the heat and the blackmail that the thing generated, we are going to call a stakeholders meeting to explain further and if the stakeholders decide to say that just leave the industries to die we are ready to do it. We are a democratically elected government and we must work with the people.
While you were on leave were you able to strategize on new ways of improving your administration; what are you doing about genuine staff who had problems with the Abounu salary verification committee?
Definitely the process of reorganising, re-strategizing and ensuring that you have better ways of operation is something that is continuous in government. We've done it before and we'll continue to do it. We are assessing it and if the need arises, we'll definitely do some reorganization to fit in with the challenges. There is no doubt about that. As for the staff who were omitted by the Engineer Abounu committee, I've already given a directive. Even as we sat here I've seen some of them so this will serve as an answer because if I leave here they may not see me. Some of them are here they want to see me. Some of my friends were affected in the course of that screening but I've already given a directive that all the people that were omitted in the course of that assignment should be reinstated and the arrears paid to them from January. So all those whose names were omitted are also free to make their presentation to the committee and I can assure you that justice will be done. But like I said last year and I'm still emphasizing that the Bible says a worker deserves his wages. That is why I did promise that 2018 whatever happens I wi'll do everything possible under the sun to ensure that people receive their pay because I'm also pained when people are crying out that there are no salaries. But at the same time those who do not work should also not eat. And so if you are not a worker and you are feeding fat on government you will not be allowed. It's better we conserve that fund and pay to genuine workers who are working. So it's a continuous process. We've done the first phase, we're still going to look deeper and see those who are shortchanging government. There are people who are having multiple pay at the end of every month. There are people who are not working at all but are receiving salaries at the end of every month. This kind of people we'll still fish them out. There are people who are supposed to have retired but they are still collecting pay. I will continue to fish them out. And of course bad eggs in the service, we are also going to identify them and flush them out so that we have a manageable wage bill that at the end of every month the Local Governments are able to get their pay, the state are also able to get their pay. This is what we're trying to do. If at the end of the day we're going to have a wage bill that is around a maximum of N4.5 billion for local governments and state, it will be manageable and at least every month we should have some resources to take care of some basic needs of government and even try to clear the arrears that we're already owing. So this is where we are.