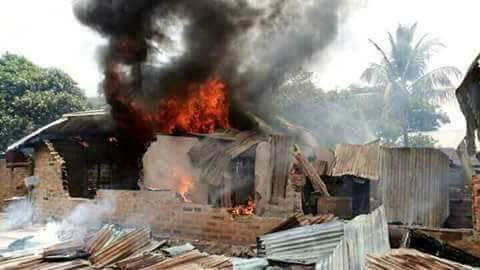 Military Invasion Of Gwer West: Aliegba Threatens Court Action
Loading ...
From Msughshima Andrew, Makurdi
A Governorship aspirant in the People Demoratic Party, PDP, Benue State, Prof.Eugene Aliegba has called on President Muhammadu Buhari to, urgently, end the ongoing killings by herdsmen and military rascality in Benue State.
Prof. Aliegba who stated this while reacting to the military invasion and burning of people's homes in Gwer West LGA, also demanded the government to initiate a thorough investigation into the incident threatening court action on the military if nothing is done.
Earlier in the week, armed military men had invaded Naka town in Gwer West LGA of the state burning down over 300 houses in search of their colleague allegedly killed by hoodlums in the area
Aliegba condemned the incident in its entirety and described the reprisal by the military as lawless, uncivilized, brutal and a calculated attempt to provoke the law abiding citizens of Gwer West.
Professor Aliegba who was visibly vexed over the military action said he is not comfortable with the level of insecurity in Nigeria particularly in Benue and called on the federal government to take necessary actions or he will take the military to court for invading Naka town, his ancestral home.
He expressed worry that the people of Agatu, Guma, Logo, Okpokwu, Gwer West, kwande and Ukum Local Government areas are under siege and appealed to the Federal, State Governments and relevant security operatives including, Army, Police Department of State Security Services and others, as a matter of urgency, to stop the senseless killings in Benue State.
Prof. Aliegba further called on the Benue State Government to set up internally displaced camps in Gwer West where presently nine out of 15 council wards are moving helter skelter in Naka town with out shelter.
The Governorship aspirant further called on Non-Governmental Organizations, public spirited individuals and the international community to come to the aid of IDPs in Gwer West as well as ensure rehabilitation and resettlement of the areas devastated by the herders crisis in the state.
He advised army never to deviate from their primary responsibility of protecting the territorial integrity of the country as failure to do so will force the citizens to heed to the General Theophilus Danjuma advice of self-defense.