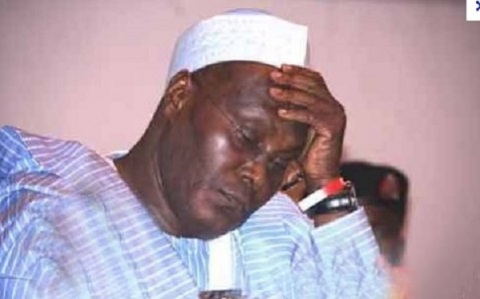 Reality Bites…For Fear of Buhari, Atiku Shunned In Dubai
–
Loading ...
Few things are as fickle as loyalty of Nigerian politicians! Nigeria's former Vice-President, Alhaji Atiku Abubakar is often referred to as a juggernaut in Nigeria's political circle. This appellation assumed national prominence in 1992 when he almost dumped out late M.K.O. Abiola in the presidential primaries of the then Social Democratic Party (SDP). But for the last minute prevailing on him by his godfather, Shehu Yar'Adua, Atiku's victory looked like a forgone conclusion.
From that epic moment, the Turaki Adamawa has continued to be a prominent figure in Nigeria. In fact, his influence transcends politics; he has ubiquitous networks of high net worth Nigerians as friends and acquaintances. It is therefore most resoundingly underwhelming when what was supposed to be a destination wedding of his son became only a piece of news that was only filtered in hushed tones to the high society by few blogs that attempted projecting scanty images of the wedding held at Madinat Jumeriah Hotel, Dubai.
Atiku Abubakar and his wife, Jennifer, threw a supposed grand wedding for their son, Tony, but only three to four Nollywood faces were all that could add docile glamour to it! With pageantry and funfair that visited his cross-carpeting from the All Progressives Congress (APC) to the Peoples Democratic Party (PDP) last November, one would have thought most PDP governors, led the garrulous Ayo Fayose, Nyesom Wike, Uche Secondus and other notable public office holders of party extraction would have graced the occasion to show their solidarity as politicians are wont to do. This was not to be. Could this be an indication that Atiku is fast becoming a mere politicking tool in the hands of the emerging new class of politicians?
Atiku is often reported to be the one with Adamawa politics in his pocket. He was said to have sunk heavy resources into the election of the incumbent governor of his home-state governor and appointment of notable members of the governor's cabinet. Well, Governor Bindo Jubrilla, has already indicated where his loyalty stands on the 2019 presidential election. He has chosen to swim with President Mohammadu Buhari. So, his absence from the Dubai event is understandable.
For some of Atiku's close associates in the APC, they would rather stay away from any event that has the capacity to be construed as supports for Atiku. It has been argued that associating with Atiku at a time like this is like inflicting self-injury on oneself. For this group of people, the fear of President Buhari is the beginning of wisdom. Nobody wants to be on Buhari's black book as everyone's move is under microscopic scrutiny.
Not even Atiku's self-proclaimed die-hard loyalist who said she was ready to resign, jump ship and hop into his campaign train, Aisha Jummai Al-Hassan also known as Mama Taraba, could spare a day to even make a cameo. Well, it appears the woman is very much enjoying the appurtenances of her ministerial office and not yet ready to give them up for the uncertainly that is Atiku's quest to be president.
Also conspicuously missing at the event were the special set of people who have earned themselves the sobriquet, ATIKUNATION. Only Senator Ben Bruce was a politician of note seen at the so called 'grand wedding'. Comedian AY and Ramsey Nouah's presence has also been put in perspective. The duo was said to have gone to Dubai for a different reason, not for the wedding. Atiku is reputed for his smartness and it is expected he has picked one or two lessons about loyalty.
–
Source: http://www.thecapital.ng/?p=23899