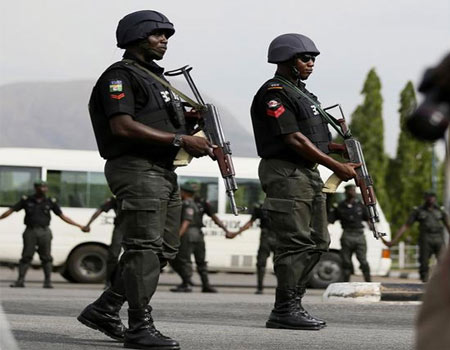 Jigawa Police Award Gallant Officers N500,000 Each
–
Loading ...
Dahiru Suleiman, Dutse
Jigawa  state Police Command had presented a cash donation  of five hundred thousand Naira each to the families of five of its personnel who died  while on active service, and those that died as a result of accident, while on service, the Command's spokesman, ASP Abdul Jinjiri has highlighted.
In a statement issued and signed by the Command's Commissioner of Police, CP  Bala Maza Senchi stated the gesture was part of the Inspector-General of Police, IGP , Idris Ibrahim efforts to accommodate police welfare as its cardinal objectives.
Witnessing the issuance of the monies to the deceased families, the jigawa Compol, Bala Maza Senchi added what we are witnessing today was part of the Police Authority boosting police officers and men  morale for qualitative service delivery.
He charge the officers and men of the command to double efforts in the discharge of their civic responsibilities, as well lived above board, and be law abiding always in shunning vices detrimental to the laws of the land and that of the police constituted authority.
The categories of the beneficiaries are as follows: Category one comprise of those who died on active service which was initiated by the  Inspector-General of Police with effect from June 2017. It is a package for the families of those who died in an active service from police authority.
Other categories include those officers who died as a result of accident or gunshoot, but from Personnel Accident Insurance Scheme, as well those officers who involved in an accident, but who are alive, and such gesture was called Medical Expenses Insurance.
Beneficiaries of those officers who died in accident or as a result of a gunshoot includes, Ibrahim Musa, Umar Abdullahi, Nantap E. Damulap, Fatima Ibrahim,  and Mr. Jessica John.
Others are Usaini Idi, and Shuaibu Nabo who died in active service, indicating that the two departed officers fall in the categories of officers who will benefit from IGP's Welfare Scheme for the families of those who died while on active service started from june 2017 by the police authority.
The statement further stated that four other gallant officers were served with the Command's Commissioner of Police commendation letters which will further spur their dedication and also to serve as motivation to work harder, stating the gesture will be a continuous one.
Least amongst the names of the brave officers include Inspector Dauda Sani, Sergent Umar Yakubu, Sergent Ilya Buba, and Sergent Saeed Jibrin whom were commended for their intelligent serach and apprehension of a gang of criminals who often terrorized inhibitants of Birnin-Kudu Gwaram local government areas within jigawa state.
Recovered items from the bad eggs include locally made rifle, one locally made pistol, and seven catridges. The suspents confess that they are among the gangs that often terrorized communities of Birnin-Kudu and Gwaram  areas.
The statement added that the suspects are under interrogations after which if found guilty after investigations will be handed over to civil courts for prosecution.