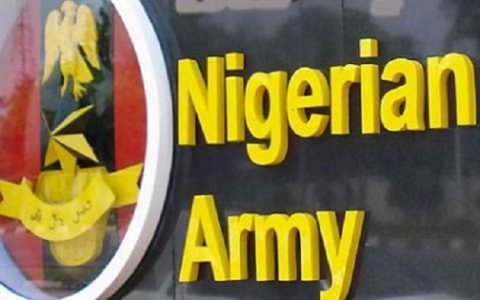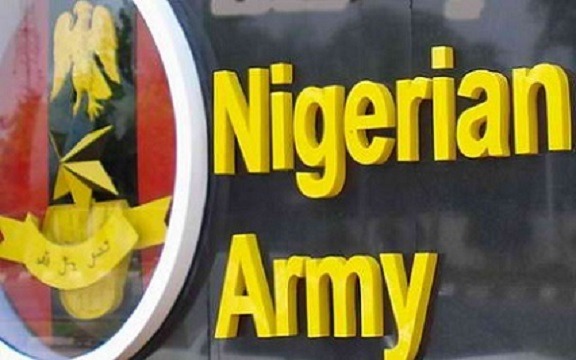 SK Usman And Footprints Of A Cultured Image Manager – By Angula Jessica
–
Loading ...
Those who have had the experience of superintending on the publicity profile of an institution like the Nigerian Army confess it is a herculean task,  especially at times of multifarious local conflicts as currently obtainable in Nigeria. The frequency of incidents and their complexity combine to make the job difficult and stressful.
However, an Army communications guru, Brigadier General Sani Kukasheka Usman has travelled on this rough path for years unscathed. He knows the intricacies of Army public relations and plays the game with finesse and a confounding mastery. With him on the desk, the Nigerian Army won the battle against vile terrorism both on the battlefield and in the media.
War- time German publicist, Josef Goebbels believes that in managing the image of an institution like the Army,  "…. One fundamental principle is borne in mind constantly – it must confine itself to a few points and repeat them over and over."  Brig, Gen. Usman dramatizes this perfection and deploys it for the maximum benefits of the Nigerian Army and the Nigerian people, while he served as the Director, Directorate of Army Public Relations (DAPR).
He played tutelage roles in Army Public Relations in several capacities and when he was finally elevated to the peak, he had no difficulties understanding the dynamics of his briefs. He has impressed everybody, and has disappointed none.
SK Usman fascinates his audience,  as an officer who  preferred to be expository, than combative; persuasive than antagonistic to the clients he is serving.
In him, one sees the portrait of a humble officer, a gentle rise and eventual ascendency to the pinnacle of top players in the media and Public Relations industry in Nigeria.
While in the Army, SK Usman from day-one was posted to the Headquarters 82 Division, Army Public Relations unit, Enugu.  The passion to broaden his knowledge, pushed SK Usman  into  Bayero University, (BUK) Kano where  he obtained  a Bachelor of Arts degree in  Mass Communication in  1991. His brilliant performance in the varsity made him an automatic prince of the Directorate of Army Public Relations (DAPR).
Thereafter, SK Usman went for his officer cadet training at the then Infantry Centre and School (ICS), Jaji and completed in  1993. He was posted to the Headquarters of the Directorate of Army of Public Relations (DAPR), Lagos.
He had barely settled down to business, when he was redeployed to the  Depot, Nigerian Army and Nigerian Military School, Zaria  as Army Public Relations Officer (APRO).  And it marked the beginning of the  years of fruitful journey as Army's spokesman both in Nigeria and abroad, including serving as the  Military Public Relations Officer (MPIO) at Nigerian Battalion 14 (NIBATT 14) under the  United Nations Mission in Sierra Leone (UNAMSIL) and also,  acting as MPIO to Nigerian Contingent/Sector West of that mission among others.
Brig. Gen. Usman went for his Post Graduate Studies in October 2010 and has attended numerous military and civil courses within and outside Nigeria.  These include Basic Arabic Course at the Nigerian Army School of Education (NASE), Ilorin in 1994; the United States of America's  Department of Defence -organized seminar on "Military Communications with the Public in a Democratic Government" held in  Abuja in 2001 and was feted with an  award  of Certificate of Excellence.
In 2002, he was at the prestigious Armed Forces Command and Staff College, Jaji for his Junior Staff Course. At  UNAMSIL, he also attended the United Nations Institute for Training and Research (UNITAR) Programme on "Peacekeeping and International Conflict Resolution" 2003. He was also at the Kofi Annan International Peacekeeping Training Centre, Accra, Ghana in 2005 for "Media in Peace Operations Course."
SK Usman also attended Estimate Process/Risk Management seminar held at the Nigerian Army College of Logistics, Lagos in 2006. In August 2010, he also attended the African Business School Johannesburg, South Africa, for a course on "Professionalizing Protocol, Information and Press Duties for Efficient and Effective Administration."
He was at the  Seminar on "Innovations for International Development: Linking Good Ideas with Good Intensions" at San Jose, Costa Rica in November 2010 as well as the United States of America based Peacekeeping Operations Training Institute (POTI) on " Global Terrorism", "Civil-Military Coordination" as well as "Principles and Guidelines for United Nations Peacekeeping."
A man of boots and letters, SK Usman  obtained a Master of Arts Degree in Media, Peace and Conflicts Studies in 2011, at  the United Nations Mandated University for Peace, San Jose, Costa Rica. And in all these career training sojourns, he emerged with outstanding results.
But Usman is not yet satisfied with his quest for knowledge, as manifest in his current admission for the senior executive course 40 at the National Institute for Policy and Strategic Studies.  So, he is relinquishing his cherished job of Army's image maker, which he has handled dexterously over the years  to Brigadier-General Jude Chukwu.
However, Brig. Gen. Usman  was the mouthpiece of the Army at a time Nigeria was plagued by overt and covert acts of terrorism. Nigerians were placed on the cusp of distress, as terrorism raged.
From from Maiduguri, Yobe,  Adamawa, Kaduna,   Kano  to Iddo and Kaura Namoda to Oloibiri and the forests of the Southeast, terrorism chained Nigerians and the Army  came for a special rescue mission. But regressive forces fought back the Army mindlessly with bile, senseless and damaging publicity targeted to destroy the corporate image of the Army.
But  SK Usman's   experience and mastery of the art of information management, defeated the pen detractors and satanic forces.  Unarguably, his outings became the saving grace of these multiple internal operations of the Nigerian Army in an age of infectious consciousness and inquisitiveness.
As an officer who knows the nitty-gritty of his assignment, Brig. Gen Usman was appointed as Director, Directorate of Army Public Relations when he was a Colonel.  He immediately, reorganized the directorate and elevated its operations to enviable heights.  He made the gathering and dissemination of news about the operations of the Nigerian Army easy and accessible to all interested parties without reservations.
He never slacked in satisfying the desire of Nigerians to consistently access news of what transpires at the warfront. Even with the tremendous pressure from vibrant   traditional and social media platforms, which were not confined by time, in making inquiries, he served them proficiently. His media engagements' both on electronic and print media were insightful, analytical and illuminating.
Usman ensured he served the public with accurate information and was very polite, even in instances of deliberate provocation. He held back nothing, but could be quite fierce and firm in defending malicious plots to defame the reputation and integrity of the Nigerian Army.   When he pens down anything, it is rich in depth and substance. And whenever   he speaks, it charmingly redirected the senses of even the worse critics of the Army.
The Army's image maker believed that propaganda does not win wars but the truth does. So, he ensured, Nigerians were served with accurate facts of happenings'   on the battlefield and timely.  Both day and night, SK Usman, as his admirers fondly call him, would pick calls and respond to inquiries humbly and politely.
He chased the truth and dished out the truth.  And each time he errs as it is natural with humanity, he would not hesitate to make corrections instantly.  He was neither  hesitant to retract a story nor  shied away from setting the records straight where necessary. These are positive virtues of a rare gem in public relations.
But SK Usman left an indelible impression on the hearts of many in the profession by  his splendid handling of  emerging media trends in the counter-insurgency operations in Nigeria, particularly in the Northeast.  When the Chief of Army Staff (COAS) and leader of the counter-insurgency operations in Nigeria realized,  defeated Boko Haram terrorists and their agents shifted the battle from the warfront to cyberspace, SK Usman was handy to design counter-measures.
He was proactive, preempted and demolished terrorists' bitter  and false publicity with impressive mien.  It never took him time to disarm the publicity machinery of Boko Haram terrorists and their faceless sympathizers'.  He stands really iconic and   will be remembered for his deep insights in countering terrorists' media hype.
SK Usman had the conviction that to be an expert does not mean, knowing everything,  all the times. He didn't know it all, yet got the best results because he created a friendly environment for all to freely relate with him.   This was possible because he partnered and created a warm synergy or working relationship with colleagues and institutions'.
Undoubtedly, SK Usman's shadows in the media and Public Relations circles in Nigeria looms large. And to his deserved honour, Nigerians through various opinion polls, at different times  rated SK Usman the best spokesperson of security agencies and organizations in Nigeria.
And quite honourably too, SK Usman has bagged multiple Honours and Awards to his credit. He, the recipient of Silver Jubilee Medal,(SJM) Forces Service Star (FSS), United Nations Medal for Peace at Freetown, Sierra Leone in 2003. He has a Certificate of Merit by Naeem Muslim Youth Organisation in Sierra Leone.
In the media world,  SK  Usman  was awarded  a Certificate of Merit for Radio Production from the Headquarters of UNAMSIL and Certificate of Appreciation  from the  United Nations Training Assistance Team (UNTAT) New York for his remarkable  contribution to the success of first ever-Peacekeeping Course for Emerging Troops/ Police Contributing Countries to the United Nations in 2004.
He has the rare Chief of Army Staff's Letter of Commendation and also, that of the Force Commander's Letter for outstanding performance as CIMIC officer at UNMEE and the United Nations Medal for Peace. SK Usman has an award as best delegate   for Excellent Performance at the Annual University for Peace Model United Nations Conference (UPMUNC 2011) as a member of its Security Council Committee among others.
He is also a proud recipient of General Operations Medal (GOM) and just recently, the Army Council awarded him with the prestigious River Niger Star (RNS) for gallantry.
Brig. Gen. Usman is a member of the Nigerian Institute of Public Relations (NIPR), the prestigious regulatory body of PR managers generally adjudged as influencing public perception on many major national issues.  It is a rare honour  to be trained by  an institution of this nature, which keeps regulatory control on members within the ambit of standard practices. Yet, SK Usman observed every ethical prescription and still flourished with on the job excellently.
The outgoing Army Public Relations officer is no doubt, leaving a big shoe for his successor, Brig. Gen. Jude Chukwu. His successor is by  every nuance of assessment  also  a celebrity in the field of Public Relations .
Chukwu has a lot to do on sustaining the image of the Nigerian Army on the high pedestal raised by his predecessor. He must keep an eagle eye to discern biases on the public perception of the Army and set the agenda where possible in the interest of the Army. But most importantly, Chukwu should not fail to ensure that cyber urchins do not take the victory of the Nigerian people over terrorism for granted by engaging in destructive schemes unchallenged.
Again, SK's humility is exceptional and his tenure as Director, Army Public Relations is epochal. Posterity will remember him as an Army image maker who noiselessly triumphed over the period of deliberate attempts to malign and stain the reputation of  Nigeria  Army, which has records of global recognition for its performance.
Angula is a public affairs commentator and contributed this piece from the United Kingdom.