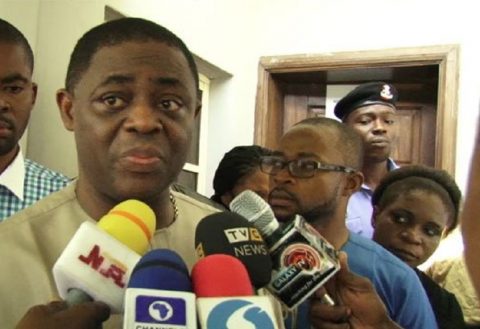 Press Release
Abuja
You A Liar, APC Blasts Fani-Kayode for Saying Buhari's Nasarawa Visit was for Condolence
Our attention has been drawn to the wrong narrative weaved around President Muhammadu Buhari's planned visit to Nasarawa State tomorrow by Femi Fani-Kayode.
Loading ...
For the records, we want to state categorically that President Buhari's visit tomorrow is purely for the commissioning of a Special School for the Disabled in the state as well as other notable projects like the Karu International Market, 330 KVA Power Station and Pilot Comprehensive Primary Health Care in Lafia constructed by the Governor Tanko Umar Al-Makura administration in the state.
Hence, we view the narrative in which Mr. Fani-Kayode alleged that President Buhari was going to Nasarawa State to pay condolence to members of the Miyetti Allah Cattle Breeders Association of Nigeria over the killing of their cows as the greatest display of insensitivity by a hungary man desperately looking for financial rehabilitation.
There is no doubt that Mr. Fani-Kayode has become a public nuisance to the country but we never imagined that such nuisance has reached this embarrassing stage.
For a man whose only selling point in life is the success of his father instead of working hard to surpass his father's record, it is assumed that anyone listening to him could as well listen to a mad man. Therefore, we urge the media to stop listening to him because he has nothing useful to contribute to national development.
Signed:
Mr. Collins Edwin,
National Secretary,
APC Youths Renaissance.
Contact us via ekesy2k9@gmail.com