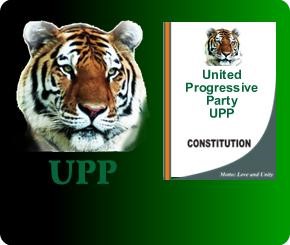 14th January, 2018
PRESS RELEASE
UPP Boycotted The Charade Called Anambra Central Senatorial Rerun Election
The United Progressive Party (UPP) and its candidate in the 28th March
2015, Anambra Central Senatorial election, Chief Flint Obiekwe
boycotted the charade called Anambra Central Senatorial rerun poll
held on Saturday 13th January, 2018.
In a letter to the Independent National Electoral Commission (INEC)
Chairman, Professor Mahmud Yakubu dated 19th December, 2017, and duly
acknowledged by the commission, the UPP National Chairman, Chief
Chekwas Okorie stated that the party and its candidate, Chief Flint
Obiekwe would not "waste our resources to participating in a campaign
that will turn out to be wasteful, unlawful and deceitful".
UPP further stated: "The judgment that the Court of Appeal gave
directing INEC to conduct a rerun election in Anambra Central
Senatorial zone within 90 days is subject of appeal at the Supreme
Court of Nigeria as we speak. UPP, INEC and others are parties to the
appeal pending at the Supreme Court.
"The public was shocked that INEC has shown unusual personal interest
in this matter proceeded to fix a date for the Anambra Central
Senatorial Zone rerun election in spite of the appeal pending at the
Supreme Court".
UPP expressed concern that our democracy is showing signs of heading
to anarchy due mainly to issues bothering on corruption, deliberate
connivance and outright incompetence of the managers of the election
and security agencies and called on well-meaning political parties
that have candidates in the Anambra Central Senatorial Zone election
to adopt the party position and boycott the rerun poll.
I am shocked that despite this clear position of the United
Progressive Party, INEC proceeded to include the party and its
candidate in this sham election and mischievously allotted votes to
UPP to deceive unwary members of the public. It is manifest that UPP
did not campaign for the rerun poll nor forwarded names of its polling
agents to monitor it.
The votes assigned to the party are figment of the fertile imagination
of the officials of the electoral body as UPP members were duly
informed that the party would not participate in the rerun election.
I urge party members and supporters to remain calm as we await the
outcome of the appeal pending at the Supreme Court.
–
CHIEF FLINT OBIEKWE
UPP CANDIDATE
ANAMBRA CENTRAL SENATORIAL ELECTION 2015.