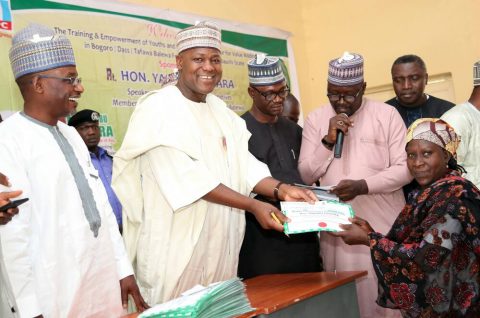 Dogara Holds N156m Empowerment Programme In Bauchi
… Nigeria must tackle poverty from grassroot
…No democracy can succeed when poverty thrives 
Five hundred and twenty six women and men from 20 local government areas of Bauchi State  concluded an empowerment programme sponsored by the Speaker of the House of Representatives, Hon Yakubu Dogara.
The Speaker also presented each of them with cheques of a hundred thousand Naira to start   a business from the skills they acquired.
The presentation of certificate for the participants, who were drawn from across the state, took place at the National Open University of Nigeria hall in Bogoro local government area.
The cheques were attached to the certificate of each participant. They are to present the cheque with the certificate at the specified bank to cash it.
The empowerment programme was on building entrepreneurial skills and the participants were taught how to add value to food crops such as beans and rice and how to package them properly for onward sale to earn income.
Some of the participants demonstrated the skills they learnt to the Speaker and all present at the event.
In a vote of thanks delivered on behalf of all the beneficiaries of the empowerment programme, Hajiya Uwaliya Inuwa from Dass local government promised to apply the skills they acquired make judicious use of the opportunity granted them by Speaker to lift themselves and their families out of poverty.
Speaking at the event, the Speaker said the programme is part of his efforts to reduce poverty from the grassroots, saying no democracy can succeed when poverty thrives.
He also disclosed that so far, through the support of his friends, N300m has been raised from donations at a birthday charity football match and book launch for onward presentation to internally displaced persons in Nigeria.
"In that event, just for you to know we are not just blessings to you but from this constituency we are raising resources to address poverty and internal displacement in Nigeria.
That event has generated about N300 million and I believe it will be more because people are still pledging more.
"The credit belongs to all of us because if you had not supported me this wouldn't have been possible," he told them.
Thanking them for supporting him to be able to make these happen by re-electing him, he assured them that he will provide support for all, irrespective of those who didn't vote for him because he does not discriminate along any line.
Hon Dogara, noted that his goal is to raise people from the ashes of poverty to a glorious destiny,  he appealed to them to make good use of the money presented to them to do businesses that will provide income for them and their families.
He said, "What we are doing here today is not politics. We are here to attend to those needs that have dire consequences on our nation. I have said it several times that poverty is a threat to our democracy and the only way we can address it is from the roots.
"Democracy should go with prosperity,  we are not here to do any campaign. We are not here only for the training but to put resources in your hands and hope you won't allow these resources to dry up."