Loading ...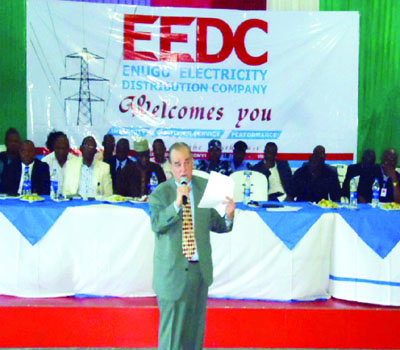 Concerned about the increasing rate of electricity customers engaging in energy theft and other related activities, the (EEDC) has resorted to revealing the identities of these individuals to members of the public.
This act, where the perpetrators fraudulently use electricity supply without paying for it is highly prevalent in the South East and has seen EEDC consistently loose average of 43% of its revenue monthly. This activity is negatively impacting its business and is quite discouraging.
It is against this backdrop that the management of EEDC decided to name and shame any individual or group engaging in such act, going forward. This will be after they would have been served the statutory fine and loss of revenue and subsequently handed over to law enforcement agents for prosecution.
The recent review of fine for meter bypass by the Nigerian Electricity Regulatory Commission (NERC) from N50,000 to N450,000 is quite commendable. It is expected that this will serve as a deterrent to others and possibly reduce the rate of this act.
"To tackle this menace, we have set up a special task force to monitor and carry out routine check on our customers to fish out those engaging in this criminal act." It is quite disappointing that the customers who are neck-dip in this activity are the high energy users.
"This is a big challenge to us as a business and we can't afford to treat this with kid gloves any longer, else it will drown the entire business."
"A situation where some individuals feel it is their right to use electricity without paying for it has to stop. This singular act contributes largely to the issues faced by the electricity service industry in the country"
Customers are therefore encouraged to report any one engaging in this act to the nearest EEDC office or call our Whistle Blowing line (084 700 110) to report such person(s).