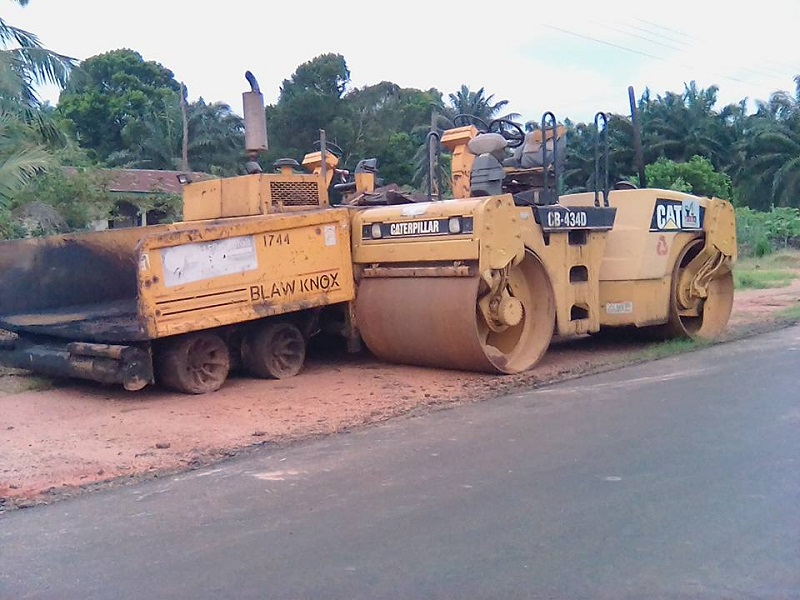 Loading ...
Residents of Nsukwa/Ejeme-Aniogor/Agbor-Aladinma/Owa-Aladinma/Ndemu in Aniocha South, Ndokwa-West and Ika North East local government area of Delta State are currently irked with the alleged abandonment of the road by Mr Ifeanyi Okowa's alleged political crony.
Some residents of the area who bared their minds expressed some fears and disappointment on the breakdown of some of the equipment owned by the Contractor handling the road project, one Mr Ifeanyi which might have allegedly necessitated his abandoning the site and the resultant slow pace of the project.
They urged him to expedite actions towards the speedy completion of the job, stressing that the job should also be delivered according to specification.
Speaking to our correspondent, a member of the clan who identified himself as Anthony Modeme, said government wasn't constructing the road rather the road was been patched by the state government.
"Nsukwa road is not under construction, they are patching the road, they are not doing anything there, they are patching", he insisted.
On the N1.3 billion claimed by the state government that the road gulped, Modeme said, "How can they use N1.3 billion to patch a road? They are not doing anything, they are just patching road. So, I don't believe they use N1.3 billion for just patching, not for new road, they are patching the road", he queried.
He said the Okowa-led government should start the construction of the road all over instead of the rehabilitation/Asphalt overlay of the road, "government should pull off the old one and do it very well from Nsukwa to Obiaruku. They are not doing anything, they are just doing street roads not major roads, they should go and do the major roads and not street. They are not doing anything in this state. People are suffering both the local government", he fired the state government.
It would be recall that Mr Ifeanyi Okowa, the governor of the state had threatened to sack the Zonal Chief Engineer in the Ministry of Works, Engr. Uririoghene Akporavbare, who is the supervising engineer on Tuesday 23rd May 2017, while on an inspection tour of the 24 kilometer road under construction by Bube-Dan Global Resources Limited during the two years anniversary.
Okowa had warned that, "if the road fails, you are still young in the service, if it fails and I am still here as governor, you will lose your job because what you are saying now from your confirmation is that you saw it and you approved of it. So, if there is anything wrong on the road in the next few years first send your letter of resignation, there is no two ways about it because you will be sacked", Okowa sounded.