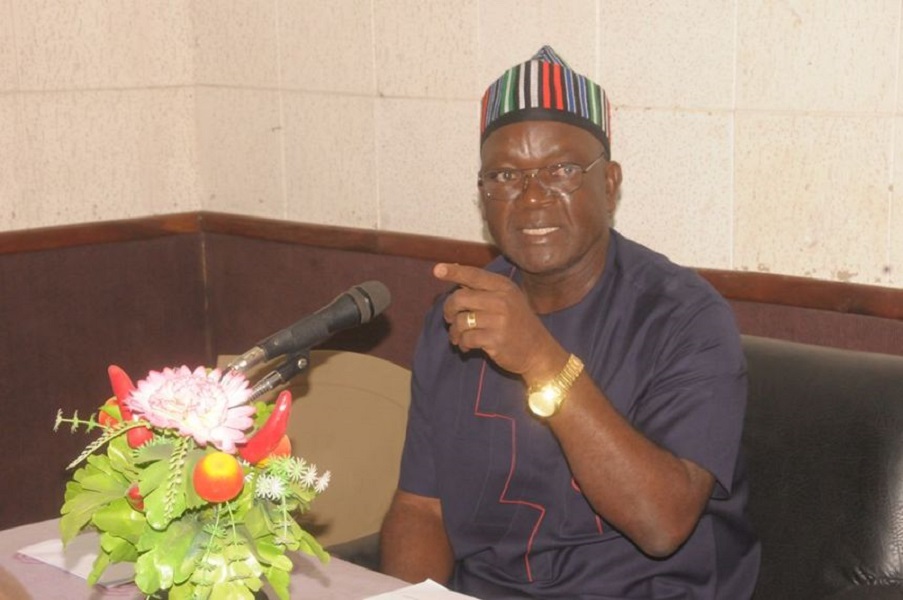 Former Minister of Interior, Comrade Patrick Abba Moro, has lashed out at Governor Samuel Ortom, asking him to cover his face in shame and desist from talking about second term.   
Moro wondered why Ortom who, according to him, has only succeeded in punishing the Benue people by his deliberate infliction of pain and suffering on the masses, as a result of which starvation and impoverishment have taken over the land in the state, would be thinking of second term.
The ex-Interior Minister's attack on Ortom was contained in a statement he personally signed and made available to newsmen in Abuja.
The Peoples Democratic Party (PDP) stalwart described Ortom's utterance about second term as an affront to the sensibilities of the citizenry in Benue State when he was yet to do anything meaningful to justify the current mandate given to him by the people.
"It saddens me always when I hear my governor, Samuel Ortom talk of a second term when I am sure he has not been able to even convince himself that he has creditably discharged the mandate given him by the people in his first term in office. It smacks of mediocrity and political naivety to even begin to talk of a second term in the midterm of a first term.
"Perhaps, it is instructive to inform Governor Ortom that Benue State people are suffering. The people are hungry. Public servants have turned into permanent farmers of cassava, yam, etc. Governor Ortom's government owes workers salaries of upward of eleven (11) months, the concomitance of which is that, children of workers cannot pay school fees to be in school; workers cannot afford to pay hospital bills and are dying in their numbers from simple and curable ailments; pensioners engaged in endless verifications are dying in their numbers. From where I come, there is no sign that government is in place in Makurdi. Schools are on permanent holiday, no thanks to strikes by teachers occasioned by non-payment of salaries and allowances and infrastructures are in serious state of decay. Armed bandits are on the prowl, killing people by the day unhindered," Moro remarked.
He further stated: "The questions on the lips of keen observers of the pathetic Benue situation are: Does Benue no longer qualify and collect monthly statutory allocations from the Federation Account? What has the Benue State Government done with the various loans that have been said to have been taken so far? What happened to the various bailouts doled out by the Federal Government? What happened to the Paris Club refund? What is happening to internally generated revenues in Benue State? These are questions begging for answers. Yet, all that we hear from Governor Ortom day in, day out is the vaulting crave for a second term even when there are clear evidences of crash mismanagement of a first term on his lap due to inept leadership.
"The reasonable thing for Governor Ortom to do is to come up with answers to these questions rather than seek the face of God for a second term. It is ironic that in the face of monumental infrastructural deficit in Benue today, Governor Ortom's Oracle Press, Ortom's Oracle Farms, etc are blossoming. Maybe what we demand of Governor Ortom is for him to publish for all to see all monies that have accrued to Benue State since he assumed office two years ago and tell us how he has deployed them. Let us know that it is lack of fund that is hampering him from discharging his responsibilities and obligations to Benue people."
The PDP chieftain said it was unfortunate and disappointing that some misguided youths could come out to rally support for Ortom's second term bid, when it was obvious the governor's first term has undermined and compromised the future of the youths in Benue state.
"Have these youths paused to ask whether the Benue State University, Makurdi is in session and if not, why? Are the Benue State Polytechnic Ugbokolo, College of Education, Katsina-Ala, College of Education, Oju, College of Agriculture, Yandev and others in session and functioning properly? Yet Youths? Whose future has been endangered by Governor Ortom's first term are clamouring for a second term for him? God have mercy!
"Perhaps, someone should tell Governor Ortom the home bitter truth, that it will be easier for the Camel to pass through the eye of the needle than for Benue people, in this present misery to indulge him with a second term. Governor Ortom should know that the same God whose face he is seeking for a second term also created we, the other Benue people. And He is watching Governor Ortom's first term."