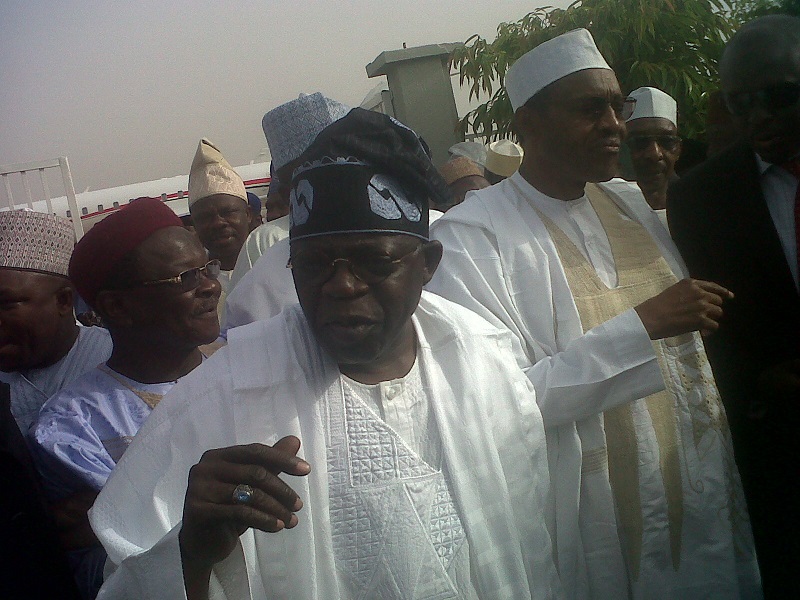 Asiwaju Sen. Bola Ahmed Tinubu is really the odious, typical Nigerian politician. All is fair,  if it is fair with him and his clan of  Western  sycophants and elsewhere. Everything must be rubbish and messy, anytime he misses his political steps. Nigeria should go into convulsion because one individual by the identity of Tinubu has headache last night over a political meeting that never ended in his favour.  The lust for power is crazily pursued.
To say the obvious, Nigerian politicians can spring surprises anytime they deem fit like now that President Muhammedu Buhari is recuperating from an ailment. Homes have stopped functioning; offices have closed in Nigeria; farms have stopped churning out food; markets have closed in Nigeria.
What else? Schools too should have closed; Law chambers and courts have also gone on sabbatical leave. And of course, roads in Nigeria, linking diverse regions and communities have closed in the thinking of the Tinubus.  And they are very few; but equally very loud and clandestinely pushy.  All calculations are geared towards who controls the strings of power at the center; not necessarily to offer service to Nigerian masses, but to nourish their family fiefdoms.
Generally, Nigerian politicians never lack jobs all season. They are always busy 24/7, scheming and plotting in empty fields. But the sane ones among them have stopped campaigning for 2019. Yet, there are also those who run riot about politics anytime, anywhere. They are the wise ones. They claim God Almighty has endowed them with enough political wisdom. They want to govern Nigeria or remote-control the leadership of this potentially great black nation, to the extent the Great ancient Greek philosophers would grovel before them.  They are present in all political dispensations as the back and the dark shadows.
But since President Buhari etched his sound leadership footprints on Nigeria, these politicians now only giggle their ambitions in the bedroom, with wives and children. They don't speak about it in public anymore, lest they be haunted by known and unknown foes.
If they must speak publically, the words are carefully selected, rehearsed and measured, lest they derail shamefully. It usually comes in the colour of press statements. But in it, they bite poisonously and blow the air  at the same time like the proverbial African rat, which steals the comfort of your night.
But behind the scenes, they act so venomously, like hungry lions. They prod, prop and instigate acolytes to go ahead and rock the boat. They have just found a new fish in the soup. President Buhari is sick; he is being treated and in his usual frankness has pleaded with Nigerians to allow him enough time to recover sufficiently to serve them better.
This simple and inevitable plea from an innocent, sick leader has sparked deadly emotions; intrigues and permutations. Lethal missiles have been hurled at him. Some leaders spoke instantly; others procrastinated, like Asiwaju Sen. Bola Ahmed Tinubu, until yesterday. But while hiding in his cocoon, he unleashed his attack dogs after a detailed briefing about the civilian coup, he intends to execute in unseating President Buhari.
He watched his minions navigate and exploit a human being's health condition for selfish reasons or lust for power. Please, forget that it concerns Nigeria's leader, President Buhari. It could have been any other person; Tinubu inclusive.
So, Tinubu waited and when he discovered his antics anchored through cronies failed to create the expected impact, he now painfully issued a belated press statement feverishly denouncing everything that has taken place. It included the grand plot to influence the National Assembly (NASS) to unlawfully unseat President Buhari.
He denied all. He profusely denied that Nigeria is administered by a cabal, as voiced by his undercover loyalists. He praised everything about President Buhari's administration, fooling himself that it would placate Nigerian masses. He sought to distance himself from the plot and at the same time, covertly resurrect the deep-seated hatred and animosities against President Buhari.
But President Buhari has defeated Asiwaju Tinubu before now and he will continue to defeat him alive or dead. It's needless to chronicle it. But remember the Ondo state APC governorship primary election saga and the eventual victory of Governor Rotimi Akeredolu, who dimmed the bad outing of Tinubu's altar ego, Chief Olusola Oke who eventually contested the guber polls in AD, but lost.
No doubt, Asiwaju Tinubu knows the history of President Buhari's ascension to the Presidency. What he has forgotten in a hurry is to intimate his kinsmen, brothers, loyalists and political associates that Sai Baba, as President Buhari is fondly called by admirers is a leader of destiny. Like the Holy Scriptures have admonished in Isaiah 54:17; "No weapon  that is formed against thee ,shall prosper. And every tongue that shall rise against you in judgment… shall be condemned."
So, Tinubu's press statement was so despicable and further supported the evil concealed in him against President Buhari. If not, why would Tinubu swallow his pride by uttering this phrase about President Buhari;
"His policies have begun to bear fruit. We are moving out of recession and toward the long-term reshaping of the national economy. Given the complex menu of problems he has faced, President Buhari has done well in a tough situation."
While the echoes resonate, he regains consciousness and slams back at a leader he conceals hatred by subtle instigation of the "masses" he has persuaded and seemingly empowered to exploit the President's health condition, Thus;
"Some have done so for their own selfish reasons. These people shall be found out in time. There are many who have done so out of sincere concern for the President. These people should not be condemned for their heartfelt concern."
It's an irritating inconsistency. It is political mudslinging yet to be decoded by Nigeria's political wise men. It is the worse assault on the spirit and soul of humanity. President Buhari may not necessarily be at the receiving end, but this doublespeak from a close political ally reminds one of a similar political episode in Burkina Faso between military Head of State, Captain Thomas Sankera and his closest friend, Blaise Campaore.
The sweet moments they shared as friends in the army; the gists in social circles and the power play and the gangs led by  Campaore who toppled Sankera's  ruling military junta. Then, suddenly, sunshine turned  into darkness and some mystic words  as gory as "ouster", "topple" and "assassination." Campaore led a gang in the military that assassinated Captain Thomas Sankera, one of Africa's finest dictators and seized power. If this is Asiwaju Tinubu's plans, it is pretty funny and it would never work. It's not Buhari's fate. President Buhari has jetted out for medical attention again, largely due to the pressures the likes of Tinubu mounted on him, by refusing to allow him time to rest and recover.
So, for Tinubu to have stimulated his gang against President Buhari and waited to see how it plays out, only to comment belatedly, singing the praises like a pupil whipped to recite nursery rhymes is no remedy and very funny.
One Lawyer Ebun-olu Adegboruwa writing from Lagos in a press statement titled, "Let Us Paralyse The System," called on Nigerians to totally shut down Nigeria until President Buhari resigns. The canvassed mass action from Nigerians against President Buhari is nothing more than his plea for time to recuperate from ill-health. It was a lonely dance of the insane; something very comical and humorous.  Nigerians ignored him. He was the last forerunner in the game and his epitaph to Nigerians sounded too empty and he has ceased to speak further till this moment.
Before him, the likes of human rights lawyer, Femi Falana had rocked the boat. They threatened fire and brimstone if President Buhari fails to relinquish power. Falana's fraternity with Tinubu is not in doubt. And they feel the best way to ascend to power is through the backdoor. Buhari must be pushed out. It's like a script is being acted and planned in stages. Soon, Nigerians would demand from the canvassers for President Buhari's illegal exit from office what they have done to the President of the masses. And it's going to be very soon.
To appease Northerners who his hatchet men have insulted, unduly pressurized and offended by overblowing the trumpet over President Buhari's health condition, Asiwaju Tinubu who has numerous chieftaincy titles in his native Yoruba descent signed the press statement, supporting it with a Northern chieftaincy title,  the Jagaban Borgu from Borgu Emirate in Niger state. But Tinubu and his soul mates should understand in clear terms that Nigerians know these tricks, no matter how veiled.
***Ainoko writes from Kaduna, Kaduna State