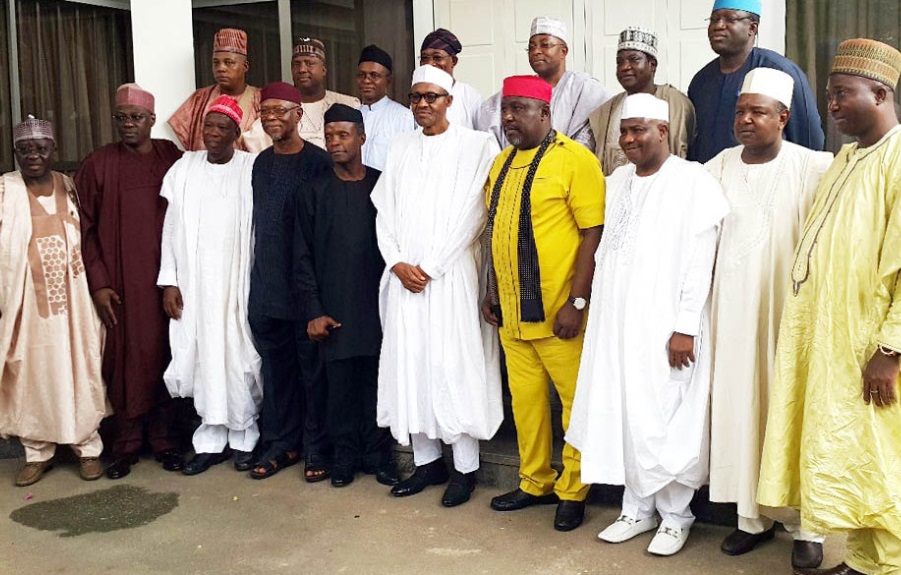 The president of the Federal republic of Nigeria, Muhammadu Buhari has been on medical leave in the United Kingdom for over a month. Buhari is battling several chronic illnesses.
Diagnosed with prostatic cancer several years ago as leaked medical reports from the ABU teaching hospital in Nigeria reveal, Buhari is suffering complications of that diagnoses with "multiple organs affected" as well as other chronic ailments including Crohn's intestinal disease as revealed in media reports.
While the detailed nature of his illnesses are shrouded in secrecy by the presidency cabal and ruling class, there is little question that Buhari is no longer well enough physically and mentally to continue to lead the nation. Reuters reported that Buhari has been secretly routing his many foreign trips through the United Kingdom to see his physicians since he assumed office. This suggests that his conditions are chronically progressive. His present indefinite stay is an ominous sign. Media reports also suggest the president is having speech impairment secondary to therapy he is on. Speech problems, loss of balance and mental issues are some of the side effects of Lupron, a common drug administered to control prostatic cancer disease.
With this in mind, Nigerians must brace for the looming power tussle ahead.
Acting president Yemi Osinbajo is focusing on his job and remaining dedicated to his boss and not in any way entertaining interest in the politics ahead. In a recent statement the Vice president loyally promoted a false propaganda message that Buhari was "hale and hearty."
If anything should happen to Acting president Yemi Osinbajo (God forbid) before President Muhammadu Buhari resigns, a new Vice will be chosen by Buhari. While the chances are extremely slim, a desperate cabal might force Buhari to select another northerner as his Vice.
When President Buhari resigns soon as is expected he responsibly will, Professor Osinbajo who hails from Nigeria's Yoruba South west will become the 5th fourth republic president and 16th leader of the amalgamated nation.
He will be constitutionally required to choose a Vice president. A week after president Musa Umaru Yar'Adua was reported to have passed, then Vice president Goodluck Jonathan nominated Namadina Sambo as his deputy. Stratfor described Jonathan's choice of Namadi Sambo thus: "By picking Sambo, a relatively unknown politician from northern Nigeria, Jonathan has declined handing the office to the kind of powerful politician that would clearly indicate he is not interested in pursuing his own term as president in the planned 2011 elections."
While Stratfor's analysis on Jonathan's choice of the former Kaduna state governor may be questioned, the choice of Vice president by Osinbajo will likely inform of a possible 2019 run. Acting President Yemi Osinbajo will be expected to send a recognized core northerner as his Vice candidate to the Assembly for approval.
The tradition in Nigeria is for the President and Vice to be from the two major regions, the north and the south, though there is again a core north which excludes northern states in the middle belt like Kwara, and the Boko Haram-torn Kanuri north east which are not catchment areas of the northern mafia political cabal. This core north is limited to a hand full of states where hausa-Fulani are concentrated. These states include, Sokoto, Kaduna, Katsina, Kano, Zamfara, Kebbi and Jigawa all in the north west precisely. The other states are embraced by the core north for population-based power matters but not in shared leadership or even prosperity and security. The two most recent northern presidents have hailed from the same state, Katsina. That's late Yar'Adua and Buhari.
While majority of Nigerians do not care about power rotation and are only hungry for good leadership, Nigeria's tribalistic northern mafia and the cabal at the presidency care more about retaining power than the quality of candidate occupying the office, a survival instinct of all cabal.
Sirka, Dambazzau
Minister of Aviation, billionaire Hadi Sirika who hails from Katsina state and Abdulrahman Dambazau, the Minister of Interior from Kano state are two top contenders expected to be pushed forward by the cabal at the presidency in attempt to maintain their grip on power.
A part of the image tarnishing "nepotism" record of president Muhammadu Buhari, Minister of State for Aviation, Hadi Sirika is said to be president Buhari's nephew.
"Shine-my-shoe" Dambazzau is notorious for having amassed millions of dollars during his military service and has luxury properties worth millions of dollars around the world. President Buhari has been strongly criticized and has had his "integrity" reputation challenged for having excluded Minister Dambazzau from a military arms probe final report in which he was indicted. It is unlikely stringent lawyer and pastor Yemi Osinbajo will choose any of these two presidency cabal preferred controversial and tainted candidates.
Tambuwal, el-Rufai
Other contenders for the Vice president slot include Sokoto state governor Aminu Tambuwal and Kaduna state governor Nasir el-Rufai. Tambuwal, a former PDP member has been serially implicated in corruption cases. Recently he was accused in the padding the Niger Delta Amnesty budget to the tune of N1 billion in a lawsuit filled by Chibudom Nwuche, a former Deputy Speaker of the House of Representatives. A charge he denied. Last December Tambuwal's daugher wed the son of Katsina billionaire, Alhaji Dahiru Barau Mangal, Chairman of Max Air and famously regarded as Nigeria's #1 smuggler, recently implicated in massive currency smuggling across west Africa to the middle east and beyond. Buhari was represented by the leader of the FGN delegation and AGF Malami at the wedding. In summary, Tambuwal is the cabal.
Kaduna governor Nasir el-Rufai was picked up by the Economic and Financial Crimes commission, EFCC on several charges for his conduct while he was minister of the Federal Capital. He was arraigned in May of 2010. His cases remain open.
Renowned for his kiss, or kneel-of-death, Kaduna state governor who appeared to indicate his interest in the position while rejecting being part of the cabal at the presidency is currently under investigation at the International Criminal Court, ICC for his involvement by self-admission in a radical, massive state orchestrated massacre and the secret burial of hundreds of Nigerian citizens in Kaduna in December of 2015. Attorney Yemi Osinbajo currently coasting on the edges of being implicated in the globally condemned atrocities the Buhari government is enmeshed in can be guaranteed not to further appraise the implicated, embattled state governor.
Saraki
There is a lot of chatter about Senate president Bukola Saraki. The Buhari presidency and APC top guns had vehemently opposed Saraki's emergence as senate president. It is said that among the reasons was his proximity to the nation's top job. A northern candidate was pushed forward for the Senate presidency but Saraki out-manipulated the party leadership.
Bukola Saraki is described to be salivating at the possibility of becoming Nigeria's president. This is perhaps the closest he may ever come to being Nigeria's president. The nation's #2 in line, he will default as the president if any thing happens to Vice president Yemi Osinbajo (God forbid). There is reliable evidence from multiple sources, of Saraki lobbying strongly for the north to accept him as their representative for the nation's top job over Yemi Osinbajo. While from the north technically, as stated above, the "core north" uses other northern states for mere population power while never considering sharing "northern power" privileges with them. Saraki hails from Kwara state in the middle belt north.
A pathway for Saraki which many who claim links to his inner caucus relay as on the table includes extreme options like the impeachment of Yemi Osinbajo before the Assembly approves of his Vice President nominee. It is in Saraki's hands as Senate president to approve of Yemi Osinbajo's nominee for the Vice presidency after a candidate is selected. If any catastrophic event (God forbid) should happen to Yemi Osinbajo during the days after Buhari resigns and before a Vice president is approved, Bukola Saraki becomes Nigeria's president.
Service Chiefs
During former president Goodluck Jonathan's days as acting president, Nigeria's service chiefs showed preferential stakes in his assumption of full control of power. They backed him in his quest to become the president and contest for re-election under the PDP umbrella. The situation is quite different this time. While in contrast to the challenges Jonathan faced, president Muhammadu Buhari honorably surrendered power to Acting president Yemi Osinbajo before setting out for his 18-day medical leave, the Vice president does not enjoy the loyalty and support of the service chiefs as did Jonathan. This was recently demonstrated in the unusual declaration of allegiance to president Muhammadu Buhari as against to the Federal republic of Nigeria in a security briefing at Aso rock today.
Minister of defense, Masur Ali on behalf of the chiefs declared, "On behalf of the armed forces and other security agencies, we pledge our total commitment and loyalty to the President and Commander in Chief of the Armed Forces of Nigeria."
Is there a question to which this attestation was the answer? It is puzzling and my little expertise does not proffer me an answer to that irregular demonstration. At the least it confirms that the nation is in a trying time and there is a question and charge to openly declare and prove loyalty.
In what ways may the service chiefs in a nation with a record of military take-overs, protect the life of the Acting president or threaten the constitutional transfer of power? This is left to be determined.
My Suggestion To Osinbajo
This is my cosmopolitan suggestion and nothing more. If Acting president Yemi Osinbajo continues to show he is not a cabal, not a filthy politician and just the devoted proficient and efficient, nationalistic workaholic he has proven to be, with the intention and know-how to break boundaries and barriers, listen to and respect the people and take Nigeria to the promised land as WashingtonPost among other local and foreign media have already observed in just under 40 days of unsupervised top leadership capacity; Osinbajo should contest in 2019.
To do so, the Acting president will need to make some radical decisions. Firstly he needs to protect his life from the cabal at the presidency. This can be achieved by the very extreme measure of selecting an unconventional Vice president. A totally a-political, honest, morally and spiritually upright, non conventional young northerner with no alliances would make a good choice. Someone the cabal do not know and cannot count on any more than they can count on Yemi Osinbajo. But even more determinedly and radically, Osinbajo can abandon the unconstitutional north-south pairing tradition and choose an Igbo progressive mind to be his Vice. The northern mafia will never sacrifice Osinbajo for any of these two.
Secondly, Osinbajo needs to seriously get rid of Bukola Saraki. His state, Kwara and Nigeria at large are tired of this man. Osinbajo should move like Obasanjo…perhaps withdrawing the corrupt Senate president's security detail and applying other means to expedite his suspension and prosecution for financial crimes against Kwara state and Nigeria as a whole.
As far as 2019 goes, Professor Osinbajo can consider running on an entirely new party platform as weary Nigerians have little hope in PDP and reformed-PDP aka APC. I believe strongly that Nigerians will stand behind a proven progressive candidate and with God working His miracles, nothing is impossible.
Prayers For Buhari's Quick Recovery And Resignation
While we pray for Buhari's miraculous recovery to good health to enjoy his old age in retirement, we can no longer pretend and hope for his return to the helms of power. This latest indefinitely prolonged leave of absence with the mixed controversial and dishonest messages alternating from "hale and hearty," to "not critically ill or admitted," destroy any confidence Nigerians have in his physical capacity and cognitive ability to remain in power and in control of his agencies and cabinet. Nigeria cannot afford to have another puppet propped up in power while a mafia pull the stings according to their personal, unholy agenda.
On a final note: the cabal plot and plan and activate their evil machinations. While God is the Chief plotter, the masses must not wait, arms folded. We too must have a dream of our promised land and maintain clear focus while making our rules and plots and plans to get there.
Dr. Peregrino Brimah; @EveryNigerian