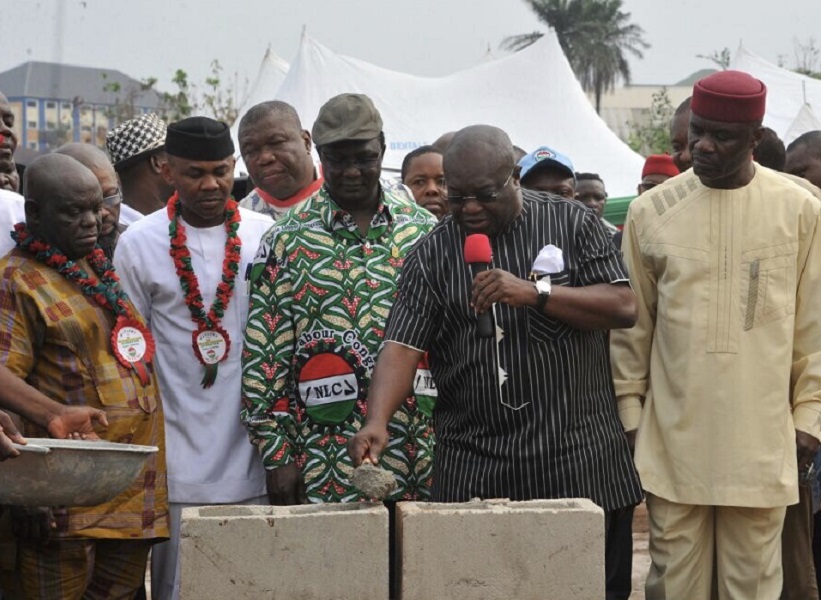 Press Release
…Proposes it as Abia Labour House
In keeping to his decision that no Government and public property will be named after him while serving as governor of Abia State, Dr Okezie Ikpeazu has rejected the proposed naming of the Abia State Chapter of the Nigeria Labour Congress (NLC) Secretariat in Umuahia as Dr Okezie Ikpeazu Labour House, he instead, pleaded with NLC to consider naming its secretariat as Abia Labour House.
Governor Ikpeazu, while speaking at the foundation laying ceremony of the secretariat which he performed, promised that he will not take the corporation of the Labour in Abia for granted.
He also promised to support the leadership of NLC to ensure the completion of the secretariat, and promised that Abia State Government will donate N10m, while he as a person will make donation N2m every month until the end of 2017 to ensure the completion of the building.
While delivering his address, the Abia State Chairman of NLC, Comrade Uchenna Obigwe said: "today, our amiable Governor, Dr Okezie Victor Ikpeazu is here life (live) to; not only perform the ground breaking, but to lay the foundation of the edifice to be known and called Dr. Okezie Victor Ikpeazu Labour House Umuahia-Abia State, the first modern Labour house in the South-East geo-political zone."
Speaking before laying the foundation ceremony of the secretariat, and in response to NLC chairman, Governor Ikpeazu said: "I want to say that I appreciate very well, your decision to name this building after my humble self but I am constrained by the policy of this government that you don't take credit on our marks; we wait for gold medals when we cross the finishing line. For us today, we are on our marks and the race is just beginning, so it will be preposterous for us to take the accolade and diadem that should come ordinarily, at the breaking step. So I will ask you to wait till we break the tape, it is at that time that I will take up the acquisition of Excellency, and also accept awards like this. I therefore, plead and suggest that this house be called Abia Labour House. Thank you very much and God bless."
Enyinnaya Appolos
Chief Press Secretary to the Governor