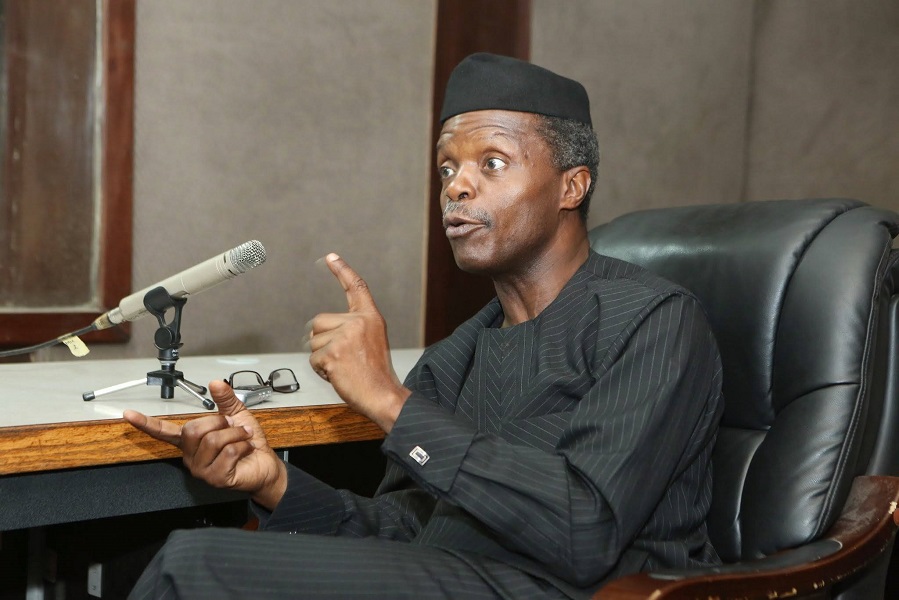 Acting President of Nigeria, Prof. Yemi Osibanjo on Tuesday confessed that the people of Imo State have been largely marginalized as an oil bearing state of Nigeria.
Osibanjo who made the statement when he paid a royal visit to the palace of the Imo State chairman of traditional rulers' council, HRM Eze Samuel Ohiri in Owerri said federal government would make amend.


The acting president, who was accompanied on the visit by the minister of transport, Rotimi Amaechi, Minister of state education, Prof. Anthony Anwuka, Minister of Petroleum Dr. Ibe Kachikwu and many other dignitaries, told the Imo State royal fathers, the political class, and other eminent sons and daughters of the state gathered at the palace that Imo would henceforth receive fair treatments from the federal government.


"My visit here is in continuation of the consultation which Mr. President said I should do to all the states of the Niger Delta, and I can say that the oil producing communities of Imo State have been largely ignored'', he said.


The acting president however assured that the federal government would look at the ways to redress the injustice done the area by giving more attention to the state.


On the issue of unfair appointment and allocation of projects raised by Governor Rochas
Okorocha, Osibanjo said that it was not correct that President Muhammed Buhari was not fair to Imo people.


"You said that the highest appointment given to Imo under Buhari was minister of state education, I will like to equally inform you that Katsina the home state of Mr. President, and Kaduna state where Buhari resides all have ministers of states.


"If there is any governor in this country that has the listening ear of Mr. President, I will say that it is Gov. Okorocha and it is not correct for the governor to say that the state is marginalized by APC led federal government'', Osibanjo said.


Earlier, Okorocha had welcomed the acting president Prof Osibanjo to Imo State, but added that the people of the state have not been fairly treated in terms of appointment and project allocation by Buhari's administration.


He said that Imo, as the state that entrenched the ruling party in the South-East and even fought that political battle that brought victory to the party in 2015, had little or nothing to show for their effort.


Okorocha said, "if you take better look of the situation of Imo not appointment and allocation of infrastructures could Imo people boast of being better treated by the federal government.''


The governor noted that apart from minister of state education which was the highest political appointment given to an Imo person, the state cannot boast of any federal project courtesy of the present administration.