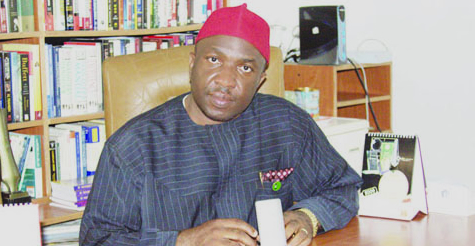 Key Note Address By Chief Ralphs Okey Nwosu; the National Chairman African Democratic Congress ADC, ABUJA; on 13th December, 2016.
Protocol.
May I use this opportunity to congratulate all of us again for our 10th year anniversary. We have gone through the most difficult phase of bringing our Political Party to life. It has not been easy, but we have persevered. The Party structure is the precursor to quality democratic governance, and constructive nation building. We may not have taken over the Villa, or the Governors Mansions in our various states, but we have certainly made great strides; it is on record that the presidential candidates under our platform, Professor Patrick Utomi in 2007, Professor Nwangwu in 2011, and Dr. Mani Ibrahim in the very last election, were the best among all the candidates at the various times. We may not have won, but that explains the state of our nation, and our democracy. As pathfinders, it behooves us to champion the process to position our country away from the way that we warned that it was headed ten years ago; We have a duty to regenerate the Federal Republic.
To make progress in the nation building enterprise, those in charge and the elites of the day must be truthful to themselves. What we intend to start today is not a direct invective aimed at any particular individuals, nor a whitewashing of the controversial topic of the Failed state, but a call for deep and truthful conversation and soul searching, a call to draw attention to the looming danger we face, and a call to create the awareness of a time bomb in our estate. We do this with the hope that the realization of will be transformative.
The books and thought leaders define A Failed State as one whose political or economic system has become so weak that the government is no longer in control. They argue that the Failed State refers to a nation in disequilibrium, where basic conditions and responsibilities of the government no longer function properly. The common characters of failure are sharp economic decline, widespread corruption and criminal action, government immobility, insurgency, refugees, and the involuntary movement of populations.
But for purposes of simplicity, allow me to offer a more straightforward take on this topic so that we do not waste time with the jargon of academics, and the statistics of our bureaucrats. Put succinctly, a failed state is one in which the people TRUST has been broken.  
As a practitioner, I love to present facts as such, facts that connect with the perspective of persons on the street. Here are some such inescapable facts: we have high unemployment in Nigeria. A lot of our graduates of the last 10 years cannot find jobs. As at today, our tertiary institutions graduate about 800 thousand students, and our secondary schools a couple of million every year. But for the last 3 years, the systems in place, local government, state and Federal government, the private sector (organized and unorganized, micro, small scale, medium, large & mega sizes) cannot boast of creating up to 500,000 new jobs. Indeed, for the last two years many organizations have been retrenching workers. Given the above, I ask you, what is the health of our nation?
The average salary of the low cadre and middle level officers in our systems could be estimated at N35,000 a month. And this meager amount is for an individual who likely wakes up at 6am in the morning, struggles to find public transport to work, and leaves at about 4 pm, only to get home past 6   O'clock. In an economy where the dollar now exchanges for N480, how do you rate the wellbeing of even the few that are lucky to be employed? Whether the civil servant comes from Sokoto, Afikpo, or Owo is immaterial; to expect a family of four to survive on $2 a day is curious. I challenge our elites and scholars to talk about the quality of life of most Nigerians today.
I conducted a simple field survey in Port Harcourt recently. A family of 4 will need a minimum of N500 of palm oil; N500 of garri and/or rice, and the same for meat. All this on $2 a day? This family is already struggling, and today the prices of kerosene, fuel, and spare parts are going up; transportation is costly; rent is up; school fees and health bills are up. To our elected and non-elected leaders, local government, state government, federal government, the executives, legislatures, judiciary branches, how do you explain your leadership? Can we really qualify the leadership in place as healthy?
When our party was formed, we presented to the Nigerian people our platform, the Change we advocate. The ruling party hijacked our change advocacy and slogan to win the 2015 general election. Unfortunately, since then, they have torpedoed. But our party understands that leading change has a process: deliberate and strong stakeholders agenda, sense of urgency, clear vision, transparency, role modeling with integrity, and justice. Where is the effective leadership, and efficient management that is required for this project?
Today, Nigeria is certainly at a crossroad. And it is not certain that the country can withstand any major stress or integrity test. The political state is challenged; we have militancy, terrorism, insurgency, and many groups insistent on self-determination. Many of the groups possess more sophisticated weaponry than the state; and are more purposeful and coherent.
Our democracy is challenged. The democratic process is broken; the parties in power use state powers and institutions to perpetrate fraud with INEC as the chief enforcer. Our democratic system of governance is in trauma. The power divide, and the checks and balances in our system are no longer tenable. The meaning is lost in practice. The Executive arm has become the big elephant. The executives have emasculated the legislative bodies and the Judiciary. In our 36 states and Abuja, the tier of government closest to the people, the Local Councils have become moribund. For a nation of over 180Million persons, a one-way government is certainly a graveyard call.
The structural challenge exerts serious strains on the geography and cohesion of the state. Lagos state may decide that since it generates 70% of the taxes, it will not continue to let the Nigeria nation deprive its residents of pipe-borne water, and quality schools; while the villa takes the money for itself, and then Sokoto, Taraba, and Kogi states. Also Kano state farmers cannot be made to build the groundnut pyramids again only for the proceeds to be used to develop Ondo, Edo, and Imo states. We have to be open to the complaints of the Niger Deltans, we cannot wish away the Avengers, IPOB, Shiites, not even Boko Haram.
The other side of the coin we must realize is that even the smallest state in Nigeria is bigger than many countries of the world. Also, any of the states in Nigeria is as well-endowed as many of the very successful nation states in the UN-charter. The truth is that our different communities existed like nation states before the colonialists struck. The present structure is defective and cannot sustain our over 180 million human population.
Do we have a defense or security deficit? In over ten years we have not defeated Boko Haram; we are all aware of the mayhem last week in Adamawa, and Borno states. The Rivers state rerun election was conducted last Saturday, and the very erudite and confident State Governor, Barrister Nyesom Wike had this to say; "Rivers people must work as brothers and sisters and defend our interests. We don't have Police, we don't have army, but we have God. And so, we must put our house in order and be our own police, be our own Army." He continued, "we have no confidence in the Army, we have no confidence in the police, we have no confidence in the SSS. They have shown that there is no democracy in Nigeria."
We proceed to the state of the Economy. Is our economy challenged? I let you all answer that.
So my dear party leaders, I hope there is no doubt about the current quality of our Nation state. Our national strategy (that is if we have any at all), systems, style, and structure are defective.
The Nigeria state needs a rejig; we must rejig our nation to save it. Therefore, my fellow party leaders, I crave your indulgence to inaugurate the African Democratic Congress ADC round table, open forum, and summiteering. What we intend are sincere, transparent, open conversations in all our various constituencies, and among all stakeholders. Our Nation is on the precipice; our party must show the direction. In ADC our job is not to criticize but to show and lead the way. We have to act with reason, and lead by example. In ADC we shake hands; party leaders, Ward, Local Government, State, and National must lead the dialogue in good faith. I employ you to lead the conversation from where you are with heart, soul, commitment and a HAND SHAKE.
ADC – Change; no the Change has been scandalized by APC and the Government. To lift Nigeria, and our people our new slogan is:
ADC – Arise; ADC- Arise; AD&C – Nigerians Arise and Shine.