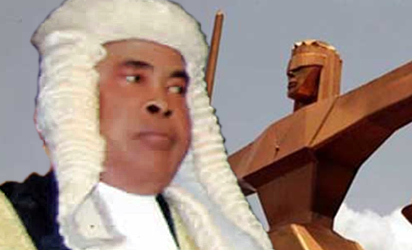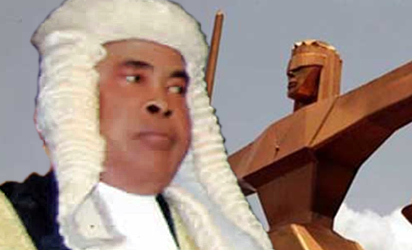 By Ogbonna Casmir
The Movement of Voice for Democracy (MVERS NIGERIA), a non-governmental organization based in South-East of Nigeria has alleged the prosecution of Supreme Court, Justice Sylvester Ngwuta for alleged corruption are part of ethnic cleansing President Muhammad Buhari led government launched against Igbos.
The group in a statement issued Tuesday, signed by its promoter Mr. Ifeanyichukwu Okonkwo disclosed that Justice Ngwuta is 3rd in the hierarchy of the Supreme Court Justices of Nigeria today; he has over 8 years to stay, called the Igbos to come together to fight the injustice against Ndigbo.
The right group who said that after analyzing the charges both 1st and 2nd the federal government preferred against Justice Ngwuta, "we came to the conclusion that it is superfluous, it is not justice and certainly is not about fighting corruption.
"This targeted fight is to destroy the people who should be next in line to occupy highest judicial office in this country and we say it without equivocation.  Justice Ngwuta has about eight years to stay in the Supreme Court, he is in his 60's and to retire at 70yrs. Igbos should look beyond what is going on now because it is an ethnic cleansing. Justice Ngwuta is the highest Igboman in the Supreme Court", it disclosed.                               
The group in the statement made available to our correspondent said it is duty bond on the prosecuting counsel from the office of the attorney general of the federation to tell Nigerians what they are charging Justice Ngwuta for, stressing that for you to allege that Justice Ngwuta gave a contract project to a contractor to build $1 million house in Nigeria cannot be a charge of corruption.
The statement reads: "How many Nigerians have built house worth $1 million, have they been charge to court for corruption or is it because is Justice Ngwuta an Igbo and has nobody to speak for him. When have given contract to contractor amount to corruption. They have to prove that Justice Ngwuta cannot afford a contract of $1 million.
"Speculation cannot be basis for criminal charge. First, this man has been charged to court, his accounts have been frozen and he is not being paid salary. How can he defend himself? How can he find money to hire lawyer to defend himself, eat and transport himself to court. The issue is simple, you found N37 million, $57, 000 in his house and the man has denied that he doesn't have such money in his house.
"The Central Bank director of currency must come to court and as one who signed those currencies they will bring as exhibit to tell Nigerians through what means did he release it into circulation and how did the money ended up under the custody of DSS who alleges that they find it in Justice Ngwuta's house; this is not fairytale.
"You said the man have two passports, three passports, yes; he is entitled to diplomatic passport and he had a regular passport before, if the passport has expired it is of no moment, no law says if your passport expire return it to Nigeria.
"If you said he took bribe, most of Supreme Court panels are constituted by seven-man panel. Investigate other Supreme Court justices because Justice Ngwuta cannot collect bribe in isolation. We know justices of Supreme Court that have Hotels; have they been charged?
"President Buhari himself has interest in Panapina. If we want to face the reality, let us set a standard and let everybody pass through it. Get the banks to bring account statements of Nigerians and let everybody come and justify his or her worth including President Buhari himself. He should show us where he got the money used to finance his election", it reads.