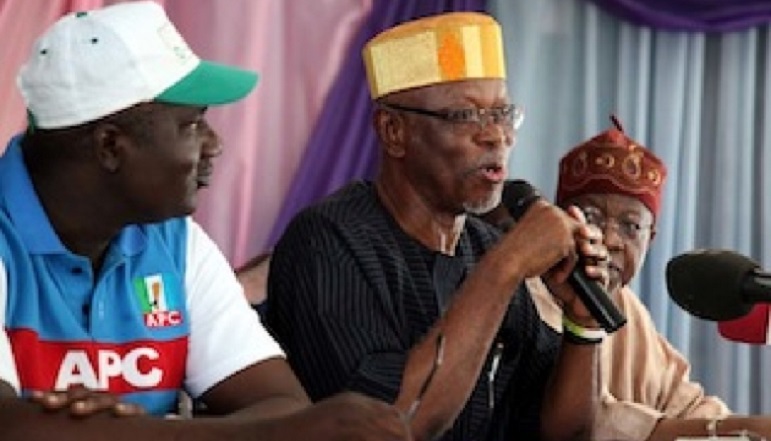 The Acting National Publicity Secretary of the All Progressives Congress (APC) Comrade Timi Frank, has warned the National Chairman of the party Chief John Oyegun, to stop the desperation to expel him from the party even as he (Frank) threatened to sue the chairman (Oyegun) for contempt of court.
Frank who was responding to a media reports that APC National Working Committee (NWC) had upheld his suspension at its Tuesday meeting, also challenged Chief Oyegun and his loyalists in NWC to publish the minutes of the meeting where such decision was taken.
In a statement Timi Frank signed in Abuja on Thursday, said he has asked his lawyer to sue the National Chairman for Contempt of Court, adding that "any attempt to suspend or expel him from APC will break the party."
He, therefore, challenged Chief Oyegun to convene a National Executive Council (NEC) meeting to determine who will be thrown out of APC.
"I dare the National Chairman to convene NEC meeting and see who will be removed between two of us."
He explained that: "the claim by one of the Oyegun's foot soldiers, Oji Ngofa, that NWC had taken decision to hold on with the report of a kangaroo zonal committee that recommended my suspension was a blatant lie."
Timi Frank made it cleared that he was intorch with other NWC members who were part of Tuesday meeting and has obtained the minutes of their meeting where nothing of such was discussed.
"This desperation by the National Chairman to expel me from APC will backfire. He has now proven to the world that he had no respect for the law.  This matter is in court and the court has asked all the parties to maintain status quo pending its determination but Chief Oyegun's desperation to send me out of this party can't wait. Well,  this is how he disobey even the APC constitution at will.
"I am surprised that Oyegun is deploying his strength against me instead of joining hands with President Muhammad Buhari to find solutions to problems confronting the nation at this time. It is high time Oyegun stop distracting Mr. President and boring Nigerians with my issue with APC.
"It is expected of a National Chairman of a ruling party to rally all supports for the President and not causing disunity under himself.
While explaining that he took the party to court after he had exuasted all the known internal mechanism to get justice for his constitutional rights but to no avail, added that he remain a loyal member of APC and will definitely abide by whatever is the outcome of the court.
"I have said it times without number that I love this party so much and I want Mr. President to succeed in delivering the change we promised Nigerians. That can only happen where justice reigns. This fight is not about me but about young Nigerians and to save our democracy from the hands on undemocratic elements like Chief Oyegun."