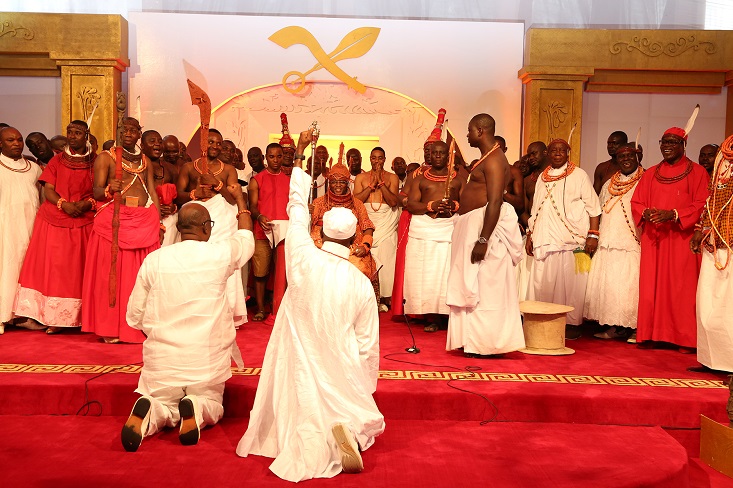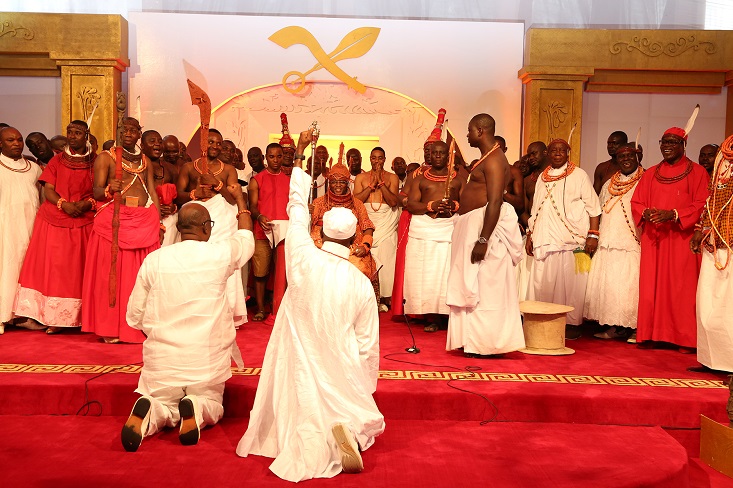 Edo State consolidated its rising status of Nigerian, African and global democratic leadership with the successful coronation of His Royal Majesty, Omo N'Oba N'Edo, Oba Ewuare the 2nd.
The peaceful, blessed, humbling and historic coronation of the former Crown Prince of Benin Kingdom and Edaiken N'Uselu in Benin City, the state capital, began on Saturday, 8thof October, 2016. But coronation rites and activities climaxed with the adoption of his name, Ewuare II, and concluded on Thursday, 20th October with kingship crown, sceptre, staff of office etc.
The ceremony brought together thousands of sons and daughters of Benin Kingdom, Edo State and well-wishers. Also, it brought kings, queens, princes and princesses, traditional rulers, governors, ministers, lawmakers, entrepreneurs, diplomats, professionals, historians and tourists from different walks of life led by the Vice President, Professor Yemi Osinbajo and host Governor, Comrade Adams Aliyu Oshiomhole.
Defined by pomp, pageantry, beauty and colours, curtains were drawn on the two-week display of unarguably the world's richest tradition and culture, when a senior chief, Edionwe Oliha, formally revealed the name of the 40th Oba of Benin Kingdom. But before then, however, Governor Oshiomhole had performed an equally historic presentation of staff of office to Oba Ewuare, whose coronation automatically confers him with the chairmanship of Edo State Council of Traditional Rulers.
Oshiomhole's presentation, which made him the first Governor of Edo State to have the privilege, a fact Vice President Osinbajo highlighted, solidified the post-Oshiomhole era that began with the peaceful, free, fair and credible election of Governor-elect, Godwin Nogheghase Obaseki, of the ruling All Progressives Congress (APC) on Wednesday, 28thSeptember. It will be cemented when Mr Obaseki and the Deputy Governor-elect, Hon Philip Shaibu, formally take oaths of office on Saturday, 12th November.
The Oba's adoption of Ewuare II is interesting. Historians say it is neither a mistake nor a repudiation of the acknowledged affability, gentility, humility, accessibility and philanthropy of Oba Erediauwa, whose 37 years of glorious reign was exemplary and without malice, despite the change of his adopted moniker.
Oba Ewuare N'Ogidigan (or Oba Ewuare the Great), the first monarch to bear the name,
was the King of Benin Empire between 1440 and 1473. Although he became king after an uprising that killed his brother, Oba Uwaifiokun and destroyed much of Benin City; however, he rebuilt the ancient kingdom, reformed its political structures, expanded its territories through conquests and fostered its arts, festivals and traditions. He renamed the city from Igodomigodo or Ibinu to Edo (before becoming Benin City) in honour of the slave that sacrificed his life to save him during the crisis. He is credited as the first king of Benin Empire and one of the greatest kings of Benin Kingdom.
For example, Ewuare the Great initiated the succession rule that recognizes first son today. He had many more achievements to his name.
While traditionalists have drawn similarities
in words, ideas, actions and vision
between the two monarchs of different eras,
they
say Oba Ewuare will impact his kingdom better and greater than Ewuare the Great.
Accepting the challenge with humility after his coronation before vowing to lead them as an embodiment and expression of culture, aspirations and history of the people of Benin Kingdom, Oba Ewuare joyfully unveiled his development plans.
"What Royalty represents for our people are Justice, Peace and Unity. These ideals shall be re-awakened, and will be sustained in the dispensation that will soon unfold," he declares.
By choosing the august occasion of his coronation to clarify controversial issues in the line of succession in the kingdom from the 12th Century by modern reckoning, Ewuare II has deliberately and unambiguously laid the marker for his reign as an honest, just, fair, credible and courageous Oba.
"Historians all agree that Oduduwa sent his son Oronmiyan at the request of elders of Benin to return with them as ruler of their realm. Oronmiyan's stay in Benin may have been short, but before he left a child was born to him, who was later crowned Oba (king) and is known today as Eweka I. Oronmiyan's time in Benin, however short lived, he was an Oba; and so he was the first Oba after the Ogiso dynasty came to an end," he explains, before approving local historian Egharevba's book: Short History of Benin, that appropriately listed Erediauwa as the 39th Oba.
"I therefore stand before you today as the 40th Oba of Benin, a direct descendant of Oronmiyan, the son of Oduduwa whom the Benin people of that era knew as Ekaladerhan, their self-exiled Prince who later became ruler in Ile-Ife," he clarifies.
Reeling out his planned programmes aimed at impacting on the protection, security and preservation of the kingdom and its people, matters of custom and tradition, welfare and development, palace administration reforms, resolution of conflicts, promotion of harmonious relationships, ties with other traditional institutions, communication with local language, and respect for traditional institutions, Oba Ewuare called on government to include Edo language and Benin history in school curriculum.
He announced establishment of two Special Purpose Vehicles (SPVs) to boost tourism, tackle unemployment and fight poverty; and tasked Federal Government with the transformation of Gelegele riverine areas to export processing zone for agro-allied products.
"The Benin Royal Dynasty Trust will in collaboration with Benin Traditional Council establish a foundry or two in Igun Eronmwon Quarters to enhance the productivity of the Bronze Casters Guild" while "Benin Royal Academy for Performing Arts will train youths and develop their talents."
Oba Ewuare's openness and sincerity from the outset fulfilled God's prophesy in Hebrews 1: 8—9 and resolved similar difficulty the Hebrews overcame.
It states: "But unto the Son he says, Your throne, O God, is forever and ever: a scepter of righteousness is the scepter of your Kingdom. You have loved righteousness, and hated iniquity; therefore God, even your God, has anointed you with the oil of gladness above your fellows."
While Mr Obaseki's election and Oba Ewuare's coronation might seem like a mere coincidence, it was ordained to fast track development and happiness for the people of Edo State. As a reminder, the coronation of Oba Erediauwa in 1979 occurred before the popular election of the late Professor Ambrose Alli as Governor of old Bendel State, a period of remarkable evolution before Edo and Delta States' were created in 1991.
Relatively, Oba Ewuare prayed for the successful election of Mr Obaseki and supported the outgoing administration that produced the Governor-elect, who, in turn, recognized the fatherly and constitutional role of the monarch long before visiting him to express gratitude for his victory.
Bound in one destiny, both of them are humble, energetic, sincere, vibrant, courageous, and prepared for the huge task of lifting Edo State with justice, peace, unity and development. Jointly, they might need to begin by tackling criminal sale and resale of lands, and deadly community youth leadership crises.
Oba Ewuare's call on Africa's richest entrepreneur, Alhaji Aliko Dangote (and others, including our own Captain Hosa Okunbor) to support Governor-elect Obaseki's industrialization, infrastructure and agrarian plans for job creation and food sufficiency, described as the mission of achieving economic prosperity for Edo State, resonates popular calls.
The clarion call goes to every son and daughter of Benin Kingdom and entire people of Edo Central and Edo North to give Obaseki all the needed support to increase the development pace of Edo State from the level Governor Oshiomhole has carefully nurtured Nigeria'sHeartbeat since 12th of November, 2008.
Counting on Oba Ewuare's wise counsel, Obaseki says, "As subjects, we are very proud and privileged to witness the milestone in our Great Benin Kingdom. On my part, I am committed to building a better, prosperous and economically sustainable Edo State based on cultural cohesion and ethical values."
For Oshiomhole, who cannot wait to savour the new freedom, however brief, his exit from the Government House should give him and his family, the Yoruba people—descendants of Oduduwa aptly says it all: "Oba ti o je ti lu toro, oruko re oni pare."
The lessons of the wise saying cannot be lost on anybody.
To Governor Oshiomhole, who is handing-over a healthy Edo State with gratitude; and Governor-elect Obaseki and Oba Ewuare II, both of whom are mounting the saddles of leadership with optimism, history will always judge a leader whose reign impacted positively on the lives of the people.
To other citizens, including this writer, we are stimulated to know Edo State is moving from safe hands to safer hands as a new dawn beckons with expectations and hope for the future. It shall be well with us!
God bless Adams Oshiomhole! God bless Godwin Obaseki!! God bless Edo State!!! God bless Nigeria!!!!
Sebastine Ebhuomhan is an award-winning journalist and former correspondent for The Anchor Newspapers, Independent Newspapers, Punch Newspapers, 234NEXT Newspapers and National Mirror Newspapers. He lives in Benin City. He can be reached at:
usie007@yahoo.com
and 234-803 7204 620.