Information reaching 247ureports.com indicate that the Northern oligarchy may have begun consolidation of their power grip on the top seat of the federal government of Nigeria. This is according to new information revealing that a collection of top Emirs and traditional leaders of the core north had approached the President of the federal republic of Nigeria, General Mohammadu Buhari to impressed on him on the possible dangers of his continued association with the former president of Nigerian in the person of General Olusegun Obasanjo.
According to a competent source who is usually reliable, the collection of northern leaders had cautioned the President and reminded him that the former President was never friends to the north – that his continued closeness to Obasanjo will yield an outcome that may certainly not be advantageous to the him [Buhari]. They pointed to Obasanjo's legendary renege on the agreement reached with Atiku Abubakar – and his selection of the Late Umaru Yar'adua to head the nation – as classic examples of what Obasanjo is made of. "He has no good intention for your administration", the source indicated while adding that the Monarchs reminded the President to not forget that it was Obasanjo and his Peoples Democratic Party [PDP] that frustrated his [Buhari] run for Presidency repeatedly.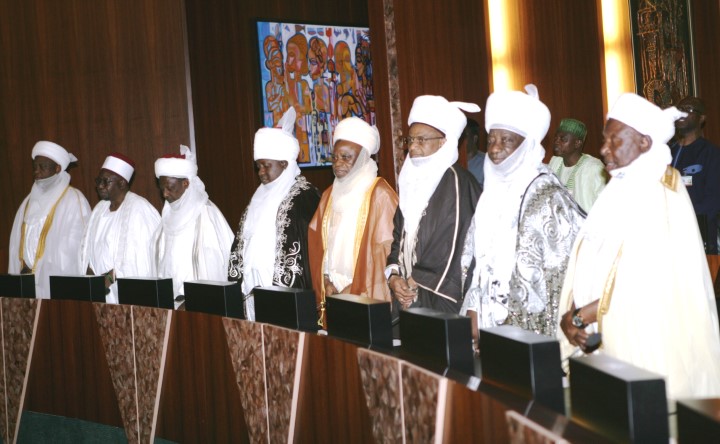 In the Monarch's take, Obasanjo wants to use his closeness to Buhari to affect another transition from a Buhari controlled regime to an Obasanjo controlled regime. Our source indicates that the Monarchs harbors the fear that if Obasanjo is left unchecked he will achieve his aim.
Obasanjo is said to have been responsible for recommending the current Minister of Finance along with a few other ministers and aides to the President. Our source reveals that the Monarchs remain unsettled at the possibility of Obasanjo continued influence on the President to eclipse the influence that the north have over the President. "There bigot-laden overtones to the concerns of the Monarchs", said the source who was also concerned the President may have taken the cautions to heart.
The President is expected to reshuffle the cabinet in the coming months, if not weeks. It is to the make-up of the new cabinet that the Monarchs are concerned that Obasanjo may play a role grander than they would like.
–
Stay tuned