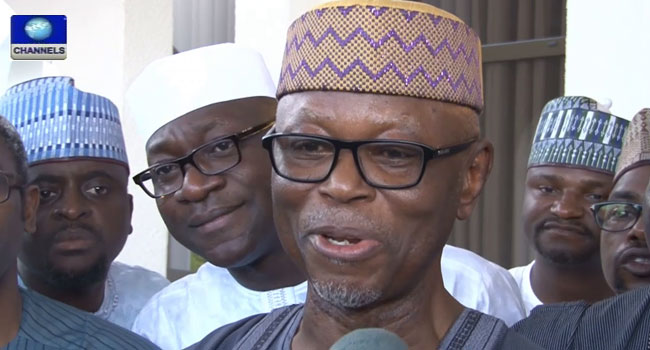 …Oyegun, Lawal shuaibu avoid each other
The rocking the All Progressives Congress (APC) took another dimension recently as the National Chairman, John Oyegun and the Deputy National Chairman (North), Lawan Shuaibu are at 'war' over the purported plan to appoint former minister of Sports, Alhaji Bolaji Abdullahi as 'Director of Publicity' of the party.
The war has, however, gotten to a stage where Oyegun, his deputies and some other NWC members opposed to the development can see face to face with their national chairman.
Abdullahi served as minister under the administration of former President Goodluck Jonathan and is an ally of Senate President Bukola Saraki and former vice president, Atiku Abubakar. He's from the same state (Kwara) with Lai Mohammed, the former national publicity of Secretary of APC now Minister of Information, Culture and Tourism.
The rift over appointment of new Publicity Secretary between Oyegun and Shuaibu as informed by a reliable party chieftain started when the National Chairman, worried by incessant attacks from the Deputy National Publicity Secretary, Timi Frank initiated the move (behind Shuaibu) to appoint a director of publicity who afterwards would be made substantive spokesman after Timi Frank would have been suspended.
According to the source Sen. Lawal Shuaibu, being the deputy national chairman in charge of North believed that such appointment should have been made by him and not the Chief Oyegun.
The ongoing struggle couple with several others internal crisis rocking the party under Chief Oyegun were said to have divided the NWC members into pro and anti Oyegun factions, while those against the national chairman enjoying the backing of APC national leader, Bola Tinubu, Atiku Abubakar, Senate President Bukola Saraki and Speaker Yakubu Dogara.
The source revealed further that: "The plan to appoint Bolaji Abdullahi as Director of Publicity was done behind Senator Lawan Shuaibu who ordinarily should have been consulted owing to the fact the position in question is under the zone he control as Deputy National Chairman North.
"When the matter was debated at the NWC Meeting, Shuaibu and other members disagreed with Oyegun and they also warned him of the implication of appointing a National officer outside National Convention".
Another source told our Correspondent that a letter of appointment had been issued to Bolaji Abdullahi during the week but his unveiling was put on hold as the NWC couldn't reach a consensus.
Abdullahi was reportedly sighted at the party's National Secretariat on Monday.
Effort to reach Abdullahi for reaction as to why his purported appointment was delayed proved abortive as several calls placed to his known MTN number failed to connect.
When contacted, the Deputy National Publicity Secretary of APC, Comrade Timi Frank who had few days back threatened to seek legal redress if the party appoints a new spokesman told TheBriefNG reporter on phone that he has no issue with the former minister of sport neither is he opposed to him being named as the new spokesman of the party provided 'his appointment is ratified at the party's convention or at the National Executive Council meeting'.
"Senator Lawan Shuaibu's position is spot on because he knows the constitution of our party and as a man of integrity, he doesn't want to be a party to any illegality, I've not heard this before but I want to say his action is quite commendable. I have always maintained that this is not about Timi Frank, Oyegun's incompetence is highly embarrassing to us in APC and he must go.
"You asked what is my take on this, I had said before now that I don't have anything against my respected elder brother, Alhaji Bolaji Abdullahi, if the party deems it fit that he should be the next spokesman, let them convene a National Convention and ratify that. Anything aside that will surely be challenged by people who mean well for our party and Nigerians".