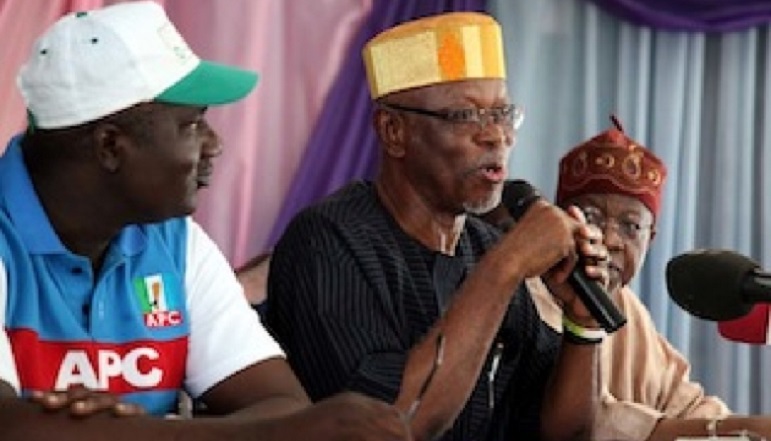 "If Ekweremadu's removal will help stabilize the economy, then, they should do all within their power to remove him. If Ekweremadu's removal will stop Nigerians from losing their jobs, then, it is a task that must be done. If Ekweremadu's removal will stop Fulani Herdsmen from killing of helpless Nigerians, then, Ekweremadu should vacate both his office and Senate immediately. If Ekweremadu's removal will stabilize prices of food and common commodity in the market, then, I am joining them in asking Ekweremadu to vacate Senate. If Ekweremadu's removal will make Buhari to abandon his 97% and 5% policy, stop him from seeking to turn Nigeria to a fiefdom where the only capable hands are only from certain part of the country, then, Ekweremadu's immediate constituency should recall him from Senate. But, where the reverse is true, all the APC Governors and its leaders seeking Ekweremadu's removal should tender their resignation letters and handover notes. God bless Nigeria"
—From Pete Edochie's Facebook Wall.
After stumbling on above thought provoking quote from Pete Edochie's Facebook Wall, and elucidative reflection on recent undemocratic cum anti-Igbo utterances emanating from Governor Rochas Okorocha of Imo State against Deputy Senate President Dr Ike Ekweremadu vis-à-vis recent goofing of Publicity Secretary of Lagos State APC, Mr Joe Igbokwe on Channels TV as regards unfolding conspiracy to get rid of DSP Ekweremadu at all cost, I decided to highlight insufferable obsession of the APC's leaders with Ekweremadu.
It will be recall that since the APC "won" recent senatorial election in Imo North district where its candidate—Mr Ben Uwajumogu was declared winner by the INEC against the PDP candidate, Senator Achonu Nneji, Gov. Okorocha hardly finishes any speech without mentioning the "national urgency" of replacing Deputy Senate President Ike Ekweremadu with his stooge Senator-Elect from Imo North senatorial zone as the next deputy senate president. What he has not told us, is how he planned to remove an elected deputy senate president in the Red Chamber where majority of Senators across party lines are still loyal to Saraki/Ekweremadu-led Senate.
Many political watchers from the South-East geo-political zone are still flabbergasted as how Gov. Okorocha found his voice against Senator Ekweremadu immediately his puppet won controversial senatorial rerun in Imo North (which is still subject to judicial validation via election petition tribunal). The same Gov. Okorocha that has kept mute in the face of gross marginalization of people of South-East zone by President Muhammadu Buhari-led APC government has suddenly woken from his slumber, not to fight for the cause of Ndigbo in Abuja but to conspire with external forces on how to move political mountain Everest called Senator Ike Ekweremadu.
The irony of unbearable hypocrisy cum sycophancy of all these charades and shenanigans, being exhibited by anti-Igbo elements like Gov. Rochas Okorocha and Joe Igbokwe, is that they always find strength, courage, audacity and voice to speak against fellow Igbo person, just to impress external forces. These two the APC leaders from South-East have never advised or openly criticize President Buhari for sidling the Igbos in his lopsided appointments that are blatantly skewed in favour of the core North at the pitiable detriment of South-East geo-political zone. Gov. Okorocha is yet to explain to Imo State people political calculations of the APC that saw a Professor of Education and former Vice Chancellor of a University, Prof Anthony Onwuka (who happens to be his in-law) becoming Minister of State, Education to senior Minister Adamu Adamu—whose only qualification for the plum job was offering media support to President Buhari as newspaper columnist before the emergence of this administration.
Gov. Okorocha never uttered any word of opposition or raised finger of disapproval to this dehumanising treatment and crass show of nepotism against his in-law Professor of Education and former Vice Chancellor being relegated to the background to serve a less qualified person in handling Education Ministry. Gov. Rochas Okorocha and Joe Igbokwe were nowhere to be found when tens of unarmed Igbo youths were gruesomely murdered in cold blood in South-East and South-South zones simultaneously by security agents of state, just for commemorating anniversary of fallen Biafran heroes. To rob salt to injury, some of these regime atrocities took place under the watchful eyes of Gov. Okorocha in Imo State. This explains why he was thoroughly embarrassed by Igbo youths in London during a town hall meeting of Imo indigenes residing in United Kingdom.
When some communities in Igbo land were invaded by marauding Fulani Herdsmen which resulting in slaughtering, maiming and extermination of hundreds of innocent Igbos, where were Gov. Okorocha and Joe Igbokwe? When President Buhari silenced entire Igbo nation in the appointment of Service Chiefs, where were Gov. Okorocha and Igbokwe? When South-East zone was marginalized in allocation of capital projects in 2016 Budget, where went Gov. Okorocha and Igbokwe? Insufferable and chronic hypocrisy of these APC's leaders from South-East is nearing boiling point. There is no argument that one of the reasons Deputy Senate President Ike Ekweremadu is being persecuted today, is his unrelenting condemnation of gross neglect of Igbos by present administration—which Gov. Rocha Okorocha and  Joe Igbokwe are part and parcel of.
It is very unfortunate that Gov. Okorocha has been producing; packaging and selling lies in sealed branded cans and has succeeded in deceiving gullible Imo people that Senator-Elect Ben Uwajumogu, as a novice in nitty-gritty of legislative functions, is coming to take over from highly experienced, popular and well-respected Senator Ike Ekweremadu as deputy senate president against ranking rules of National Assembly. Those neophytes who bought this extremely conjectured dummy were also given bonus of fallacy that Ben Uwajumogu is being positioned to emerge as senate president if Senate Bukola Saraki is removed. What a world of delusions! Even the dumbest political nincompoops won't fall for this crap! This Nollywood movie could only be scripted by Gov. Rochas Okorocha, directed by Joe Igbokwe, acted by Ben Uwajumogu and filmed in cinema called Imo State Government House, where Gov. Okorocha holds sway.
The foreseeable danger Gov. Okorocha, Igbokwe and their co-travellers have been blinded, to see as a result of their illogical thoughts, emanating from perverted minds, is that they are setting yet-to-be sworn-in Mr Ben Uwajumogu on a collision cause with Senate leadership. They are creating unnecessary political adversaries for this new entrant into Red Chamber, knowingly or ignorantly. Threatening a legislative veteran like immediate past Speaker of ECOWAS Parliament and incumbent Deputy Senate President Ike Ekweremadu—who has broken new frontier as elected deputy senate president for three consecutive terms, with arrival of greenhorn in the Senate, can be exemplified as bullying a ferocious lion in the jungle with the birth of a dog.
It can be likened to warning renowned gold medallist and 200meters world record holder like Usain Bolt, that he would be displaced by someone who just got qualified to come to Olympics for the first time. What a comic relief! This is the incomprehensible hypocrisy of the APC leaders on Senator Ekweremadu. The duo of Gov. Okorocha and Joe Igbokwe should occupy themselves with political strategies on how to get the fair share of democratic dividends due to people of South-East from President Buhari-led APC government, than insulting sensibilities of Igbos with their obsession of Sen. Ekweremadu.
Like Pete Edochie was quoted as saying, if Ekweremadu's removal will serve as the proverbial magic wand that will eradicate the nation's teething challenges and assuage cries of marginalization of Igbos in this government, I will personally lead the call for Sen. Ekweremadu's recall starting from his senatorial constituency, but if his impeachment as deputy senate president will not put food on the table of every Nigerian, provide jobs for unemployed graduates, stabilize naira, soothe agitating groups like Niger Delta Avengers, IPOB, MASSOB in the South-East and South-South, the likes of Gov. Okorocha and Joe Igbokwe should bury their heads in debris of shame.
Nwobodo Chidiebere wrote in from Abuja.