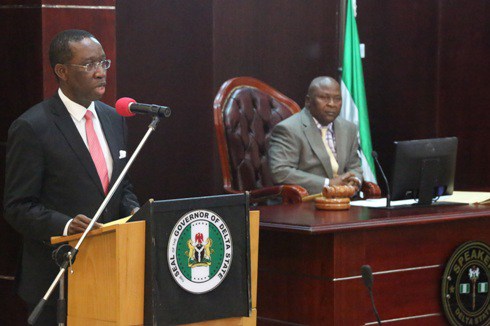 The celebration of Delta at 25 may have come and gone but the memories will ever remain. The ugly memories which outclassed the event will never be washed away in a hurry. The sad memories that revealed itself that Delta State Governor Ifeanyi Okowa is running an Anioma agenda will secretly be discussed even among the Urhobos, Itsekiris, Isokos and Ijaw political class. Those who benefit from the government may be blind to it, but those with conscience will never.
It was the day that it became a public knowledge that the government afterall is not 'Prosperity for all' as proclaimed by the governor but a government for few contractors and political jobbers who are close friends of the government. I will not write on this here but will do justice to it in a news report after studying the whole documents already obtained.
The Delta Economic Summit which was the hallmark of the event can best be said to be a near All Progressive Congress (APC) event. For a state that claims to be a Peoples Democratic Party (PDP) body, soul and spirit to leave its own PDP governors and invited an APC governor and stalwarts in the name of special guest of honor and guest lecturers, it sends a strong political message that Okowa is massaging the ruling party to the detriment of his own dying party.
For heaven sake, what did Aminu Tambuwal who is Sokoto State governor come to do that his own PDP governor from Rivers State or Akwa Ibom cannot do? What is the rationale of leaving out his own party men to dine publicly with the APC before the full glare of the world? If he must invite a governor of APC State, why didn't he invite Akinwunmi Ambode of Lagos State to come and give tips on how he is turning Lagos around instead of Tambuwal? Is Okowa plotting to decamp to APC due to the anger f the people against his government which might work against his re-election?
Okowa did not stop there but invited another APC Chieftain in the person of Ibe Kachikwu (Minister of Petroleum, State) as a special guest. Are there no PDP technocrats that can be invited instead of Kachikwu? If Okowa had invited him as a personal friend or indigene of the State, it could have been forgiven, but he did so with the excuse that he's a technocrat that can talk on the economic policies that will affect the State positively.
Who is advising Okowa? Who made him commit the blunder that there are no tested economic gurus of PDP extraction that can talk on good economic policies of the state? Apart from the Vice President, Yemi Osibanjo, the invitation of all the APC functionaries present was a blunder that even a new politician should not commit. If Okowa truly meant to invite APC national leaders who are vast in economic policies, he should have invited Otega Emerhor, a true son of the soil, opposition leader in the State and a world renowned business mogul. At least it will show his readiness to unite Deltans irrespective of political affiliations.
The invitation of Tambuwal and Co sends just one message and that is; Okowa is romancing the APC government at the Federal level to remain in the good books of President Muhammadu Buhari who has since marked the state as one to be placed under watch by the anti corruption agencies.
One had expected that with such a unique celebration of a Silver Jubilee, the government will be true to itself by using it as an avenue to foster unity, but more than ever before, Deltans are more divided on political issues and ethnic line. For the first time in 25 years, our political and tribal division is brought to the public and Okowa cannot be exonerated from this evil cropping in.
The awards for deserving Deltans given out by the State Government can best be described as an incomplete award. What is such an event without an award to Great Ovedje Ogboru who has consistently served as the conscience of the state and stopped it from being a complete one party state? The history of Delta State at 25 cannot be written without Ogboru active involvement.
What is such an award without Otega Emerhor, who blazed the trail by setting up Standard Alliance Group of Companies that has stood tall among insurance companies? For a man that is a major bank shareholder and Vice Chairman of Transcorp, he deserved to be honored on the State jubilee celebration. If Jim Ovia and Tony Elumelu, both of Delta North extraction can be so honored, then it is sheer political mistake not to give an award to Emerhor.
The celebration of Delta at 25 can only be complete if all the money donated by the private sector is audited, accounted for and how it was spent announced to Deltans. The money was donated to Delta State and Deltans to mark its 25th anniversary and not government officials. It was only kept in trust by the government to spend and Deltans deserves to know how the money was utilized in celebrating the state.
The Chairman of the Committee, Ovie Festus Agas who is also the Secretary to the State Government (SSG) should render account publicly for every kobo spent. The news that a whooping sum of N600 million was spent to renovate just the Interbau roundabout which will not cost up to N20 million is enough reason to do so.
If the Okowa led government truly believes in transparency as it want us to believe, then this is one acid test for him.
Okowa had the chance to hold the country spell bound with this celebration. He had the moment to wow the Vice President and his entourage by allowing him to commission just any great project, such as the Okpanam road but when it mattered most, he blew the chance. All that we got was a beautiful logo as the climax of the occasion. But what is a logo without a supportive people who were disenchanted with the celebration? What is a logo that has agriculture in it when the people are hungry? And like they say in Warri; who logo epp?
These little things matter…
Fejiro Oliver, an Investigative Journalist is the Editor in Chief of Secret Reporters News. He tweets on @fejirooliver86 and can be reached on 08022050733 (SMS Only)