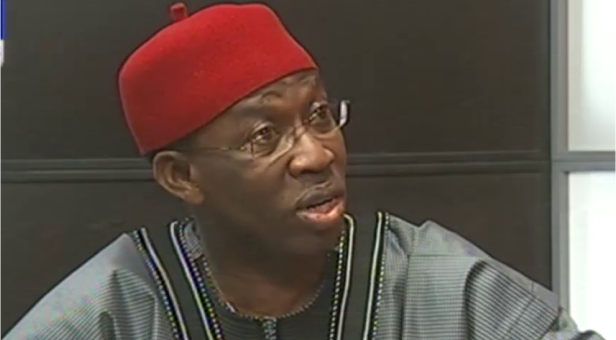 The Delta State government of Senator (Dr) Ifeanyi Okowa may have swallowed its pride on the anticipated demolition of over 3, 000 houses and ancestral shrine in Ogbe-Owele quarters of Okpanam, and Okonkwo Ezechie family land opposite the Asaba airport.
Loading ...
Following media bombardment on the purported demolition, it was gathered that the Commissioner for Lands, Chief Dan Okenyi, said the notice served on the people was not taken serious by the government.
However, there were speculations that the clandestine move was to raise money from property owners in the area by the state government.
The Commissioner for Information, Mr. Patrick Ukah, flanked by his counterpart in Lands, Surveys and Urban Development, Chief Okenyi disclosed that there was no plans on ground to demolish any house.
The duo stated this Friday at the Presentation of the new electronic C of O, FAST TRACK 90, to property owners at the premises of the Ministry of Lands, Asaba.
The Information Commissioner disclosed that government has setup a committee in the Ministry of Lands to fashion out a system in regularizing land in Okpanam with the inclusiveness of the community, "you know Okpanam cannot be short changed and you know that Delta State government cannot short change anybody".
"For a committee to be setup, the community will be well represented. We know the areas that the government has acquired and we know the ones that are for Okpanam indigenes", expressing optimism that there would be a lot of corporation from the community heads.
He said the state capital territory would understand the perspective for any of them to exist as owners of lands between Asaba and Okpanam people, "The issue is not about raising money but putting sanity", he stated.
It would be recall that there was pandemonium in Ogbe-Owele quarters of Okpanam, opposite the downgraded Asaba airport, a suburb of Asaba over Governor Ifeanyi Okowa's directive to demolish over 3000 houses.
This was followed by a 14-day ultimatum given by the Commissioner of Lands, Surveys and Urban Development, Chief Dan Okenyi, to property developers in the area.