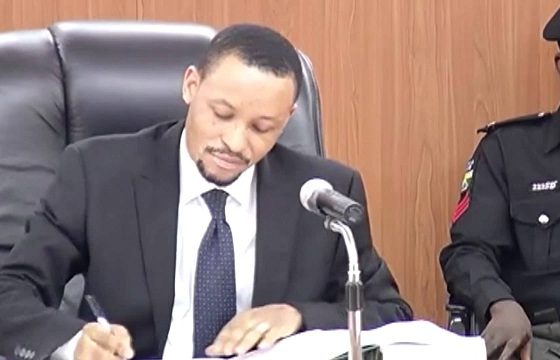 During the ongoing trial of the Senate President, Justice Dan Ladi Umar admitted to having a pre-written agenda on the motion filed by the Senate President requesting that the CCT boss recluse himself from the case.
Loading ...
Speaking at the end of the debates on the motion filed by Mr. Rafael Oluyede, a counsel for the Senate President, the CCT Chairman ended the debate by saying:
"We will resume for cross-examination tomorrow," leaving many to believe that he has already decided that he will rule against Saraki's motion.
Recall that at the Thursday, April 21st sitting of the tribunal, Justice Umar had lost his temper at Oluyede and repeatedly yelled at the Counsel to the Senate President to "Sit Down!" when he counsel attempted to bring up the motion relating to his bribery charges.
Oluyede, discussing the motion in court, cited reasons why Justice Umar should recuse himself, citing that Dan Ladi Umar's relationship with the Economic and Financial Crimes Commission (EFCC), as a suspect in a N10million bribery investigation, made him morally unjustified to sit on the case – because the EFCC was one of the investigating authorities in the case.
Oluyede, also brought up Dan Ladi's application for bail from the EFCC, where he stated that he would make himself available at anytime that the EFCC required him.