Does Buhari Have A Plan To Improve Nigerian Economy?
No (70%, 1,107 Votes)
Yes (30%, 465 Votes)
Total Voters: 1,572
Loading ...
…APC resorts to lies, propaganda
Ahead of the January 9, 2016 rescheduled election and the position of the Independent National Electoral Commission, the Peoples Democratic Party (PDP) Restoration Campaign Organization in Bayelsa has uncovered a plot by the All Progressives Congress (APC) to mislead voters in Southern Ijaw LGA through falsehood and propaganda.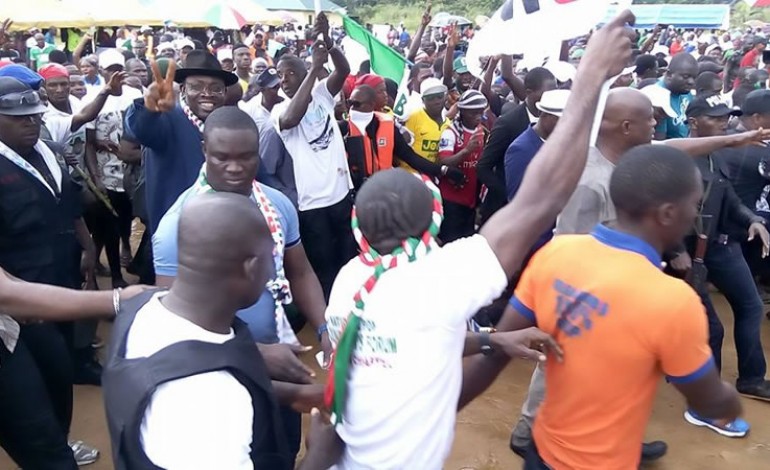 The latest of APC plot was concocted at a meeting held at the instance of their embattled governorship candidate, Chief Timipre Sylva.
The Director General of the RCO, Hon Fred Agbedi, told journalists in Yenagoa that contrary to the INEC position that the rescheduled election will hold in Southern Ijaw and 101 units across the state where the results were cancelled, the APC is now spreading blatant lies that INEC has upturned the already declared result which placed the PDP at vantage position with over 33,000 votes.
Agbedi said the APC's current gimmick is to confused the people of Southern Ijaw that the over 33, 000 votes that separated the party and the PDP no longer stands and therefore they will have the upper hand on January 9.
He explained that during the stakeholders meeting in Abuja
on Thursday
which had in attendance all the majority candidates, party chairmen and the leadership of INEC, It was made very clearly that except Southern ijaw and 101 units where results were not collated, all other results remained valid.
Agbedi wondered why the APC was selling the cheap lies but added he was not surprise because it had been their stock in trade.
The RCO asked Bayelsans to ignore the sponsored falsehood of the APC as it is clearly that the security arrangement arising from the stakeholders meeting has put them in a tight corner where they can not rig just as they did shamelessly on December 6, in southern ijaw, stressing that there is no iota of truth in the APC's claim.
Agbedi who is a member of the House of Representatives also asked the APC and its circle of confused members to stop blaming theINEC REC in the State, Barito kpangi for cancelling the election, saying it was a collective decision of INEC why emphasizing that if it is candidate could only managed through the rigging and thuggery to win a single local government out of seven declared, then they should equally expect a tsunami defeat in Southern Ijaw in three weeks time.