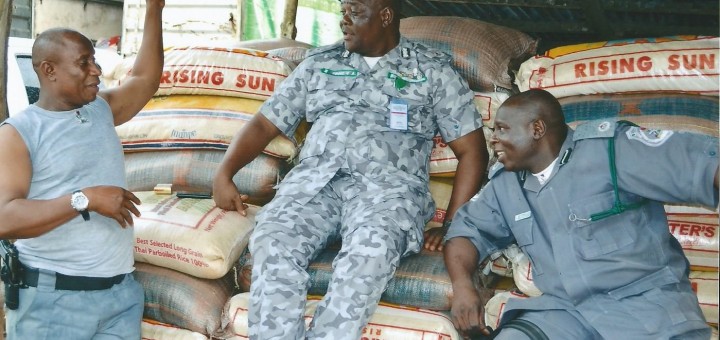 The last may not have been heard about the sizzling corruption and extortion practices being perpetrated by officers of the Nigeria Customs Service as allegations of diversion of goods imported by Nigerians have continued to recur.
Loading ...
This is because the people of Ntueke community in Ideato South council area of Imo State are currently crying out for justice over the sudden disappearance of a 40-footer container containing 200 units of solar energy panel seized by the officials of the NCS at the Apapa Wharf, Lagos.
According to investigations by 247ureports.com, the goods imported by the community in September, 2014 was inspected by the men of the Nigeria Customs Service, after which the community paid all the required duties through the First Bank of Nigeria.
But, on going back to claim the goods, it was discovered that the NCS officials had sold the container and feigned ignorance of the existence of the container.
Speaking with journalists, the spokesman of Ntueke community, Mr. Uche Ekekwe, noted that the community imported the items with its accessories for the provision of electricity at National Secondary School, Ntueke which they want to make a model school within the area.
According to Ekekwe, "the solar panels will help to power the school laboratory, computer and library sections as well as supply light to the entire National Secondary School, Ntueke.''
Ekekwe added, "after making the official payment, one Akpan U., chief superintendent of customs  with No.25666 demanded that the community do PR (bribe), but we told him that we do not have such money.''
Ekekwe who maintained that Akpan requested that N300, 000 be given to him as PR, which the community was unable to raise at the time, said due to the delay, some customs officers among them, one Ibrahim connived and moved the container away.
Ekekwe, who said the latest clue to the community suggests that the solar panels have been criminally tampered with, lamented the effect of such misconduct to both the students and people of Ntueke.
"As a people, we cannot understand why this kind of behavior should be found among highly respected officials of government like the Customs.
"While we still doubt the information suggesting any foul play on the imported solar panels, we request the Comptroller General of Nigeria Customs to investigate and fish out the bad eggs behind the delay of this container'', he said.