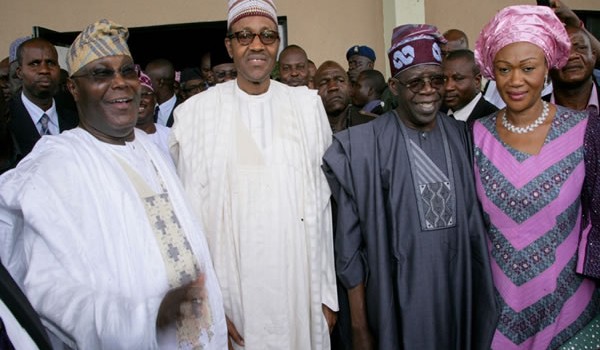 Advertisement
The proposed N5,000 unemployment benefit starting in 2016 by the All Progressives Congress (APC) lead Federal Government (FG) may not be a solution to address the National high rate of unemployment.  I do believe that the unemployed need decent/productive jobs and not a peanut.  It is a saying that one should teach a child how to fish (long-term solution to the child's problem) but not to give a child a fish (short-term solution to the child's problem).  As observed, handouts of N5,000 is a peanut as proposed by the FG, and not a solution to the social and economic problems in the Nation. This issue of giving a handouts of N5,000 is a political rhetoric and not a sellable/productive idea to the massive youth unemployment.  On the other hand, the bailout granted by President Muhammadu Buhari to State Governments may not be a sustainable solution to the economic challenges facing the States and the Nation.  Good governance and infrastructural development across the Nation need to be sincerely addressed to create a developed and secured society.
Loading ...
My concern is; how much will the unemployed Nigerians get from the N5,000 at the end of the day and how long will they get this benefit because curbing unemployment is a long term efforts.  What the Nation needs is Job Creation, a notion that jobs are created in response to high level of mass unemployment and poverty, which the Nation is experiencing as of date.
I believe that Job Creation in our communities require good governance and enabling environment for social and economic developments which are lacking in the Nation.  In other words, poor governance and poor environment create and promote unemployment, insecurity, retard social and economic developments. Also, the Nation needs a shift of the emphasis from oil to non-oil export, in agriculture, manufacturing products (in which infrastructural development is a must) and solid materials, and all the things that will help Nigeria to diversify.  Furthermore, FG should note that the critical elements for success in promoting economic diversification are firm commitments, sound macroeconomic/microeconomic policies, investments in infrastructure/implementation and strong institutions.
Poverty eradication or reduction, productive employment and decent work for all, social integration and protection are interrelated and mutually reinforcing.  The enabling environment to promote this need to be created at all levels of Government in the Nation.  There are widespread deficits of available decent work opportunities and lack of labor market conditions and especially for young women and men in the Nation.  I urge the Federal Government to address the challenges of youth employment by developing and implementing strategies and policies that provide young people in the Nation decent and productive work, as over the coming decades decent jobs will need to be created to be able to ensure sustainable and inclusive development and reduce poverty.  Gender gap in meaningful and sustainable job creation needs to be revisited to be in line with the eight internationally agreed Millennium Development Goals, and the Federal Government should endeavor to work towards these goals.
The way forward for FG is to tackle poverty in more professional ways and not through handouts but through sustainable job creation.  Meaningful and sustainable job creation can be achieved in the Nation through the following; (1) individual efforts (success in entrepreneurship in creating job require funding or capital), (2) capacity building, (3) infrastructural development in which quality education and stable energy supply is a must, (4) infrastructural maintenance program, (5) provision of quality technical and vocational education, (6) provision of quality information and communication technology (ICT) education, (7) effective use of Foreign Direct Investment (FDI), (8) manufacturing based economy in which stable energy supply is a must, (9) promotion of tourism business, (10) adequate funding or capital including microcredit schemes and (11) efficient agricultural development system among others. 
In addition, meaningful and sustainable job creation is affected by political stability, safety and security, good governance as mentioned above, rule of law that is based on universal principles, government incentives, private enterprise, land reform, youth empowerment programs and quality labor force among others.
Besides the handouts of N5,000, as stated above, Federal Government can tackle poverty through meaningful and sustainable job creation through the value chain in mineral exploitation, small and medium enterprises, by creating local demand and empowering local producers.  Also, as noted, the Nation will gain a lot if youths are empowered to acquire modern skills.  Quality education is the key to sustainable job creation.  The Federal Government must rebuild the moribund educational facilities, engage quality and skillful teachers, equip the schools in the rural and urban areas with comprehensive educational infrastructure including sporting facilities to catch talented sports persons in their prime.  Educational sector has a strategic role to play in creating the necessary skills that would enable the youths to become creators of jobs and not just job seekers.  The Nation should minimize Brain Drain to maximize Brain Gain through the provision of incentives that will attract Nigerian professionals and experts in the Diaspora. 
The Federal Government should recognize the importance of job creation by investing in and developing sound, effective and efficient economic and social infrastructure and productive capacities for sustainable development and sustained, inclusive and equitable economic growth.   Also the Nation should recognize the importance of job creation by adopting forward-looking macroeconomic policies that promote sustainable development and lead to sustained, inclusive and equitable economic growth, increase productive employment opportunities and promote agricultural and industrial development.  The Nation's workers should have access to quality education, skills, fundamental rights at work, social and legal protections, including occupational safety and health, and decent work opportunities.  Government, trade unions, workers and employers all have a role to play in promoting decent work and good pay for all, and all should help young people to gain access to needed skills and employment opportunities, including in new and emerging sectors.  Women and men should have equal access to opportunities to acquire job skills as well as to worker protections.  As observed, Government exists to cater for the well-being of the populace.  Therefore, it is its duties to provide social amenities for the good of all, be it electricity, water, road, among other infrastructure.  It is more important when it comes to education, as it is an avenue where the leaders of tomorrow are prepared for the challenges of tomorrow.  These challenges call for a transformational leadership.  I believe that the Federal Government may be doing a good job towards providing the enabling environment for meaningful and sustainable job creation in order to reduce mass unemployment and poverty.  However, handouts as proposed by FG may not be a solution to the current National social and economic problems.