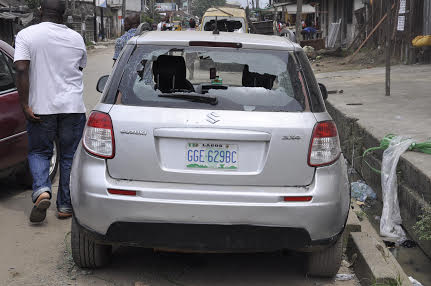 The Abia  State Government has appealed to traders and residents of Aba to always cooperate with government agents in their efforts to sanitize Aba and bring decorum to the city and its markets and desist from actions that could lead to confrontation with authorized government agents.
This  appeal is sequel to the incident that place today around Georges by Clifford and School Roads, Aba,   where miscreants  and illegal street traders tried to resist the instructions and directive of the officials of the Aba Urban Renewal Office, leading to some misunderstanding between the illegal street traders and Government officials.
Government  wants to reemphasize that  the mission of sanitizing  Aba  and reinventing the ancient city,  which is being executed through  the Aba Urban Renewal Office, is one cardinal  policy thrust which  the current administration is  pursuing  with passion,  dedication and  every sense of duty. Therefore, the street traders must adhere to the government directive to relocate to the newly constructed GoodMorning Market, along East Street, by Ngwa Road.
Government will not tolerate any form of deviant acts that would seem to hinder the progress of this laudable vision of Governor Okezie Ikpeazu.
Government is also disabusing the minds of Abians  against  the propaganda peddled by some disgruntled elements that the exercise is targeted against non-indigenes.   Aba is a melting pot for all ethnic nationalities in the country. Aba does not only belong to Abians, it belongs to Ndigbo, Nigerians and the World.  Governor Ikpeazu is rebuilding a new city for the NdIgbo.
Therefore, political jobbers and enemies of the state  who are cashing  in on  this sanitation exercise to generate crisis and foment trouble are well advised to rethink their mischief. They must  desist from acts and statements capable of inciting Aba residents against one another  and causing the breach of the prevailing peace in the land.
Government recognises that the  mandate of rebuilding  Aba and other major Abia cities would certainly come with sacrifices and requires the co-operation of all Abians and this is in the overall interest of us all.
The  Government is also using this medium to state categorically that, contrary to the rumour being spread by detractors and opposition elements that there  was disturbances in Aba between indigenes and non indigenes,  the city has been calm and peaceful and will continue to maintain this status.  Hence, residents and visitors should go about their legitimate businesses without any fear of molestation  or  intimidation by any group or persons.
The general public is also encouraged  to be partners with the law enforcement agencies in their effort to live up to their statutory responsibility of maintaining law and order and protecting lives and property.
Signed
Godwin Adindu,
Chief Press Secretary to the Governor