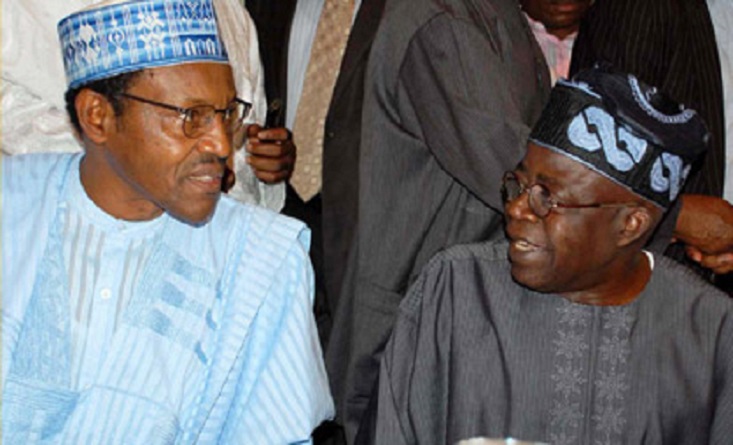 If President Muhammadu Buhari's effort is not being appreciated, he has himself and his party, the All Progressive Congress (APC) to blame. Indications that the Buhari presidency could run into the crisis of expectation was evident as his party and, at times, the then candidate Buhari had used every opportunity to rubbish former President Goodluck Jonathan who, in spite of his shortcomings, was definitely pushing some very noteworthy policies and projects. Take a look at the improved power supply, the enhanced food security and improvement in public transport especially the railways, then you clearly the footprints of the man who started life without a shoe!
Determined to capture power at the centre at all cost, APC spin doctors whipped Nigerians into a hysteria; that all their problems would be swept away as soon as Jonathan was sent back to Otueke, a village in Bayelsa State of Nigeria's Niger Delta region whose people produce the bulk of the nation's wealth. Buhari was positioned as the miracle worker who was coming to save Nigeria and Nigerians from what was and is still being labeled as PDP misrule. Yet, the APC conveniently ignored the evidence that Nigeria was simply part of the global economic crisis and that Nigeria's plight has been exacerbated its slavish incorporation into the dependency angle of globalization to the point that when America and Europe sneeze, our economy instantly develops pneumonia.
It was therefore only a matter of time for the chicken to come home to roost. Buhari won. But money has been in short supply. In these matters, there is no quick fix. And so, the economy is being asphyxiated into a state of paralysis; the high hopes of a sudden turnaround are fading into despair and the cocky exuberance of party faithful is turning into tongue-in-cheek rationalizations and the search for scapegoats. Buhari's messianic aura has fast evaporated.
But that is not to suggest that he has failed. To write off the President, any President for that matter after only four months is uncharitable in the extreme; it is certainly too early in the day to write off a President who is only in the first year of his first term of four years.  At any rate, his bold strides in combating terror have started to yield positive results and the fact that internally displaced persons (IDPs) have are being rehabilitated in their homes is not only reassuring but commendable. If one is to rate Buhari by his foreign travels driven by the need to foster a global coalition against terror and hunger, he will score very high. His aggressive foreign policy posture has seen Nigeria return to the centre stage of world affairs. No week passes without these beautiful photographs of our President standing toe to toe and head to head with foreign heads of state and dignitaries.  It's such a surreal feeling when you come to think about it.
But you are also left wondering if these visits and meetings will provide solutions to the myriad problems of Nigeria: the growing disenchantment of voters with perceived and actual governmental inertia; the sense of marginalization fuelling instability, the lengthening unemployment queues as the harsh economic environment takes its toll on the private sector and the growing feeling alienation by critical segments in the coalition that forced President Jonathan out of Aso Rock Villa.
Take for instance the campaign against corruption which Buhari has so trumpeted abroad that it will be a miracle if western nations do not begin to treat every public functionary as a fraudster until he or she proves his or her innocence. This is in spite of the obvious contradiction between what the West preaches and the reality. Or have western nations ceased to be the receptacles for all stolen monies from the developing world? Are we to believe that following the President's grand stand performance in the United States, the country will no longer provide a sanctuary for stolen public funds from Nigeria? I doubt that. And no other western nation will do that.
What that implies is that the anti-graft war must be prosecuted at home. But for it to succeed, it has to be transparent, holistic and pragmatic. Let's face it: the putrid stench of corruption and its devastating effect on the people stinks to high heavens. As everyone will agree, corruption in Nigeria defies party and geopolitical boundaries; it defies time and space, age and gender.  
The challenge, therefore, is for Buhari to prosecute this war in an even handed manner devoid of unnecessary drama and vendetta. Unfortunately, from the way it is being prosecuted, the impression looms large that PDP stalwarts and opponents of the present administration are the real targets of the campaign. Those who hold this view are quick to point out that the first person to be arraigned was Col. Sambo Dasuki (rtd), former national security adviser to President Jonathan on charges of being in possession of arms and ammunition. Sambo was ADC to Ibrahim Babangida who deposed Buhari in 1985. This has been followed by the arraignment of Senate President Bukola Saraki for alleged false declaration of assets. The argument that the campaign has to start somewhere does no credit to the injury this skewed prosecution does to the integrity of the war. But why must it start with predictable targets? If President Buhari has kept Nigerians waiting for all of four months without ministers, who says that Nigerians will impeach him if he asks for a little more time to do a comprehensive job compiling the list of corrupt public office holders who litter the country with mindless impunity?
The other challenge before Buhari is to strive to create an inclusive administration that unites, rather than divide Nigeria. Memories may be very short; but it will amount to a strange case of amnesia if we forget so quickly that one of the arguments against Jonathan was that his utterances and actions were polarizing the country. If he indeed did that, then Buhari's utterances and actions could leave us with no country in the end. When, in defence of skewed appointments, his aides make the rather interesting rationalization that certain strategic positions dictate choosing those the President would trust, they inadvertently portray him as somebody whose span of friendship and collaboration lacks national spread. If that is the case, there is the genuine fear that his policies and actions will continue to be dictated by narrow considerations that could fuel centrifugal forces of destabilization. Even private organisations do go out of their way to accord recognition to diversity. So, if the President's kitchen cabinet is dominated by people from just one part of the country, how does he guard against tipping the balance dangerously by hawks among them?     
If the truth must be told, whether by accident or by design, the utterances of the APC spokespersons and the actions of Buhari are fuelling hate, anger and despair. To borrow the language of politicians, they appear to be over-heating the polity. Candidly, he needs to do something quickly to restore confidence that he is the President of all and not just those who voted him into power. The invitation for him to rise beyond extreme partisanship and wear the garment of statesmanship is founded on very solid grounds.
For one, he was among those who fought to keep Nigeria together; for another the elections are over, this is the time for governance. Thirdly, it will not augur well for peaceful transition in the future if the impression is conveyed that President Jonathan was foolish by handing over power without a fight. Like other losers before him, he could have headed for the tribunal to frustrate the president-elect; he could have scuttled the elections mid-way and it wouldn't have been the first time in the country. Those who suggest that he had no option than to have handed over power peacefully are either being naïve, ignorant or hypocritical. He had options including the worst case scenario of behaving like Saddam Hussein of Iraq or Muamar Gadaffi of Libya; he could have decided to die while taking Nigeria down with him.
Perhaps, Buhari can call for a truth commission along the South African version; a pathway to personal remorse and restitution and a gateway to national reconciliation and rehabilitation. That is what Nigeria needs urgently; that is the challenge before President Buhari. He can do it; and he should do it so that our children do not grow up encumbered by the present climate of suspicion, anger and frustration.