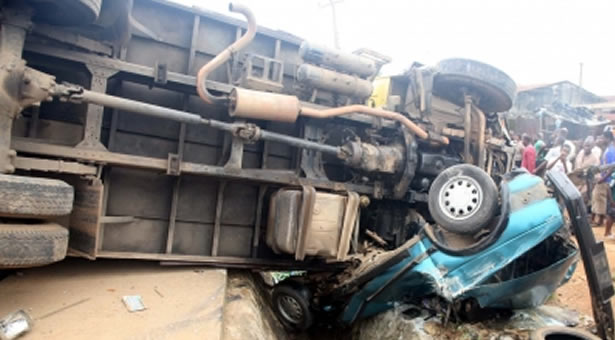 By Amos Igbebe
Fifteen passengers who boarded a Delta Mass Transit bus, including the bus driver Thursday evening, crashed  into a nearby truck leading to the immediate death of 14 persons while one was rushed to a nearby hospital for treatment.
Investigations reveal that the bus was heading to Agbor, a major town in Delta, but eye witnesses say the driver was on high speed and crashed on the truck along the Benin/Asaba Expressway, by Issele-Uku-Ubulu-Okiti axis of the state.
Loading ...
The state Federal Road Safety Corps (FRSC), Sector Commander, Mr. Kumven Rindom, who confirmed the accident and the death of the 15 passengers, blamed the accident on over-speeding and inability of the driver to observe the prevailing situation of the road.
He disclosed that the only surviving passenger is in critical condition in Mother and Care Hospital, Issele-Uku.
According to him "I am just coming from the scene and I can tell that the accident was caused by over-speeding on the part of the bus driver and the inability of the trailer owner who was towing a faulty trailer, to put danger signs on the road for other road users to know what was going on"
"What happened was, there was a breakdown trailer on a hilly point of the road, a vehicle was trying to tow it, while Delta Mass Transit bus was coming from Asaba going towards Agbor on top speed, as the driver saw the trailer, he tried to stop but the speed was very high, so he swiveled to the left in attempt to avoid the towing van and rammed on the stationary trailer carrying rods, and because, the driver was on top speed it had fatal result on the occupants of the bus, that was how 14 died on the spot, two were rushed to hospital but one gave up the ghost, while one is in critical situation," he said.
The sector commander said the accident occurred at about 6pm and FRSC immediately sent rescuing officers to the scene, to rescue those alive for medical treatment and carry the dead to hospital mortuary.
He used the opportunity to advise road users, particularly drivers to avoid over-speeding, alcohol and observe changing conditions on the road to road crashes that could be avoided.
According to him "life has no duplicate, so drivers must stop driving under the influence of alcohol or other substances".