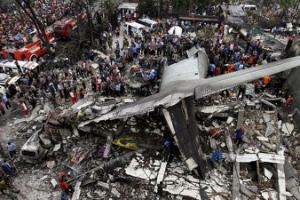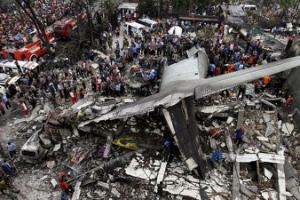 No fewer than 30 people were killed when a military transport plane crashed into a residential area two minutes after take-off in northern Indonesia on Tuesday.
Loading ...
The C-130 Hercules aircraft, which first went into service more than 50 years ago, plunged into houses and a hotel in a built-up area of the Sumatra city of Medan.
It killed passengers on board and people on the ground.
"The latest information we have is that 30 have died. That's the latest information, the number could go up," Hisar Turnip of the Basarnas search and rescue agency said.
Military spokesman, Fuad Basya, said that 12 personnel, including the pilot, had been aboard the plane, which witnesses said appeared to explode shortly before it hit the ground.
Black smoke billowed from the crash site and crowds of people milled around the wreckage, hampering emergency services rushing to the scene.
The Hercules transport plane was on its way from an air force base in Medan to the remote Natuna islands. Media said the pilot had asked to return because of technical problems.
"It passed overhead a few times, really low," said Elfrida Efi, an eye witness and receptionist at the Golden Eleven Hotel.