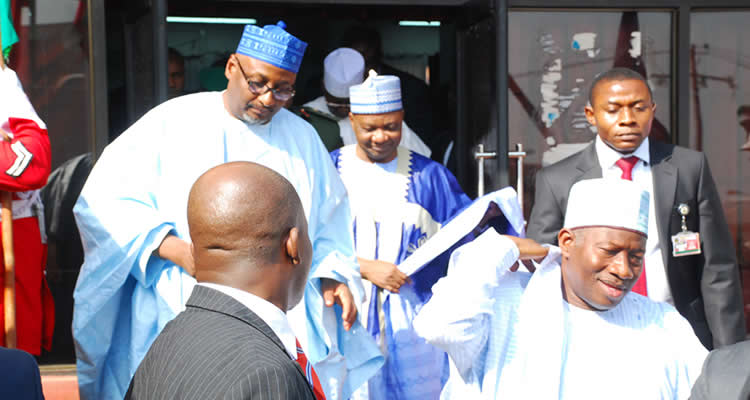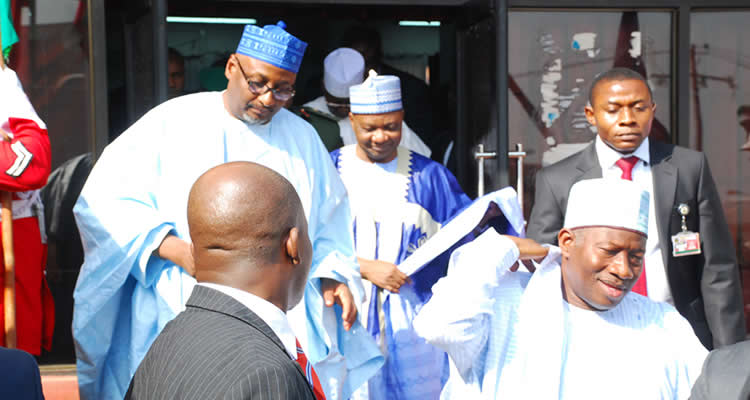 With the internal wrangling within the Peoples Democratic Party [PDP] having taken centre stage following the shocking defeat at the general elections of March 28, 2015, the finer details of what transpired during the campaign have begun to make its way out to the public terrain in a manner that showcases the blatant disregard for the party's interest by the PDP national chairman, Alhaji Adamu Muazu.
Information available to 247ureports.com obtained from usually reliable sources within the corridors of activity in Abuja indicate that the President of the federal republic of Nigeria, Dr Goodluck Jonathan had confronted the national chairman of the PDP during one of the major campaign stops in Lagos. According to the information gathered, upon arrival to the campaign venue in Lagos, the President – having seen many signs that the national PDP was not carrying his weight – turned to the Alhaji Muazu and bluntly asked him what he was doing? He asked what his exact role was in the campaign. The source revealed that the President was as serious and stern as he had ever seen him.
Loading ...
Alhaji Muazu who was taken aback was left without words. The President was not willing to wait around to hear what the embattled national chairman had to say. Instead the President gently walked away from the national chairman – who was left standing in a near-trance like state.
Following the Lagos incidence, the President was quick to caution the campaign team and the national working committee of the party to hold the peace and look away from the alleged antecedents of the national chairman and his group of followers within the executive council of the party. He warned that there should be no bickering over whether Muazu was really working for the party. According to our source, the President promised to handle the case of Muazu after the presidential elections.
While talking to a source close to the Muazu camp, they denied that the President ever chastised the national chairman over his loyalty to the party. They stated however that it was the President's wife that chastised the national chairman over the chairman's unwillingness to call Buhari on his inadequacies and lies. "She wanted us to be confrontational" said the source who acknowledged that his boss was not eager to throw punches towards the direction of Buhari – for reasons "best known to him".
The source adds that the President has since called on all concerned parties within the party to withdraw their swords and close ranks – to enable forge a common front to rebuild the party to regain power come 2019.
But the President is under intense pressure to remove the national chairman and the remainder of the national working committee – before he hands over on May 29, 2015. Judging by the President's body language, it remains uncertain if the President will follow through on his promise to let the national go – following the election.