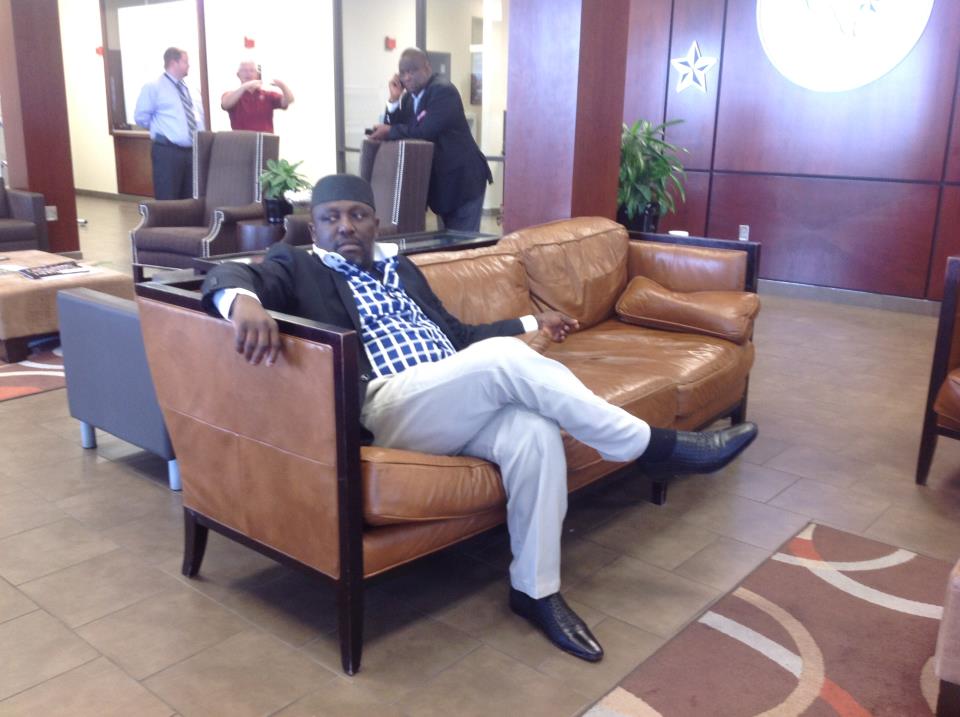 On 11th day of March 2013, the counsel to some prominent citizens of Imo state, Hon. Chief Barr. C. O. C Akaolisa raised a petition to the Economic and Financial Crimes Commission (EFCC) alleging the following facts against the Imo state governor Rochas Okorocha and his Rescue administration. Please read on.
Criminal Conspiracy, Abuse Of Office, Stealing, Misappropriation Of Public Funds And The Financial Rot In Okorocha's Administration In Imo State: A call for urgent investigation & prosecution of a cabal of fraudsters masquerading as Imo State Rescue crusaders.
Our client the Association of Local Government of Nigeria (ALGON), Imo State Chapter has further to our earlier petition instructed that we forward the following facts to you for your information and necessary action.
Consequently, we write to call your attention to a number of economic and financial crimes being perpetrated by the current crop of leaders in Imo state and urge you to use your good offices to cause urgent investigation into the case. For clarity, we have enumerated some of these fraudulent activities to guide your kind attention.
FRAUDULENT MISREPRESENTATION OF THE FINANCIAL POSITION OF IMO STATE UPON ASSUMPTION OF OFFICE AS GOVERNOR BY OKOROCHA
The administration of His Excellency Chief Ikedi Ohakim left a total sum of N26.27billion in various bank accounts of the state namely: Balance of Imo bond proceeds in UBA Plc. " N13.3billion; SUBEB project accounts with BankPHB (now Keystone Bank Ltd) " N3billion; VAT account in Zenith Bank Plc. " N488million; Internally generated Revenue account with Zenith BANK Plc. " N450million; Local Government Joint project account with BankPHB "N2.5Billion; Agric Loan Account with Access Bank Plc " N500million; Fertilizer sales account with Oceanic Bank Plc " N250million; JAAC Account with BankPHB " N3.6billion; MDG Projects accounts with Fidelity Bank Plc " N500million; Education Trust Fund (ETF) with Zenith Bank " N1billion and Imo Children Education Funds " N670million. The Total sum is = N26.27billion.
Although the previous administration of Chief Ohakim left huge sums in various accounts as shown above, the Okorocha's administration did everything to conceal these funds from the Imo people. These funds were never appropriated in any budget of the state since taking over office and control of same. Today as it were, the entire N26.27billion has been criminally squandered without the knowledge of the Imo People. Suffice to say that this is a clear case of crass abuse of office, criminal conspiracy and outright stealing of public funds, which should attract very serious sanctions.
CRIMINAL VIOLATION OF IMO STATE BOND LAW AND MISAPPROPRIATION OF THE N13.3BILLION IMO STATE BOND PROCEEDS
It can be recalled that the Imo state Government during Chief Ohakim's administration approached the capital market to fund specific critical capital projects.
Part of the requirements of the capital market was the enactment of a state bond law to restrict the utilization of the bond proceeds for the critical projects for which the approval will be based.
This led to the passage of the Imo State bond law authorizing the Executive arm of government to borrow in tranches a maximum of N40billion for the funding of specified projects as detailed in the prospectus with which the bond was issued to the investing public.
Upon receipt of Securities and Exchange Commission approval, Imo State Government under the Ohakim's administration drew the 1st tranche of N18.5billion.
A total sum of N5.2billion was expended on the following projects as approved by SEC in compliance with the bond law: All professional parties fees "N925million; Critical Roads – N3.773billion; Renovation and furnishing of Oguta Lake Motel plus preliminary works on the Oguta Wonder Lake Resorts and Conference Centre "N390million and Completion of 37 water schemes – N125million.
From the foregoing, it is evident that a balance of N13.3billion was handed over to the Okorocha's administration. This balance was over and above the amount of N12.5billion appropriated for the Wonder Lake Resorts and Conference Centre project under the bond law.
The Sun Newspapers of January 23, 2013, reported the Current Imo state Commissioner for Finance, Deacon Chike Okafor as saying the balance of the bond proceeds were channeled into critical areas of infrastructure development such as the building of 305 classroom blocks, building of ultra-modern general hospitals in the 27 local government areas of the state and construction of vital roads across the local government areas.
Arising from Deacon Okafor's assertion, it is obvious that the bond proceeds had already been spent before the Okorocha's administration approached SEC with a proposal for change of purpose.
Another point to underline is that the Commissioner for Finance admission shows criminal violation of the bond law as it existed. Even the projects, upon which the bond proceeds were purportedly channeled to with the exception of Owerri Municipal Primary School and ongoing primary school in Emekuku, are non-existent.
It is regrettable that rather than check the executive arm, the Imo state House of Assembly is criminally colluding with the executive to amend the bond law to deceive the Imo People that the unlawful and fraudulent diversion of a whopping N13.3billion bond proceeds is justifiable. As at close of work on the 8th of March 2013, the purported amendment is yet to be signed into law by Governor Okorocha.
CRIMINAL SHARING OF N45BILLION AND N28BILLION LOANS ILLEGALLY SECURED WITH IMO LGA ALLOCATIONS ALLEGEDLY USED FOR NON-EXISTENT ROAD CONTRACTS IN VARIOUS LGA
The probe of the Deputy Governor of Imo state, Mr. Jude Agbaso has exposed the various schemes perfected by the Okorocha administration to unwholesomely divert public funds and in fact share public funds among themselves as largesse. This is done through phantom award of road contracts without any contract document as outlined below: Award of a 3 kilometer road at the cost of N1.2billion at N400 million per kilometer as confirmed by the Imo House of Assembly Report, adds weight to the series of allegations that the state government uses fake contractors in the various LGA to loot Imo funds.  This award did not have the following:
(a) project Design
(b) No Advertisement
(c) No Bidding
(d) No Bills of Quantities and Specifications (e) No tender at all (f) No evidence of prequalification of contractor (g) No provision for the project in the State budget, and finally (h) No Exco Waver for all of the above.
In addition, 100% payment was made without performance bond nor advance payment guarantee in contravention of the Imo state financial Instruction I & II, Imo State Public Procurement Law (Due Process Law), Fiscal Responsibility Law, Imo state and the Public Procurement Act, 2007.
Furthermore, the contractor who runs a restaurant as a business is not known to have done any road contract anywhere in Nigeria. His only qualification is that he is a close friend and partner of the Imo state first lady, Mrs. Nkechi Okorocha. Thus he was merely used as a conduit to fraudulently withdraw money from the government coffers to be shared.
The Deputy Governor, Sir Jude Agbaso took N458 million representing 40% of the contract value. We request that the following persons who are directly or indirectly connected with the phantom contract should be invited for investigation:
i. The Contractor " Mr. Joseph Dina, MD/CEO of Jpros Int'l Nigeria Ltd,
ii. The Deputy Governor of Imo State, Sir Jude Agbaso,
iii. The Principal Secretary to the Governor, Dr. Pascal Obi,
iv. The Accountant General of the State, George Eche,
v. The Commissioner for Finance, Deacon Chike Okafor,
vi. The Permanent Secretary, Ministry of Works, Mr. Alex Nebedum
vii. The Director of civil, Ministry of Works, Engr. Egbuka,
viii.  Chief Okey Nwosu, AKA 101, the biological brother to the Imo State First Lady who procured the contractor,
ix. The Imo State First Lady, Mrs. Nkechi Okorocha,
x. The Chief of Staff to the Governor, Chief Eze Madumere. See the Imo House of Assembly Special Adhoc Committee Report on Sir Jude Agbaso published on Friday, the 8th of March 2013 edition of the Nigerian Horn Newspaper (attached and marked Annexture 1)
B). In Onuimo LGA, the state government approved the sum of N255.6million for payment to phantom contractors purported to be engaged in non-existent road contracts in the LGA as evidenced in the undated memo of the Management Committee (project Monitoring & Evaluation) with Ref no:
GH/SA/PME/533/VOL.VIII/49(attached as annexture2). Note that these payments were made on the 24th of April 2012 long before the incorporation of some of the beneficiaries namely:
Elason Global Enterprises incorporated on the 24th of December, 2012, Lufranza Engineering Services Company incorporated on the 13th of December, 2012 and Elason General Supplies Company with no evidence of incorporation. One wonders how a state government should award road construction work to unregistered companies if not to deceive the people and steal their money.
C) Again in Governor Okorocha's 2013 Budget Speech on page 9 paragraph 4 & page 13 paragraph 7, he listed a number of contracts he claimed are designed to put Imo State in the Guinness Book of Records for which he categorically stated that he had already paid 40% of the contract sums. Contracts in this category
include:
(a)  Imo Towers of 1,000 Housing Units targeted at high net worth individuals and Imo citizens in the Diaspora,
(b) The Ecumenical Centre known as Amarachi,
(c) The Magnificent Towers known as Akachi,
(d) The five star crystal Hotel,
(e)Ultra-Modern shopping malls,
(f) Multilevel car parks,
(g) The Ultra-Modern Judiciary Headquarters,
(h) Princess Hotel, Okigwe,
Today, there is nothing anywhere in Imo to justify the payment of 40% advance as presented by the governor. (See a copy of the year 2013 Okorocha's Budget speech attached as annexture 3) Who are the contractors? How were they engaged? Was there any advertisement? Was there bidding? Was there any appropriation before the said contracts were awarded? These are questions law enforcement should seek answers from the governor and his cohorts in Imo State House of Assembly.
D) One other fraudulent scheme currently going on in Imo is that contracts are awarded and awardees are coerced to pay kick back before their cheques are confirmed for payment. A number of the contractors who refused to be part of the crime have had their cheques returned unpaid. (See the cheques attached as annexture4) which belongs to some of the Imo people who got contracts but refused to offer bribe and their cheques were never confirmed by the commissioner for Finance and therefore dishonoured. Note that these people are ready to testify on this case as part of their commitment to reinventing sanity in our body polity. See list of cheques on the table 
below:
S/N       CONTRACTOR                         AMT                                 CHEQUE #
1           INELS LTD                                      1,900,000.00             00001490
2           HUUBS VENTURES                      1,045,000.00               0O001436
3           HUUBS  VENTURES                     1,045,000.00               00001433
4           CHOPPERS G. SERVICES         300,200.00                    00001489
5           CHOPPERS G. SERVICES          2,090,000.00
6           CHOPPERS G. SERVICES           2,090,000.00               00001487
7.           INELS LTD                                     1,900,000.00               00001435
8.           HUUBS VENTURES                   1,045,000.00                 00001488
E) In his characteristic manner, Governor Okorocha also awarded a Phantom N4billion contract for government House furniture and paid 100% of the sum upfront to the contractor now purportedly at large.  In our view, this is one of those schemes criminally crafted to siphon the N26.27billion handed over to him by the Ohakim's administration which he had kept sealed lips over.
F) The graveyard silence maintained by the Imo State House of Assembly over the heartbreaking fraudulent activities being perpetrated by the Executive is a clear indication of criminal conspiracy and collusion to loot public funds. It is now an open secret that the Honourable Speaker of the Imo State House of Assembly awards road construction contracts in the state and has even installed his own Asphalt plant in Owerri from where almost all the asphalt used in the construction in the state are procured. Similarly, most of the Honourable Members of the Imo State House of Assembly seem to have abandoned their legitimate legislative duties and are now in a mad rush to build hotels in Owerri such as the magnificent hotels being built by Honourable Mrs. Eudora Igwe, member, representing Ideato North State Constituency and Honourable Amuka (AKA Oshimiri), member, representing Ideato South state Constituency. The speaker and other principal officers of the House of Assembly must be immediately arrested and investigated if order must be restored in the State.
CRIMINAL CONVERSION & STRIPPING OF IMO STATE GOVERNMENT ASSETS
Mr. Rochas Okorocha has criminally converted the Imo State government assets to his personal use. It is evidently clear that the former Imo Deputy Governor's lodge located on High Court Road, Behind Government House Owerri has been converted to Lamonde Hotel, a holding of Okorocha which was so heavily indebted before he became governor that the Credit Bureau blacklisted the company from borrowing from the Nigerian money market.
Most Imo state money yielding corporations have been either concessioned, sold or leased to cronies of the governor for little or nothing in contravention of the Imo State Investment Promotion Agency Law.
These corporations include among others:
i. Ada Palm sold to Roche for N3.5Billion,
ii. Both Concorde Hotel and Oguta Lake Motel  leased for 20 years to ABM Global Nigeria Ltd, No. 
8A Iron Bar Street, Lekki Phase
 1,
iii. Imo Transport Corporation leased to Global Ginikana Ltd for N250 million,
iv. Part of Imo Hotel leased to himself,
v. Avutu Poultry Industry, Obowo,
vi. 18
 General Hospitals sold to Lantech
Solutions,
From the foregoing, the financial rot in Imo State is enormous; we may have only scratched the surface.
We believe that your circumspective investigation into this petition will not only shock the world and dwarf any case of criminal conspiracy and stealing of public fund ever known to any state government but also truly rescue the Imo people from these rampaging criminal invaders .