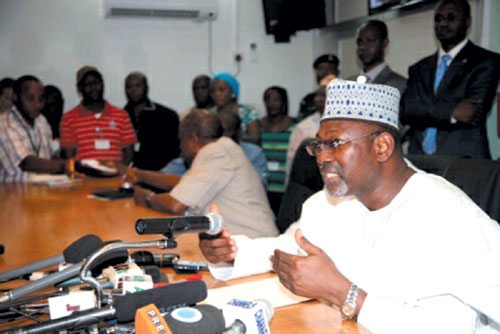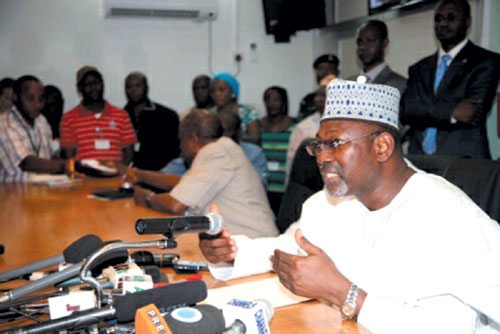 "A problem cannot be solved from the same state of consciousness that created it".    –Albert Einstein
Loading ...
After weeks of intense breath-sapping debates and horse-trading between opponents and proponents of election postponement, the issue has finally been laid to rest; due the dust arising from it is yet to settle. It is no longer news that 2015 general elections have been rescheduled for March 28 and April 11, 2015 for presidential and governorship elections, respectively. The Chairman of INEC, Prof Attahiru Jega announced the new dates for the elections after series of marathon meetings with relevant stakeholders on Saturday February 7, 2015.
Insecurity was cited by INEC as one of the major reasons for the postponement; to enable security forces to recover some Local Government Areas and stabilize security in most of the volatile Boko Haram ravaged areas, because no credible election will take place in a state of insecurity as submitted in a letter addressed to INEC chairman by the National Security Adviser (NSA), Col. Sambo Dasuki. Col. Dasuki argument was anchored on the irrefutable fact that safety of electoral officers and materials during and after elections should be paramount on the mind of the electoral umpire when taking any decision as regards 2015 general elections. European Union (EU) observers not too long ago came out with a categorical statement that none of its members would visit any state in the north-east during the election, which is in collaboration with the view expressed by NSA as regards vulnerability of North-east states. If EU election observers, who would play a major role in determining the credibility of the electoral process in the eyes of international communities, are terribly afraid of going to some states in the North-east, then the question is: how safe are the electoral officers; electoral materials and would-be voters? This is what opponents of election postponement like the APC failed to understand or they were simply being mischievous.
The recent signing of Memorandum of Understanding (MOU) between Nigerian and Chadian forces and the resilient commitment made by African Union (AU) to send 7,500 soldiers to assist Nigerian government in tackling the excess of this insurgency can substantiate INEC's argument, which is in line with the position of National Security Adviser, Col. Sambo Dasuki. French Government has promised to send fighter jets to aid multinational forces battling insurgency in the country. With the current formidable efforts being made by regional and global forces to crush Boko Haram in the next few weeks, Nigerians would have no reason to entertain fear during and after the election, because recent onslaught against Boko Haram would go a long way in ensuring adequate security of lives and properties in those volatile states of North-east during and after the general elections; when taking into consideration successes recorded by the multinational forces in the last few weeks they began this winnable war to liberate the entire North-eastern states from the clutches of the insurgents. The fact remains that any presidential election result that excludes those four Boko Haram-ravaged states would be nullified in the court of law, and the government formed as a result of the said election would lack legitimacy among Nigerian public in particular and the global community in general. Considering the strengths of the two major candidates in the presidential election, the margin of the result may not be much which the results from these four states can alter.
Apart from the major issue of insurgency in the North, there are other myriads of challenges being faced by INEC that has to do with its logistics which prompted the shifting of the long-awaited elections to next six weeks. Some of these challenges are as follows: inability of INEC to distribute more than 20 million PVCs to the potential voters of which 85% of those registered voters who are yet to collect their PVCs are from southern part of Nigeria; which raised the allegation of bias on the part of the Commission. Those voters would had been disenfranchised if INEC did not yield to the clarion call of patriotic Nigerians to shift the polls to more convenient dates of March 28 and April 11, 2015 for both presidential and governorship elections, respectively. It is mindboggling that INEC has not been able to hire 700,000 ad hoc staff it planned to recruit for the general election. Presiding officers yet to be trained; PVCs still being printed abroad; many states yet to get balance of Card Readers, and Prof Chairman was busy claiming that INEC was ready. What an irony! It is very unfortunate that Prof Jega did not mention some of these logistic issues being faced by INEC as part of the reasons that motivated the Commission to postpone the elections, while announcing rescheduling of election timetable to the public which portrayed him as someone playing ostrich. Prof Jega's shifting of the whole blame on insecurity is a crystal evidence of dogging responsibility. In a society where democracy has been fully entrenched in its system, Prof Jega would have honourably resigned by betraying the trust bestowed on him by Nigerians.
The manner at which the APC vehemently opposed postponement of these elections suggests that something is not adding up. Why on earth the APC would be insisting that election timetable would not be adjusted knowing fully well that millions of Nigerians might be disenfranchised because of INEC's ineptitude in the distribution of PVCs especially in the southern part of this country. Does this confirmed the fears and allegations of millions of non-indigenes living in the APC's controlled states of South-west, that INEC is conniving with APC leaders and stalwarts to deny people access to PVCs in other to influence the outcome of  the forthcoming general elections in favour of the APC. This is a tactical way of disenfranchising majority of Igbos in the geopolitical zone, because of their unalloyed and un-negotiable support for President Jonathan's re-election bid, which is sending jitters down the nervous spine of the APC. Nigerians have started calling for the resignation of INEC Chairman, Prof Jega for his inability to ensure effective distribution of PVCs and potential disenfranchisement of Internally Displaced Persons returning from Northern part of the country, because of INEC's insistence that the southern-bound IDPs would not be allowed to vote, while provision has already been made for their counterparts in the North to exercise their civic responsibility, which is rising issues of bias and partisanship on the part of Prof Jega. In my humble opinion, I think Prof Jega has lost the moral thrust to preside over this election, and should honourably throw in the tower because trust is a burden. INEC's neutrality as an electoral umpire has greatly been comprised and is now a subject of controversy.
–
Nwobodo Chidiebere, Public Affairs commentator wrote in from Abuja.
chidieberenwobodo@yahoo.com.