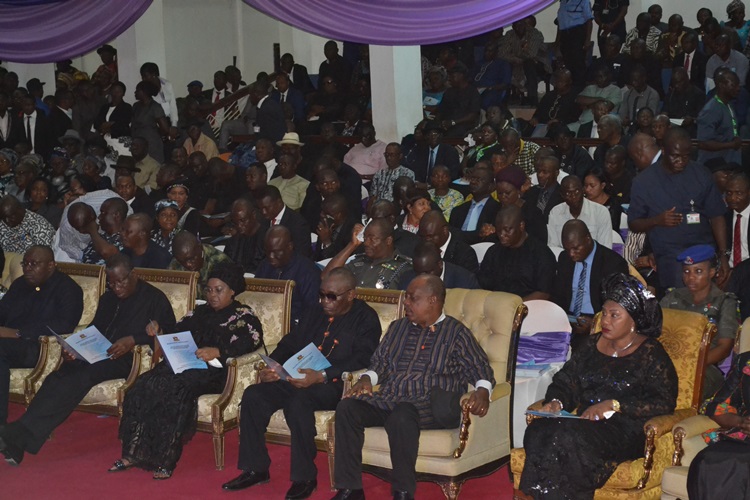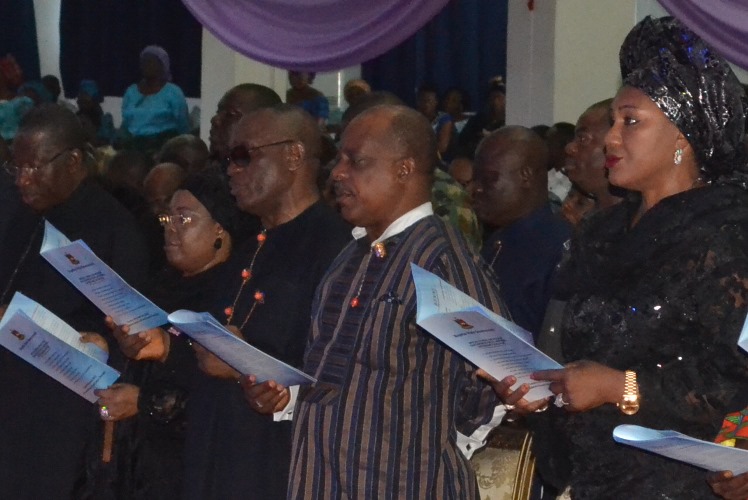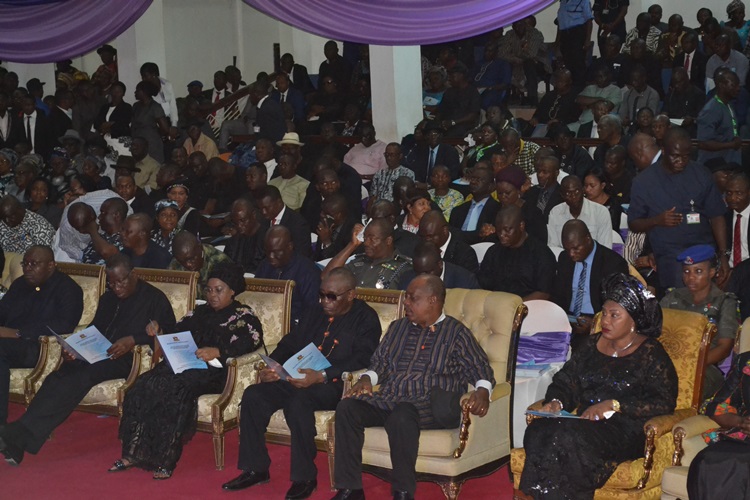 The wife of the governor of Anambra State Chief (Mrs.) Ebelechukwu Obiano on Tuesday attended the Special Funeral Service for nine departed wives, daughters and a brother of Bayelsa who lost their lives in a fatal accident on Saturday February 14, 2015. The Service held at Gabriel Okara Cultural Centre Yenagoa was attended by President and Commander-in-Chief of the Federal Republic of Nigeria, Dr. Goodluck Jonathan and his wife, First Lady of Nigeria, Dame Patience Jonathan, as well as the host Governor Hon Henry Seriake Dickson and many Bayelsans.
Speaking on the tragic incident, Chief Mrs. Obiano who represented her husband and governor of Anambra State, Chief Willie Obiano, said that the tragic loss is no doubt a personal one to the President and the First Lady judging from their close relationship with the victims.
Said she: "I am lost for words to describe the sad feeling that pervaded the arena during the service, especially the outpouring of moving tributes to the nine victims. On behalf of my husband and the good people of Anambra state, I commiserate with the President and the First Lady, governor Dickson, the victims' families and all Bayelsans."
Speaking further, Chief Mrs. Obiano observed that the deceased,   "were all illustrious daughters who served Bayelsa in various capacities. I believe that apart from this befitting burial, their contributions to their state and Nigeria will never be forgotten. That much was assured by the President, his wife, Mama Peace and the governor Hon Seriaki Dickson."
Earlier, President Jonathan described the date of the tragic accident February 14, 2015 as a "black Saturday that painted the landscape of Bayelsa in the most painful colours." Whilst explaining his personal relationship with most of the victims, he noted that the world is a stage where everyone must play their part and urged Bayelsans to emulate the high level of dedication to service shown by the victims. He commended Bayelsa State Government for giving the victims a state burial and prayed for the repose of their soul.
In her tribute, the First Lady, Dame Patience Jonathan described the accident victim as "great women and friends whom the cold hands of death had taken without a chance to say goodbye. They are my blood sisters. They lived a life of virtue and honour and were faithful followers till the end, and we will continue to remember and pray for their souls." Dame Jonathan also used the opportunity to call for peace and unity in Bayelsa state.
It would be recalled that Mrs. Obiano on receipt of the news of the accident over a week ago, on behalf of her husband, the Governor of Anambra State, the women folk and the people of Anambra State, condoled with the Jonathans and the people of Bayelsa.