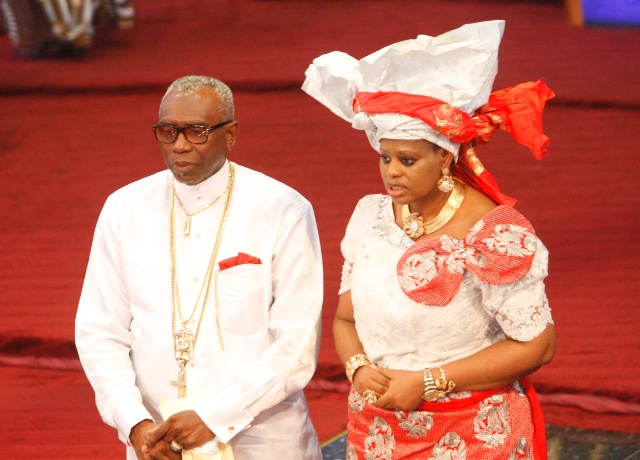 …Oritsejafor donates 7 cows, 200 bags of rice, grains, bags of clothes
Over 700 Internally Displaced Persons living at their camp in New Kunchingoro, have protested against their neglect by the Federal Government saying they now rely on charity from churches and individuals for survival.
They were brought from Gwoza Local Government Area of Borno State in January 2014, when the town was taken over by members of the Boko Haram Islamic sect.
Spokesperson for the IDPs, Mr Philemon Emmanuel, an indigene of Gwoza, expressed the observation during a donation of seven cows, over 200 bags of rice, grains and unspecified bags of clothes to them by the President of Christians Association of Nigeria, Pastor Ayo Oritsejafor.
Oritsejafor was represented by the Chairman of CAN in the Federal Capital Territory, Rev. Israel Akanji.
He stated that since they have been in the camp since January 2014, officials of National Emergency Management Agency visited them once in October 2014, to register their names and also gave them some food.
Emmanuel said that after they registered their names and received the food items, NEMA officials also promised them that they were going to get special camp for them to live a normal life pending when the security challenges would stop for them to return to their original homes.
He said, "We are still waiting for the government till today. We have been surviving on charity, because some good people, churches and individual organisation come here to help us on daily basis, with food items, clothes and some other things, while some churches use to bring some health personnel to take care of our health situation.
"The government has not done what they promised for us, we have been living on those charity. We are over 700 people here, including men, women and children. We want the Federal Government to take us to the place they promised us, because we are not supposed to be living in these kind of houses.
"We never believed that we will ever be living in this kind of houses. There is nothing like water here; we depend on stream water to survive. They promised us that they will take us to a better place with water, electricity, health centre and other basic amenities, we are yet to see anything."
The FCT CAN Chairman, Rev. Israel Akanji, promised the IDPs that with what he has seen, he is going to tell the FCT Minister, Senator Bala Mohammed, saying that the FCT Administration is working hard on having a better place for the IDPs.
He said, "In order to get this done, he (FCT Minister) made the committee to be wide, by including all stakeholders, to the point that I am a member of that committee. A vast land has been acquired, design has been made and it is being built. Probably in a month's time, it would be completed, because, the FCT government has been committed to it.
"They do not want to take people to where there is no water, light and other basic amenities. Although, not a permanent place, because we are not praying that they should remain permanently as IDPs, that everyone should be reintegrated back to his communities when the time is right.
"But, the way things are presently, is that most of them cannot go to their communities, because, their homes have been destroyed. All we can do now is to plead with the Federal Government to assist in reconstructing these communities that have been pulled down, so that the people can return to their communities,
Also speaking, the Director of National issues and Social Welfare in CAN, Mr. Sunday Oibe, said the forthcoming general elections would only be said to be free and fair if the over 20 million IDPs from the North East are allowed to vote.
He said, "The INEC chairman, Prof. Attahiru Jega should do everything to ensure that Christians that have been displaced from the North East cast their votes. We have churches that had their headquarters, like the EYN in Maiduguri. They have been displaced with over 3 million people scattered all over the country.
"If over 20 million Christians displaced from the North East do not
cast their votes, how can you say that the elections are credible and
acceptable? We wanted to meet with Prof. Jega, on the topic last week. He gave us an appointment but reneged at the last minute, so we are calling on Jega to ensure that IDPs, particularly Christians displaced from the North East cast their
votes, or we will not accept it."