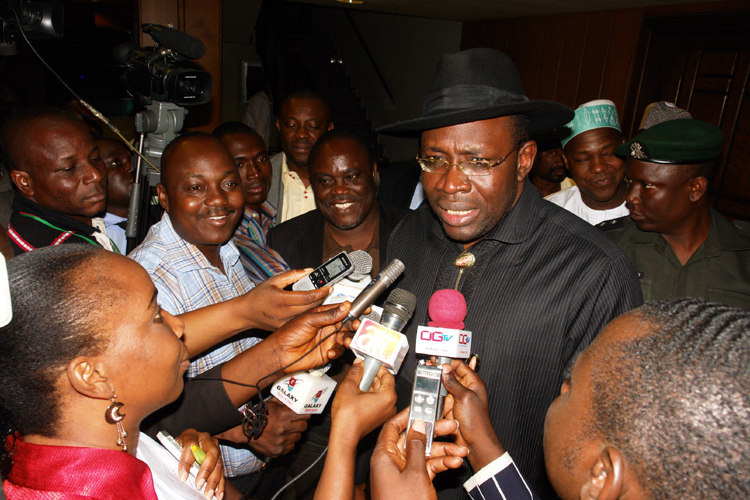 …says those who're against him 're against me
Achiever Peterson, Yenagoa
Barely one week to the general elections, President Goodluck Jonathan on Friday in Yenagoa, put an end to speculations about a frosty relationship between him and Governor Henry Seriake Dickson of Bayela State who he tacitly endorsed for re-election in 2016.
Speaking at campaign rally in Yenagoa, he declared that any person who is against Governor Dickson is against him and his re-election.
"Those who are against governor Dickson should know that they are invariably against me and are working against my re-election as President. Some people are coming to feed you with all sort of lies about the governor and I want to tell you that you must work with the governor", Jonathan said to the admiration of the mammoth crowd.
Meanwhile, investigation have revealed a plot by Transformation Ambassadors of Nigeria and the First Lady, Dame Patience Jonathan, to use political thugs to boo and humiliate Dickson at the Presidential Rally in Yenagoa.
But Jonathan's endorsement of Governor Seriake Dickson, brought confusion among the camp when he called on the people not be deceived by anti-Dickson supporters.
To show her complete disdain and disregard for the Governor and his wife, the First Lady reportedly refused to recognize the governor in the order of protocol.
The Yenagoa rally by and large turned out to be a huge endorsement for governor Dickson by the President.
Sources at the venue of the rally said most of the rented crowd who were paid N5,000 each to boo and stone the governor failed to show up after collecting the money.
The motley crowd of TAN at the rally tried unsuccessfully to boo the governor when he was addressing the rally but their voices were drowned by the pro-Dickson's supporters at the rally.