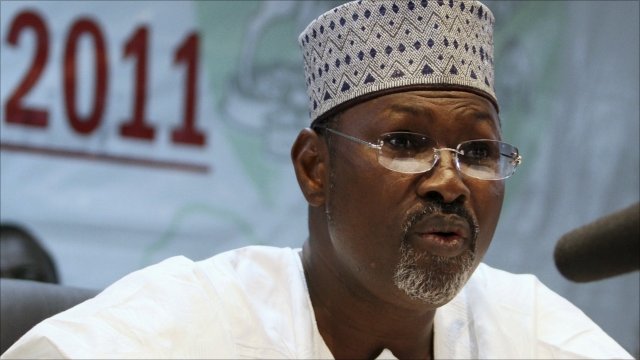 The Chairman of Independent National Electoral Commission  (INEC)Professor Attahiru Jega  said
on Friday
that the Commission does not have any plan to postpone the February 2015 elections as being canvassed by some Nigerians.
Loading ...
Jega also said that INEC may continue the distribution of Permanent Voters Card (PVC)up to the eve of
February 14
election if the Situation warrants.
Speaking at a function; Mitigation of Violence in Election,  organize by the International Foundation    for electoral System (IFES) Jega said  the
February 14
date remain unchanged and the Nigerians should continue to mobilise voters ahead of the elections.
" We have never sat to deliberate on the need to shift the February elections, we released the time table   for the elections almost a year ago and we are seriously working to achieve just that" Jega said.
The INEC Chairman express worry of the attitude of many  eligible voters who have failed to show up and collect their voters card noting  that the Commission should not be blamed when voters fail to collect their PVCs
" Yes we call even allow for the distribution of PVCs up to the eve of election day which if
February 13 2015
but it will be good for voters to come and collect their PVC as soon as possible " Jega said.